Trying to explore and figure out different cost related aspects of web development in 2019.
Every year brings along different choices, commitments and opportunities with it. Also, there are risks, threats and competition taking a new avatar as we enter a new season. In the world of web development, we can see these factors playing a central role in influencing the cost-value parameters. This is because, time of a year is enough to change the service dynamics and pricing matrix of an industry. Therefore, the cost of developing a website is not the same every year and varies as per the change in trends, traits, ideas and roles of different components and elements in the market and the ecosystem it operates and thrives within.
Like every year, 2019 too have a new proposal for businesses to go with and here's how and at what cost they can get it developed.
The very first thing that decides the cost of a website is its complexity. Now, with advent of new technologies and practices, the band of complexity has expanded and the range of it in 2019 is far broader as compared to early years. Here, we are exploring different sides of development (which we assume to contain everything from wireframing, designing, programming, testing and deployment), based on various service parameters, that considerably affect the cost of a website.
Complexity cost
The cost of developing a website is directly proportional to the complexity involved in it. Now, here complexity depends on two major aspects. One is when you try to work on a new technology and want to explore things around that. Here research and ideation part joins in. Another is when the features and functionalities on your website are highly technical and intricate in traits. And this varies project to project. Considering all that, in 2019, the complexity of building a website grows over 15% to 20% and hence this adds to the possibility of the variable cost going high with that ratio. But that only comes to you if you try something new and rare.
Innovation cost
Most businesses these days have started working on unique ideas and for that they need experts and consultants helping them out to plan, drive and implement that creativity for them well. And this has impacted the cost propositions greatly as the demand for innovating new ideas and putting them into practice through a web product is very much needed these days to stand tall against competition. Therefore, web development companies have got a new role to play and that attracts an additional cost. Which could vary anywhere from 10% to 20% of the total. Or otherwise, if you just go on to replicate the existing designs and regular traits that are already chosen and acted upon by others in the market, you don't have to pay anything extra.
Communication cost
To be able to reach the audience well and keep them engaged with your website, you need to define and deploy the communication theme that best works in your niche of offerings. And as more and more players are coming in to take your piece away by aiming the same target, you need to optimize your bandwidth of communication by going with the right content and design for your website. So, the increase in the competition in the online arena requires you to mark a distinct presence by communicating and connecting differently with your users and that attracts an extra cost of about 5% to 10%.
Associative cost
When you look to build a website, there are a host of things that you might need to take up as subscription or membership to get you going. These include everything from domain space to professional affiliation and supporting third-party tools to integration with external services. The cost of acquiring all these could get big if you go with regular purchase options. However, if you choose to go with pre-built modules or SaaS based solutions that are built to provide access to different businesses at a time, you can have it for less. And the associative cost of these is not much changed if you compare the earlier figures. This could be anywhere between 2% to 5% at max.
Upkeeping cost
Once you have planned, developed and deployed your website and it is running, you need to run and maintain it and see to it if the website is performing and keeping well as per your needs and preferences. So, one part of this is to keep your website updated with content. You may need to keep adding text, photos, products, blog, videos or other details on your website to keep it up to date and make it perform as per plan. Another thing is, you may need to augment and optimize it from different perspectives by adding different plug-ins and services. Third, you need to keep it secure, backed-up and hosted well, which requires you to check it and treat it well from time to time. This cost is continuously rising as you have more and more online possibilities as well as challenges coming up. The rise in this cost can go up to 10% higher compared to last year.
Let's take an average cost of different websites based on their size and range:
Small size MVP website with basic features: $5k to $8k
Average size, multiple feature site with intermediate traits: $9k to $15k
Big size, full-feature website with advanced product references: $16k to $25k
*Here we are assuming that the website is built on regular product theme and attributes. The cost is neutral to the factors of origin, experience, competency and expertise level of the web development company.
How much does it cost to build a website in 2019?
Based on the details and derivations mentioned above, if you are planning to build an app in 2019 and it's a basic one with a few necessary features there is no point of having complexity, creativity and communication enhancements playing any part here. But in case if it meets any associative cost and upkeeping cost the cost can rise from being $5k to $8k to an approx. 10% to 12% more, which is around $6k to $9k.
If you have a website with intermediate features and decent communication interface and above-average preparations, it would be a bit complicated to build and take in some creativity. Which will raise the cost of the medium size website from $9k to $15k to about 40% more which makes it about $12k to $18k. This cost can vary based on the custom requirement of a business. As they may need least of innovation or maybe functional complexity to get built. So, depending on that the raise can come down to as low as 20%.
Looking at it at the higher end – if you want your website to commit to the best of technology upgrades and trying to achieve the most of innovation that has taken place since last year in the web development space, you should be spending over 65% on building and maintaining the website. Here, if you are going to have an intermediate website with latest features and high-end functionality and great UI which needs to be updated regularly and supported well, it should cost you around $15k-$22k. However, if it is a big website that already costed you around $16k to $25k earlier, it will be attracting a cost hike of over 65% and you can get it built for $30k to $55k now. And this wide range of difference for building a large, high-quality, technically advanced website takes into account the depth and range of practices related to research, customization and integration referring to concept, interface, functionality and traits.
Otherwise, if your big size website can do with average upgrades in terms of innovation, compliance, interaction and other criteria of hikes discussed here, it can be built for around $20k to $35k.
See what our happy clients say: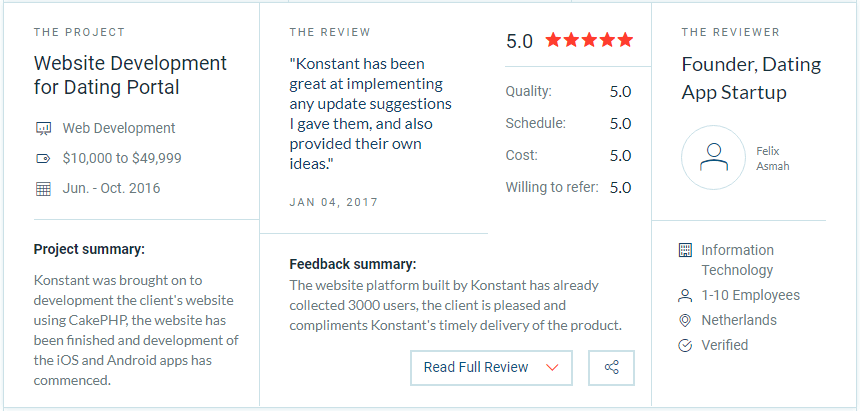 Conclusion
With this, you can expect a considerable rise in the cost of building a website based on the significant hike in the quality and extent of technology, communication, support proponents and practices. And, this could fluctuate as we move further towards the end of this year, depending on the probable technological changes that could take place in the coming sessions, or maybe based on the market rules of demand and supply. But, for now this is the cost you can refer to while looking to develop a website in 2019.