CLIENT-CENTRIC Innovative Mobile & Web Solutions
Transform your Business through the power of Best enterprise Top-rated web and mobile app development company
We've worked with hundreds of startups, small-medium enterprises and top brands, empowering them with our digital intelligence and expertise. We deliver the right business outcomes 5X faster than our competitors and help our clients monetize more effectively.
/ On-boarding process - Building long-term partnerships /
Know how we collaborate with our clients
We're always excited to listen to new ideas from clients and as one of the largest mobile app development and web development companies worldwide, we create new levels of value through client's businesses. Here's how we work together with our clients as one across different time zones.
Understand our Clients
Call or Meeting
NDA (Non-Disclosure)
Project Estimates
Gather Requirements
Perfect Proposal
Strategic Partnership
T&C Communicated
Project Agreement
/ Across multiple industries – Explore our solutions /
How we deliver innovation for industries everywhere
Having a diverse industry experience, we ensure highest quality-perfection in whatever field we work. With each new industry, we ignite technology diversity by incorporating latest tools and technologies required to achieve the best results. We provide solutions for multidisciplinary firms with focus in the following markets:
/ Custom development- Choose your working model /
PARTNERSHIP MODELS
A relation tailored to your needs. From an individual developer to a dedicated project team, we have all you need. Our three effective partnership models are designed to adapt to individual business requirements and multiply profits for our clients.
Fixed Price Project
We provide time estimates and assign skilled resources to work with you on your project, on a fixed-price basis.
Hosted Team Extension
You can improve the operational efficiency of your project by adding our skilled professionals to work remotely with your team.
Dedicated Team Model
We provide a dedicated team of designers, developers, project manager and QA for an estimated time (minimum 3 months) to complete your project.
/ Our portfolio - Showcasing our work /
Few of our recent favorite projects
/ Our Blog- Latest tech insights /
Read the tech stories of the week
Mobile App Development / 12.12.2018
Just being passionate about something is not enough. Whether it is a hobby or a basic necessity, respecting secret ingredients to create that magic in the dish requires time and effort. Eating is a...
Mobile App Development / 05.12.2018
An average of 6,140 mobile apps is released through the Google Play Store every day, but the decision to select the right development approach is becoming increasingly difficult as there is no clear d...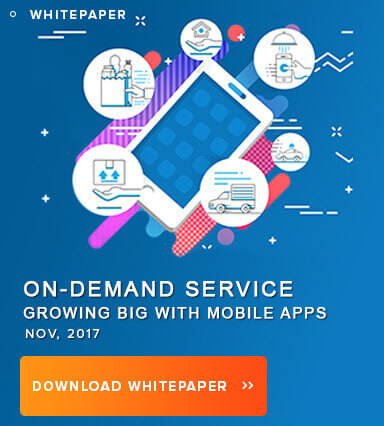 Interested in working with us?
Let's talk and get started
& What you will get:
On-call inquiry assistance
Project consulting by experts
Detailed project estimation