Alcohol Delivery Near Me: #On-demand best alcohol delivery apps that help you enjoy getting your booze delivered at the click of a button!
It turns out to be a no-brainer if you can make it work. But that rarely applies to every brand. While it suits best for beer-heavy chains that can support that positioning with options like delivery. While selling liquor via delivery can make up for profits lost to third-party deliverers who use more of it than you intended, liquor delivery isn't without challenges. A certain gap exists in awareness around liquor availability on shelf and home delivery from casual-dining restaurants.
Alcohol Delivery Service Near Me
Liquor delivery has been popular around dinnertime – that accounts for about half of the orders. But there is (often) a late-night bump after (9 p.m.) that accounts for roughly one-third of the orders (across the U.S)
This news must be rare or might sound laughable that Amazon is the largest liquor store you might ever know about. Not so much, as we rather thought that Amazon's acquisition of whole foods is a piece of big news!
Options to make out the best alcohol delivery app at doorstep exists for customers who make large purchases and are consistent buyers. This acts as a catering arm for larger liquor stores, often compliment individuals and corporations for parties and events. Although deliveries can often be expensive, inconsistent, slow and prone to hassles for both customers and liquor stores it still works for those who look for on-demand services and wish to relish the pleasure from the comfort of their homes or offices.
A short discussion here, taking cues from reliable sources suggests that Amazon is in the process of acquiring more liquor licenses for warehouses that are primarily dedicated to Amazon Prime alcohol deliveries. Why is this noteworthy? Out of 140 warehouses of Amazon throughout the United States; they already have 450 licenses in the whole food segment – this eventually allows Amazon to scale up their liquor business efficiently and quickly.  Now, it can buy and sell more products, including more alcohol, without the overhead of having to stock shelves, merchandise, staff stores, etc. They can sell products at lower margins and offer home/office deliveries at a minimal cost. This makes this business model ultra-clean and simultaneously ultra-scalable.
Uplifting Beer Delivery Near Me
The entire beverage industry must be thankful for a whole bunch of archaic regulations that vary state-by-state and make selling alcohol in the United States a complicated matter; moreover so, as the largest e-commerce company enters the beverage alcohol space, the beverage industry as a whole shows its gratitude towards the three-tier model: Producer, Distributor, and Retailer/Restaurant. Here is an illustration of best alcohol delivery apps NYC that have relaxed restaurants battling around for market share and give their creative ways to boost check averages, with a sudden uptick in the trial of beer and wine being delivered along with food:
5 Best Alcohol Delivery  Near Me Apps in 2020
Here are the top 5 alcohol delivery apps that you must check out this weekend:
1. Drizly (Liquor store near me)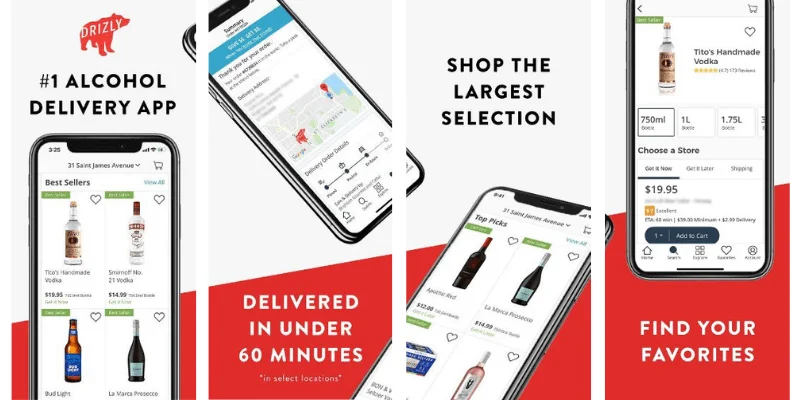 Source: Drizly App Store
It delivers to most of the cities across the north and the middle United States with a potential delivery time of up to 20-40 minutes. All the deliveries in New York are free, but they charge $5 everywhere else. Gratuity is included. The Minimum order has to in between $20-$30 (that depends on retail store). The owners have plans to expand towards more than just city slickers in the biggest metropolises.
DrizlyAndroid App | Drizly iOS App
2. Saucey (Alcohol-delivery near me)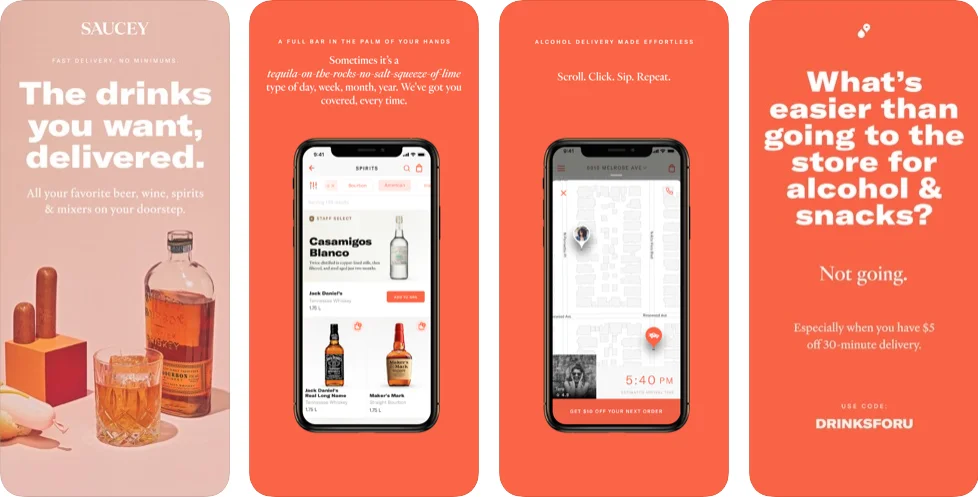 Source: Saucey App Store
It delivers to Los Angeles only. The delivery time ranges from 20 to 40 minutes and the delivery price, as well as Gratuity, is included in the bottle price. There is no minimum order and the app is free of cost. The prices reflect the total delivery fee, taxes, and tips. There are perks off and on, for some special days like Memorial Day, Speakesday, etc. They as well include important ingredients to make you relish cocktails at your convenience including Old Fashioneds, Martinis and Manhattans, etc. What's more, they often include a complimentary bartender to hang out and pour drinks for an hour. Pinch yourself, yes you heard that right! This is real. Plus, as a small favor to society, they donate a part of their savings to charity (which is basically to provide clean drinking water to the people who need it most).
3. Klink Delivery (Alcohol delivery service near me)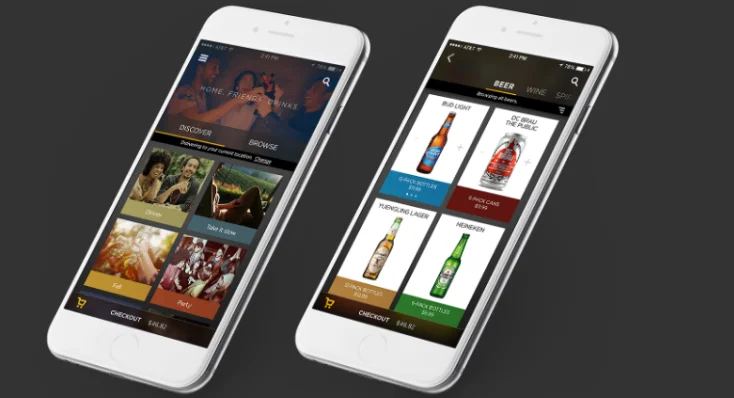 Source: klinkdelivery.com
It delivers to Washington D.C., Ann Arbor (University of Michigan surrounding area), Orlando (University of Central Florida surrounding area). They usually deliver within an hour with a minimal fee of $3.87 or maybe less depending upon the proximity of the area to be delivered. The gratuity is not included in the bottle price and the minimum order value should lie somewhere in-between $20 to $40 (of course depending upon the retail store).  The app is free of cost.
4. Drinkfly (Alcohol delivery in 60 minutes or less)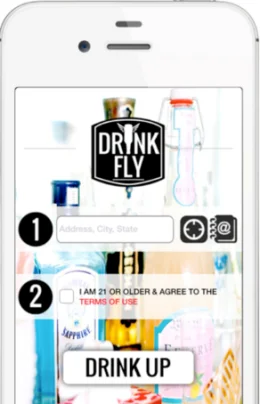 Currently, it delivers only to Chicago and the wait time usually is within one hour. They charge $4 to $6 that depends upon the distance between the location to be delivered and the liquor store). The gratuity is not included. The value of minimum order lies in-between $15 to $25 (that depends upon the retail store.) This app is free of cost.
5. Minibar Delivery (Online alcohol service NYC)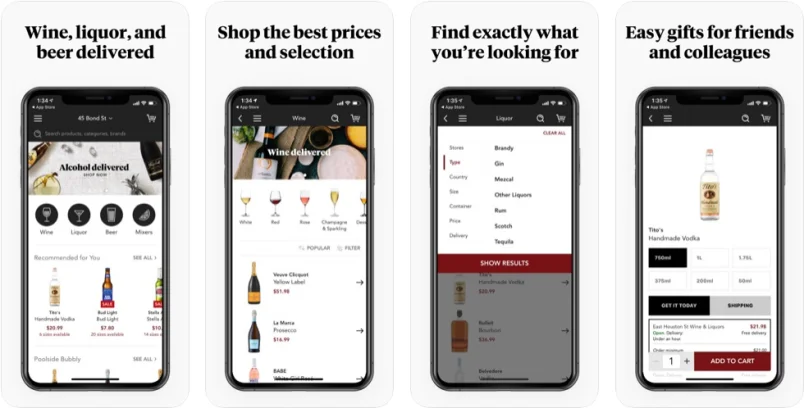 Source: klinkdelivery.com
It delivers to New York and its subordinates, surrounding environs including Brooklyn, Hamptons, and Manhattan & Queens. Deliveries are often attempted within 1 hour of order with free delivery across. The minimum order has to be around $25 in NYC, $100 in the Hamptons. Gratuity is not included and the app is free of cost. As a dedicated app, it helps customers customize their order conveniently, allowing users to filter their choices by setting a price range, selecting brands, sort them by price or alphabetically.
Chronicle
The early buzz on the potential impact of beer and wine delivery for restaurants can be summed up in one word: cheers! Grocers that have added beer, wine, and liquor to their e-commerce efforts have navigated a maze of regulations in order to reap potential benefits in the form of a rising in sales. Restaurant owners have sought new and innovative ways to reach their fans and deliver them what they want when they want it and where they want it. Best app development companies have drawn rein liquor delivery applications which have been successfully adopted with liquor delivery near me outlets, restaurants or shopping malls that promote this business. As various companies continue to expand their e-commerce offerings, adding adult beverages to their list of items, can drive sales in a high-ticket category that's conducive to home delivery – from stock-up to fill out the wine cabinet to last-minute orders before a party starts. This as well becomes an e-commerce entry point for customers who haven't yet tried online grocery shopping.
From scrutinizing the dynamics of alcohol delivery compliance, an increasing number of retailers have made alcohol delivery as an essential part of their e-commerce efforts making it a growth driver across states. Connect with our experts if you wish to lean into wine offerings more aggressively and to know more about best-in-class reorder rates. We build on-demand delivery apps to help you go far up the supply chain to work directly with producers, cut down on middlemen cost and allow the company to sell wine to customers at a lower price point. No wonder kegs are an option!