Have a look at how the scenario of household utility services is being disrupted by on-demand service apps like taskrabbit.
When you need to get any service done in and around your house you think of an agency and call them up. Or maybe ask your friend to suggest one. There are a host of services from fixing water pipes and refilling LPG to moving to a new house, that you regularly seek to have in various ways.
Or you probably know the smartest way of doing it. TaskRabbit!
Well, not all of them know but there are already apps out there that allow you to connect with these services and do a lot of things around that. And it is catching the trends, disruptively allowing users to get these services done with great ease and convenience. And with the fast-expanding popularity and significance of the on-demand home services across different utility verticals, it should be completely changing the way we see the world of services.
What is TaskRabbit?
It's an online mobile app marketplace that matches local freelance worker with local demand, allowing you to choose from carefully selected and vetted 140,000 taskers for doing jobs across a wide range of utility categories including mounting and installation, cleaning, moving & packing, furniture assembly, delivery, heavy lifting, or just anything you can think of to help you with your different daily life needs.
How TaskRabbit Works?
Now, the apps like TaskRabbit, allow you to do all of it at a few taps on your mobile device. All you need to do is:
Describe the task: Let the app know what type of a task it is, entering a service keyword.
Get Matched: Your requirements and preferences are matched with the best suitable service providers.
Get it done: Select one out of those options and avail the services and do the payment through the app.
So, that's a pretty convenient and fast way to get things done without worrying about the results as it is all done by experts. And the kind of security and integrity TaskRabbit offers is highly dependable as you only get to meet providers that are thoroughly scanned and screened through various authentication and credibility tests. Also, on the data front, you get to put up with multi-layered encryption and strict security policies, which makes it highly reliable to share information on the app.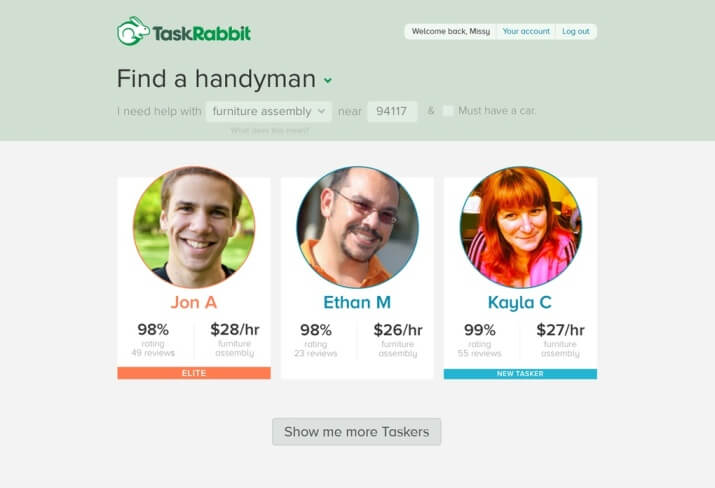 Source: Taskrabbit
The Growth Timeline of TaskRabbit
Feb – 2008 Apple conceived the household services marketplace idea
June – 2009 Built the prototype and received $20,000 funding in the inaugural fbFund REV
Dec – 2009 Things started moving towards implementation and started receiving more funds. This time it was $ 1 Million from Baseline Ventures and Maple Investments
May – 2011 Things began to take more stable and clearer shape and the app received a $5 Million Series A funding from multiple investors like First Round Capital, Floodgate Fund, Baseline Ventures. The company now had a bigger landscape to cover and had over 2000 providers with them.
Dec – 2011 In a Series B round of funding TaskRabbit received $ 17.8 Million. And by now it had 35 full-time employees working with it. At this point, the team generated $4 Million worth of business each month.
July – 2012 As the project caught up speed it went on to raising C Series funding and raised $13 Million from Founders Fund, Shasta Ventures, Baseline Ventures, 500 Startups, Lightspeed Venture Partners and Shervin Pishevar.
May – 2014 TaskRabbit evolved into a hire-only model after it had enough of market explorations and service acquisitions going with the posting and bidding model.
Modules Within Apps like TaskRabbit
An app like TaskRabbit is basically divided into two major parts. One is for Task Posters or Customers and the other one is for Taskers or Service Providers.
Here, the task posters are those who are looking to get served with some task and are looking for the service providers to help them out with that. The task posters are the customers to the app who are generating the demand for service on the app and paying a price for being served by the taskers.
On the other hand, taskers are those who fulfill the demand for service on the app. These can be agencies, freelancers or businesses that are serving the demand for different services or tasks generated by the customers on the app.
Apart from these, there are different sub-sections, communication resources and action events within these modules to help users dynamically and effectively interact with the app and get served inclusively. These include feature components like user profile, support chat, notification updates, advanced search, bookmarking, service coupons, and payment.
What's The Future of the Apps like TaskRabbit
If you talk about the scope and possibilities in the on-demand service apps segment, it's plenty. Well, that is primarily because most of the people in the ever-expanding urban areas are leading busy lifestyles and they want things to happen at the flip of their hand. Secondly, they are concerned about the authenticity and credibility of the service more than ever. And most importantly, they have access to mobile phone technology and are acquainted with utilizing these to their benefits.
Today, we can already see businesses planning out to build TaskRabbit clones adding their own twist to it. The disruption is happening at a great pace and the latest of mobile technology is being utilized at its optimum best.
And, of course with different service segments like transportation, laundry, food, construction, furnishing, grocery, cleaning, surveillance, gardening, increasingly searched and hired by users online, such apps have a wide scope and constricted density to cover – thus making a great opportunity for new apps to serve into different niches and in different ways.
So, these all points clearly indicate the fact that the idea of on-demand services is going to grow with time as you see more people joining in the mobile revolution. Also, as advanced resources and techniques keep hitting the space of on-demand app development, you can see ever advanced benefits coming to the on-demand household help and services segment, that has already caught on the J-curve of offerings ahead of time.
Taskrabbit Competitors
Apps like Taskrabbit or Urbanclap work like umbrella concerns, trying to ease out various jobs and respond within budget and timeline. These are an online and mobile marketplace that allows users to get help with their everyday chores such as cleaning, delivery, plumber, yoga trainer, wedding photographer, moving and handyman services, domestic help, cook, painting, construction, nurse and facility maintenance, etc. Many such applications have followed the footprints and are working to provide similar services like TaskRabbit. Timesaverz, Fumble, Thumbtack, BrightNest and Urbanclap are examples of similar applications that provide services ranging from cleaning, beauty, laundry, pest control, appliances, handyman, home maintenance and repairs, yard work, mounting and installation, $1 Million property damage coverage, task matching, moving and picking, home improvement, furniture assembly, tasker background check etc.
Best Alternatives to Taskrabbit
Task Tender – (Australian alternatives to TaskRabbit)
Airtasker – (alternatives to TaskRabbit)
Tasker Tree – (Sydney-based Australian TaskRabbit alternatives)
PintTask – (similar to TaskRabbit)
Eldiv – (NY services like TaskRabbit)
Fancy Hands – (US-based assistants at your fingertips)
Perssist – (services like TaskRabbit
USource – (good alternatives to TaskRabbit)
SlaveLabour
Zaarly
HelpTap
NearBuz
RUSH.ai
Prefer
Cohort 2.0
Helpur
Cost to Build Apps Like TaskRabbit
The cost of apps like TaskRabbit depends upon creation, curation, and customization of this app. Let's understand various modules and features required to define the app:
Taskrabbit app functions in various ways which involve creation and curation of various modules:
Enrollment into app involves registration and login into the app
Developing the Tasker profile
Posting the job
Curation of the app involves:
Inspecting the tasker profile periodically
Checking to stop of account abruptly.
Covering insurance.
Handling job termination.
Messaging feature.
Moreover, customizing the app with features includes: geolocation, push notifications, search filters, in-built scheduling, checking the credibility of the tasker and securing all dealings.
Besides all the above-mentioned features core communication is the panacea to address while planning about Mobile App Development in NYC for an app like TaskRabbit.
The app will be divided into 3 categories like:
User App
Tasker App
CMS for managing tasks
Key Features of the app will include:
SignUp and Sign In
Browse Task Categories
Task Details
Tasker Details
Task History
Scheduling
Tracking Payments
Rating and Reviews
Instant Delivery
Caller Identification
Multi-location Access
Transaction History
Cashless Payment
There are many more features that should be analyzed if one wishes to stake in this business. The time required depends upon the operating system, the technology to be used, skilled developers (on-site and off-shore), the timeline and budget of the client. On average it will require 3-6 months and $15,000-$30,000 for development.
Conclusion
As discussed, with the exponential growth of mobile technology and accessibility to advanced internet services, we are moving towards the online counterpart of almost every service we need to put up with in daily life. And with this no doubt, on-demand apps like TaskRabbit will continue to grow to serve the mounting demand and ever-evolving preferences to be served fast and easy. It has already changed the way we connect, commit and consume these services. Moving further, you can see new roles and advanced traits taking shape. And this would be making the existing players expand their base further and new players to come up with unique and niche category offerings to change the game forever.
---
Frequently Asked Questions (FAQs)
---
How Does Taskrabbit Make Money?
Taskrabbit makes money by taking a 15% service fee of the total price you pay for the tasker.
---
Where is Taskrabbit Available?
Taskrabbit available in Miami, New York City, Atlanta, Austin, Boston, Chicago, Dallas/Fort Worth, Denver, Houston, LA & OC, Philadelphia, Phoenix, Portland, SF Bay Area, San Antonio, San Diego, Seattle, Washington DC, Pittsburgh, Las Vegas, Sacramento, Salt Lake City, Tampa/St. Petersburg, Orlando, Indianapolis, Kansas City, Baltimore, Columbus, Ann Arbor/Detroit, St. Louis, Charlotte, Raleigh/Durham, Cleveland, Cincinnati, Oklahoma City, Milwaukee, Nashville, Louisville, Minneapolis/St. Paul, New Haven, Jacksonville, Memphis, Charleston, Honolulu, Albany / Capital Region, Albuquerque, Des Moines, Richmond, Fresno, New Orleans, Tucson, Omaha, (Toronto, Vancouver and Montreal in Canada)
---
How Much Does Taskrabbit Charge?
TaskRabbit charges a 15% service fee…
---
How Much Time Does it Take to Build an App like Taskrabbit?
On average it will require 3-6 months to build an app like Taskrabbit.
---
How Much Does It Cost To Build An App Like TaskRabbit?
It cost $15,000-$30,000 for development.
---