Newbie ride sharing applications are gearing up for the rivality directed by celebrated riding platforms like Uber and Lyft!
Uber, a San Francisco based Ride-hailing platform has surprised riders ever since its inception owing to its disruptive technology, explosive growth, and constant controversy – has emerged as the most fascinating thing in car-pooling. It has now become highest valued startup company in the entire world navigating its way along the low fare options, ride-sharing (splitting the fare among passengers), regardless of where you go, it's available in all sizes from Uber's large sedan (UberXL), SUV(Uber SUV), Luxury car(LUX) to multiple mid-level cars.
Average monthly active users on Uber worldwide from 2016 to 2018 (in millions) for Uber
This statistics show average monthly users between (2016 and 2017) and gives a forecast for 2018. In 2018, the monthly number of Uber's users worldwide is forecasted to reach 100 million, up from 75 million users in the previous years.
Although they have been sailing across, the roads have never been so smooth for Uber ever since. It has been enwrapped with controversies that have often knocked down its valuation from a lofty $70 billion to $48 billion in the last funding round in Jan. They have been quick enough to announce tender offers that have bumped the company's value to $62 billion.
Benefits of Car Booking App
Business Benefits
The car booking app grows customer base
Track the location of your cab using the google map and GPS location
It helps you develop goodwill and also help to improve the overall productivity.
Passengers Benefits
Rides on demand
Budget-friendly options
An easy way to get around
Easy payment options
Security and safety features
Drivers Benefit
Features in Best Ride-Sharing Apps
Essential features within a car-sharing app:
It is important for every car-sharing application to have an Intercity (Outstation) Travelling Module these days. People frequently require to travel for work purpose or for leisure.
Lucrative day packages for travelling within the city (allowed within a few kilometres and time), customers are charged accordingly. This feature turns out to be USP of the application as this gives users the liberty to imagine as if they are driving their own car, thus giving them a personalized experience.
Uber provides prime membership to its riders, which is very unique from its counterparts like Grab, Lyft, Gett etc. Users can select one membership plan according to their needs.
Managing Trip Parameters like a wheelchair for physically handicapped, a special car-seat for infants, can help riders experience a rich experience during the drive.
Top Car Sharing Applications 2020
With the increasing population, there has been a simultaneous increase in the number of smartphone users. With increasing complexities of day to day life, people are overburdened with pressure to reach their destination on time and within budget. Not everyone can own a vehicle (car), but this cannot overdo their desires to avail of the services provided by top car-hailing services. They often tend to go with available car-pooling options that display low fare options like Uberpool etc. Top taxi-booking apps in 2020:
Gett – Israeli On-Demand Mobility Company
Ola – Indian Ridesharing Company
BlaBlaCar – French Online Marketplace for Carpooling
GetAround – Peer-to-Peer Carsharing Service
Carma Carpooling – Real-Time Carpooling/Ridesharing App
Waze Carpool – Cost-Effective Alternative to Rideshare Services
Uber – Best Rideshare App
Lyft – San Francisco Based Ridesharing company
Curb – Taxi App in the US
Wingz – Peer-to-Peer Transportation Network Company
Bridj – On Demand' Public Transport Providers
Here is our pick on taxi-hailing apps that will continue making their mark as the best car-sharing apps in upcoming years, besides Uber:
Gett – Israeli On-Demand Mobility Company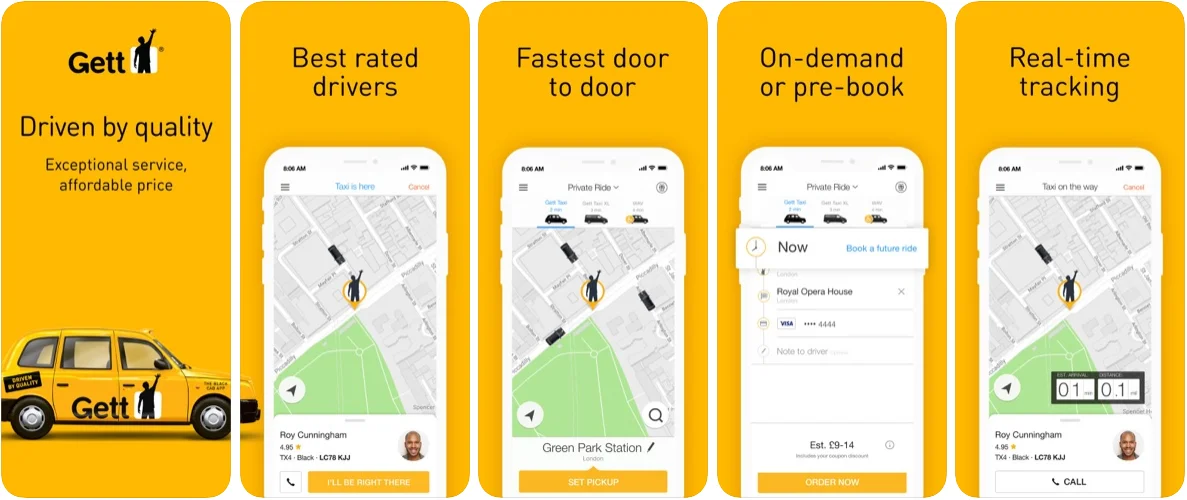 It was earlier known as Get Taxi. It is a global transportation company that connects people with transportation, goods, and services. Gett acquired another similar startup Juno when it started an equity structure that planned to give drivers 50 percent of driver's equity.
Ola – Indian Ridesharing Company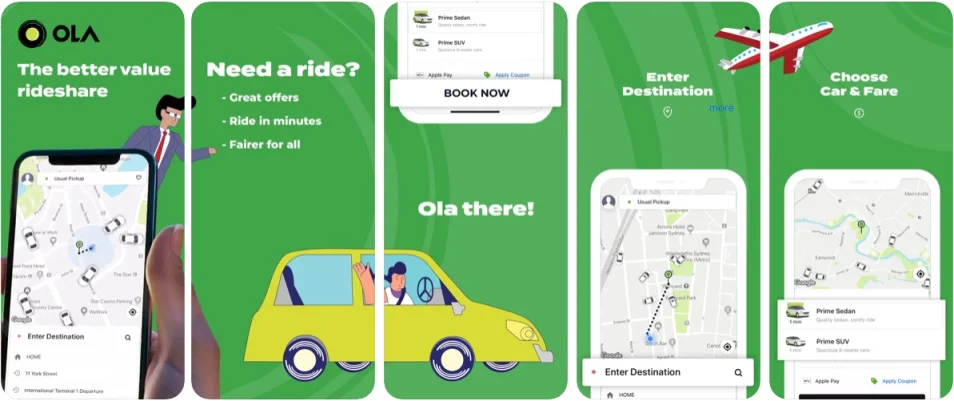 Users can share a car ride with Ola. Passes can be purchased for a flat fare ride to fixed destinations. This car sharing app accepts payments from all modes, is convenient for users who are looking for a low fare ride and can be flexible with the timings and car-pool option.
BlaBlaCar – French Online Marketplace for Carpooling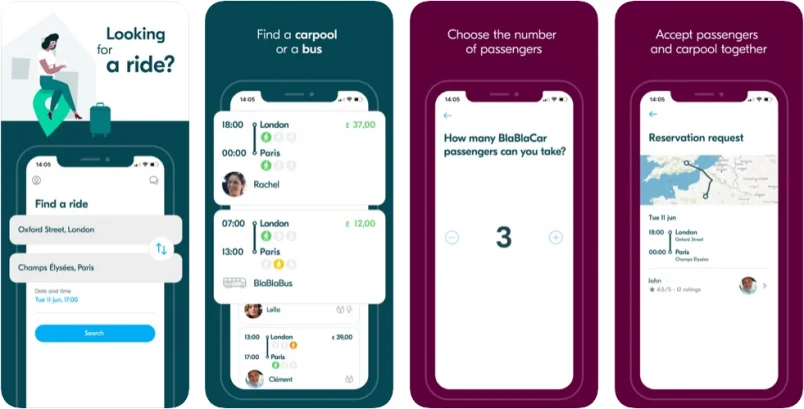 This car-sharing service is designed specifically for travelling between cities. It is suitable for passengers who are ready to share the cost of the journey going in the same direction. With multiple payment options, the rides become even more convenient. As soon as the ride starts, the details are shared by a head center until the destination is reached.
GetAround – Peer-to-Peer Carsharing Service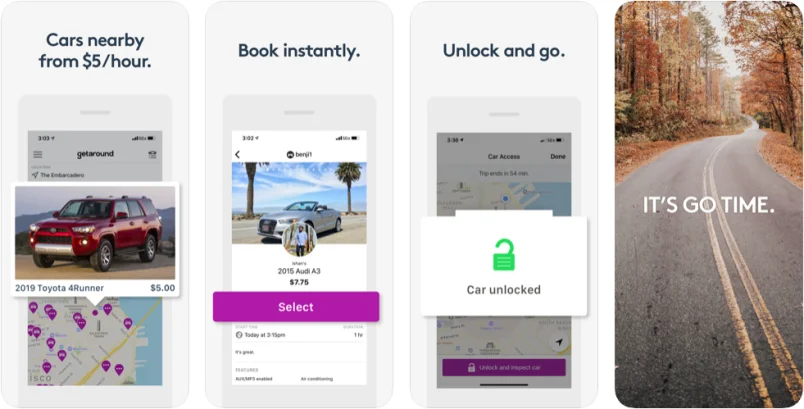 This peer-to-peer car sharing service allows drivers to rent a car and works like a local car rental. Although it is way behind Uber and Lyft but is becoming popular among masses as it is convenient and economic.
Carma Carpooling – Real-Time Carpooling/Ridesharing App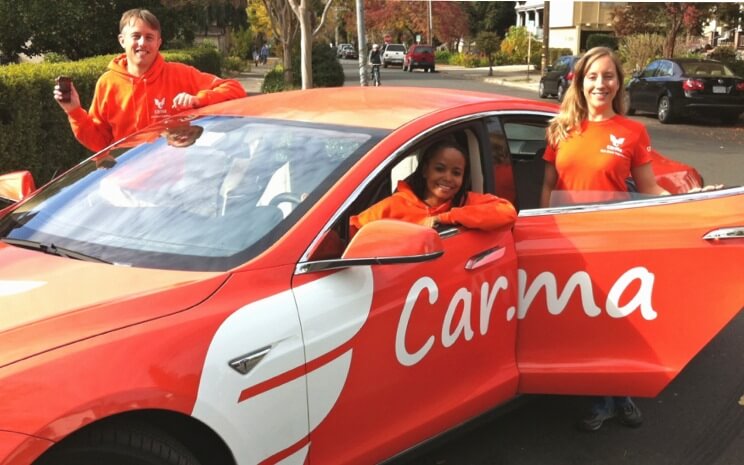 It is more of carpooling options rather than a ridesharing option. It is convenient for people who are heading in the same direction and are ready to share the cab fare. The rides are fixed at $.20/mile, which implies that drivers do not make any profit.
Waze Carpool – Cost-Effective Alternative to Rideshare Services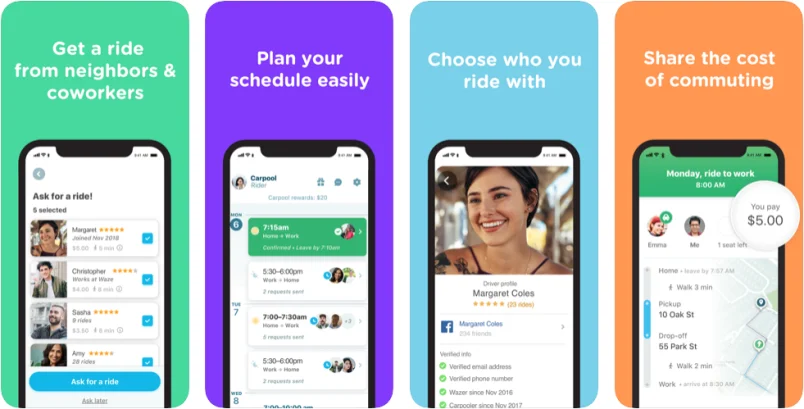 This cabbing option allows the riders to choose their carpool buddies. It may be colleagues who are on the same shift or people who prefer to go on a prescribed cost and preferred route.
Concluding Words
These best ride-sharing apps and carpooling apps have been built to make it easy for riders to travel from point A to point B, and are also making the future closer with self-driving technology, urban air transport and affordable. Such on-demand services have also removed barriers to healthcare, freight booking, tow-truck, beauty care, pet-keeping, and babysitting by helping companies provide a seamless employee travel experience.
Customers always prefer convenience in whatever they do. The same applies to the services that they wish to avail of. If you wish to provide the best taxi apps like Uber that has all the above-mentioned features that a normal taxi booking app must have, then you can simply fill out the form and schedule your free consultation with our experts. It is fast and easy. Our developers will be upright with all possible solutions to all your taxi app development queries. We are a recognized Mobile App Development Company with expertise in all ride-sharing app development services.