Wish to turn an enigmatic platform into a successful on-demand delivery app? Find cues from the excerpt!
Housing, Retail Delivery, food delivery/grocery delivery, on-demand marketplaces, on-demand home services, on-demand health and beauty services, Courier services, Package Delivery App, Freelancing / On-Demand jobs, Taxi booking services, Healthcare, etc. are examples of some of the businesses that leverage On-Demand App. (according to an on-demand economy survey by NTRS)
By Definition, the on-demand economy has been described as consumers purchasing products or on-demand delivery service that uses a website or app to connect them directly with the person who provides the service or product.
On-Demand Delivery Economy Growth Trajectory
The size and growth of the on-demand economy depict the alliance between consumers and the user experience, coupled with the convenience that they are looking for. The on-demand economy has seen incremental growth in the coming times, spreading its influence across industries. Housing, Food Delivery, Cab/Taxi booking, retail delivery are some industries that have seen the most growth from $5 to $15 billion in 3 years (spanning across 2016 till 2019). These industries have been flat in the past couple of years, indicating that their business categories are peaking.
Crowd Companies Research
Crowd Companies, a research firm suggests that more than 280 companies provide on-demand goods and services across 16 industries and this scenario has emerged from 76 companies operating in just 6 industries in the last two years.
National Technology Readiness Survey
National Technology Readiness Survey conducted recently (updated till January 2020) reveals that the on-demand economy in the U.S grew by 18% from 2018 to 2019. This study as well as tracks the behaviors and beliefs in the U.S (from the past decade)
The survey questionnaire was designed to capture the major awareness and purchasing trends in the on-demand economy. This also included capturing purchase incidence, frequency and spending by category, adjusting for potential errors in classifying services of on-demand brands like Uber, Lyft, Airbnb, Vrbo, Etsy and eBay, etc.
NTRS data shows that the on-demand services have already moved beyond early adopters and has gained traction among mainstream consumers who require that platforms be user-friendly and safe.
Purchase Behavior-Based Grouping by NTRS
Eventually, NTRS grouped consumers into five groups depending upon their purchase behavior:
Explorers: These people are always enthusiastic about technological changes and makeup as early adopters of any innovative technology.
Pioneers: These may like or may not like technological innovations based on their business or personal requirements. They make up for 29% of the on-demand consumers.
Hesitators: These type of people are optimistic about technology but are a little uncomfortable and scared; they represent 16% of on-demand consumers
Skeptics: Such consumers do not necessarily take the required steps to follow technological innovations. These makeup for 11% of on-demand consumers
Avoiders: These are not swayed by any technological innovations and makeup just 4% of on-demand economy consumers.
Possible Ways to Implement An On-Demand Delivery Model
Convenience and super-fast delivery service factors remain at the core providing a competitive advantage:
By having third-party on-demand delivery providers as your partners.
By having a dedicated app catering to your on-demand business needs.
On-Demand Delivery App Suggestions and Features
Customer App Features
User Authentication via email, username, phone number or social media login.
Order Details – Add/manage/delete orders. Product pick-up and drop-off location, customer's information, product information, preferred delivery time (if applicable).
Matching Algorithm – That matches the order with the closest free courier. This will essentially be based on the location and the current route.
Personal profile, including order history, reviews and rating, preset personal info (name and addresses), and payment details.
GPS order tracking – to track the current location of the package, the time of arrival using location services.
Payments – via cards, integration of mobile payment gateways (Braintree, Paypal, and Stripe), NFC payments (Google Pay, Apple Pay, etc.), and hardware integration (Square).
Integration with phone calls or In-app messaging – required to re-schedule the delivery or contact the driver after the order has been accepted.
Review and Rating system to leave feedback to courier delivery partners.
Push notifications as a tool to enhance the customer experience and is a powerful engagement tool.
Additional features – Loyalty and animation features such as points, coupons, and invites and discounts.
Courier App Functionality
Creating/Managing Secure Courier Profiles
Process of verification via courier's onboarding platform
Managing and Aligning orders
In-app messaging and push notifications
GPS Navigation
Reviews, ratings, and feedback
Managing Personal Profile with basic order details and total earnings etc.
Web-Based Management Portal
Courier profile, customer profile and partnering business profiles
Customer support for integrating live chat and emails.
An accounting module for transactions and payment details.
Integrating advanced analytics for detailing customer's/courier's activities for orders that are placed and ordered that are completed.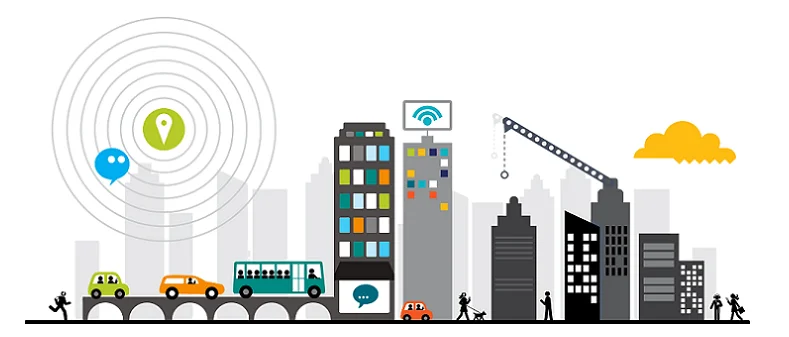 (Source: peerbits.com)
Challenges of On-Demand App
Few points that must be considered before building an on-demand delivery app:
Selecting the right Business model
Implementing ways to improve the customer experience
Implementing Regulations related to transportation or professional kitchen safety
Spreading the good word, making use of SEO and analytics to enhance mobile-first strategy, offer city-first targeting, and help with better ROI's
Managing City Expansions – determining a profile for launch
Understanding the Product for better and faster user-experience
Popular On-Demand Apps
Some of the popular on-demand applications in the market:
Uber  (On-demand taxi app)
Lyft (San Francisco On-demand ridesharing app)
Grab (Singapore ridesharing app)
Instacart (On-demand grocery delivery app)
OlaCabs (Indian on-demand rideshare app)
DoorDash (San Francisco on-demand food delivery app)
Postmates (On-demand food, groceries, alcohol delivery app )
Cabify (Spanish on-demand ridesharing app)
Swiggy (India's On-demand food ordering app)
Taxify (Estonian on-demand ridesharing app)
On-Demand Apps in Our Portfolio
Many other on-demand solutions in pipeline and discussion, comprising:
On Demand Music
On Demand Tutor
On Demand Dog Walking
On Demand House Painting
On-Demand Ambulance
On-Demand Car Wash
On-Demand Real Estate
On-Demand Lawn Mowing
On-Demand Home Cleaning
On-Demand Dry Cleaning Services
On Demand Tour Guide
On-Demand Veterinary Surgeon
On-Demand Insurance Agent
On-Demand Baby Sitting
On-Demand Electrician
On Demand Beauty/Parlor Service
On-Demand Handyman
On-Demand Snow Plows
(Plus we are open to all other custom requirements)
SWOT Analysis for On-Demand Delivery Company
Identification of strengths, opportunities, weaknesses, and threats for your on-demand delivery business can turn out to be a competitive advantage.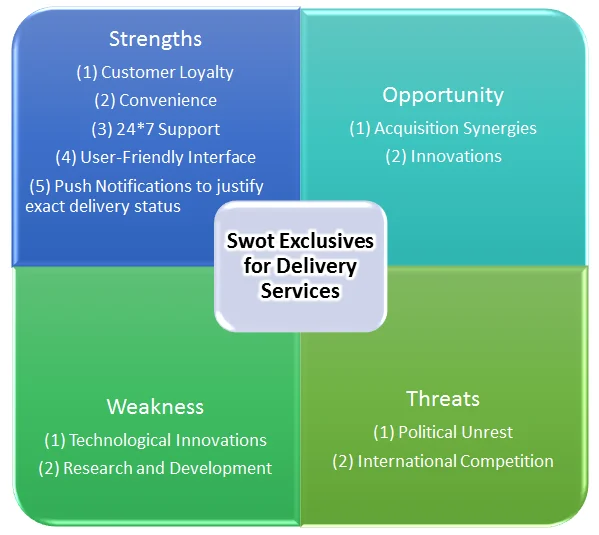 Cost to Develop On-Demand Delivery Apps
While the number of hours multiplied by vendor rate remains one basic formula for creating an on-demand delivery app. Still developing an on-demand app for your business (Retail & delivery, Beauty, Healthcare, Food delivery, Taxi, Fitness, Domestic services) will typically require you to diagnose the available skillset of developers, the technology in demand, the budget constraints, the client's demands and the scope of the application (Notification, GPS tracking, activity List, wishlist, payment facility, ratings, and reviews, booking cancellation, multiple order booking). The cost of an on-demand delivery app can be estimated in between $5,000 to $30,000 (might vary according to tentative change in requirements and scope of the application)
Last Line: What is the Future of On-Demand Delivery Apps?
Besides the factors discussed above launching the app locally, promoting the on-demand delivery app early, starting with MVP development, offering on-the-spot support and fast issue resolution, setting up a contractor selection process and conducting regular screening to prevent steeling or poor service, and introducing loyalty programs to engage and retain your users – can be other supporting factors that will give a sense of belongingness to the concerned business.
On-demand Delivery App Development teams at Konstantinfo has been exploring the value-driven culture propelled by excellence in everything they do. They strive to replete the yawning chasm between the perception and reality by coding, testing and maintenance efforts, irrespective of the business domain for which they work. Get a free quote!