Looking to build a solution on PHP? Here's how much you should ideally pay for the services as you hire a PHP developer for your project.
Technically PHP stands for "hypertext preprocessor" (formerly Personal Home Page) and is one of the oldest and most widespread server-side scripting languages used to build both static and dynamic websites.
If you are looking to develop a dynamic and presentable website with a great amount of customization, there's nothing as trusted as PHP to deliver that need of yours. Been there for years, PHP has been a solution to millions of websites we use today. And it is as useful and relevant today as always, as it has changed and evolved to offer better with time. So, in order to translate your idea into a competent, functional, and valuable product that best supports your purpose and goals, you need to hire a PHP developer and get your PHP web solution built as per your requirements.
Here, if you are new to this kind of discussion you should know, when you say that he or she works on PHP, that generally includes the core development language as well as the frameworks like Laravel, Yii, Codeigniter, Symfony, Zend, CakePHP, and Joomla. Their core job is to write, test, and maintain the codes for web pages. The qualification of a PHP developer can be determined by looking at the range and complexity of applications developed by them and the skill set they possess.
A comparison of PHP's popularity with that of other languages
Source: W3Techs.com
Here are a few things that you need to check and scan the candidate through while selecting a PHP developer:
In-depth knowledge of PHP programming language
Good knowledge of working with frameworks like Laravel, CakePHP, and Symfony
Handy with HTML and CSS
Experience working with SQL/MySQL databases
Fine understanding of JavaScript
Acquainted with control systems (SVG/Git)
Good experience working with OOP (object-oriented programming) concepts
Where to find PHP developers?
The traditional way employs the conventional method that looks out for job agencies and boards that have candidate profiles and maintain a database of it, allowing you to hire from the pre-scanned list of candidates taking their interviews.
Another system that is much popular these days is that of online portals that bring together companies and job seekers. Here, different professionals and workers build their profile and post their preferences for job type, industry, engagement, location, designation and other choice factors. Companies can search for them by applying the search and filtering them through different criteria and parameters to screen the most suitable candidate for them. Monster.com, TimesJobs.com, and Naukri.com are some of the most popular names in the space.
Now, here the third thing that attracts huge job traffic is the marketplace/communities for jobs. Upwork, Toptal, LinkedIn, StackOverflow is some of the best examples of it. Now, these platforms allow businesses and hiring experts to connect with different providers allowing them to bid on their projects. Now, this allows you to check and compare all the available options for the job by comparing them head-to-head on the basis of their previous experience, relevance, background, prices, credibility, and ratings.
If you have the least trust in these options and want to be more certain about your results you can go with hiring a PHP developer from a web development company. This would allow you to put up with an experienced professional who works in a streamlined and well-equipped environment with proper methods and tools backing the entire process of development. Also, you get to work with a more reliable work setting that has well-appointed support and supervision available to assure you more reliable and timely results.
Cost to Hire A PHP Developer
The developer's fees or remuneration largely depend on factors like experience, expertise, skillset, knowledge, supporting infrastructure, the process followed type of engagement, and market type. Here, we are not considering the factors like complexity, time and quality that are independent to a particular project requirement and should be considered separately. So, in order to reach a certain viable number that gives you an idea of how much it would cost to hire a PHP developer, we are taking an overall average of all the decisive factors that define the project requirement.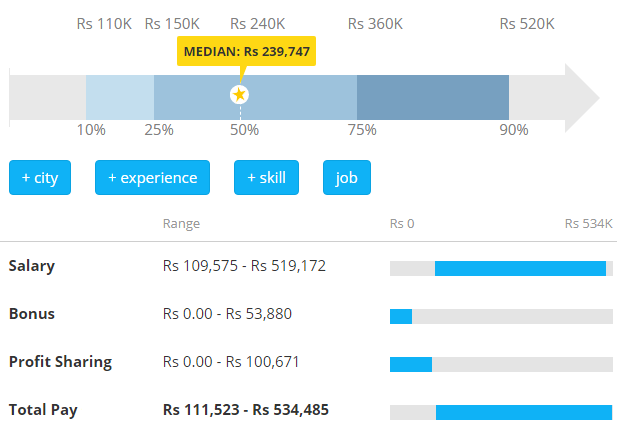 Salaries of PHP Developers in India
Source: www.payscale.com
On an average, a PHP developer earns $84,696 per year, according to www.indeed.com
According to ziprecruiter.com

These changes are in line with the European Union's General Data Protection Regulation (GDPR) and took effect on May 25, 2018.
Approximate annual earnings of PHP developers in other countries: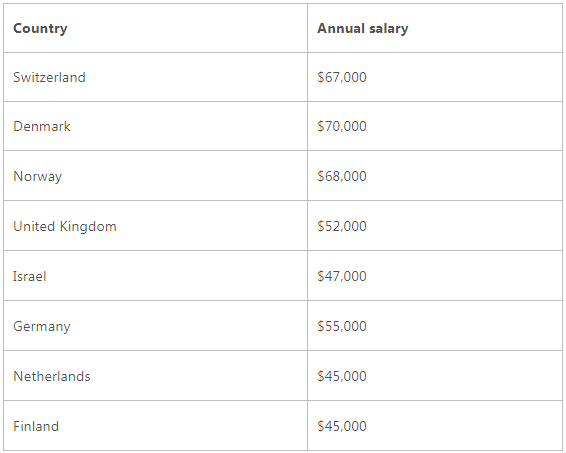 According to Payscale, the salaries of PHP developers are differentiated on basis of their skills as follows:
Junior Developers: $50K
Middle Developers: $60K – $70K
Senior Developers: $80K
Average hourly rates
Junior PHP Developers: $20
Middle PHP Developers: $30
Senior PHP Developers: $40-$50
Developers are evaluated on basis of a certain range of skills like PHP, JavaScript, MYSQL, HTML, jQuery etc. There is an addition to salary with every extra skills addition:
Drupal + 10%
Magento + 3%
ASP + 3%
AngularJS + 3%
Symphony + 3%
.NET + 3%
ColdFusion + 3%
Ajax + 3%
DHTML + 3%
PHP Developer Salaries in the USA – National Average: $102,954
Salaries According To the States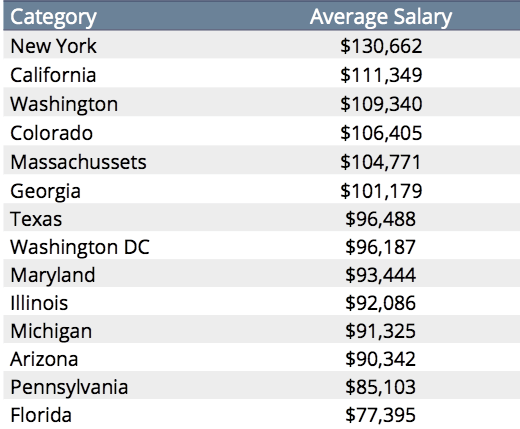 Source: www.codementor.io
PHP Outsourced Developer Rates
Based on a survey of over 5000 freelance/outsourced developers by Codementor's around the world, the average rate of PHP developers is $61/hr. Hourly rates of development range from $120/hr to $41/hr depending upon the geographical location of the developer.
Average Monthly Salary of a PHP Developer
40hrs/Week x 4 Weeks = 160 Hours
160 hrs x 61 = $9,760/Month
Annual salary of Freelance PHP Developer
$9,760 x 12 Months = $117,120/Year
Hiring a full-time onsite developer seems to be more lucrative and cost-effective than hiring average full-time PHP developer compensated at $102, 954/year. The cost of hiring a full-time employee is also affected by paid benefits and indirect costs.
If you can afford to go with less guaranteed engagement or unspecified claims, you can even hire a freelancer from different online portals for web development jobs. Here, you have to screen from an array of skillsets and zero down to candidates and find a developer looking at their profiles. Because of these uncertainties and risks that are innate to the hiring model, you get to hire a developer at about half the rate as compared to that of a PHP development company.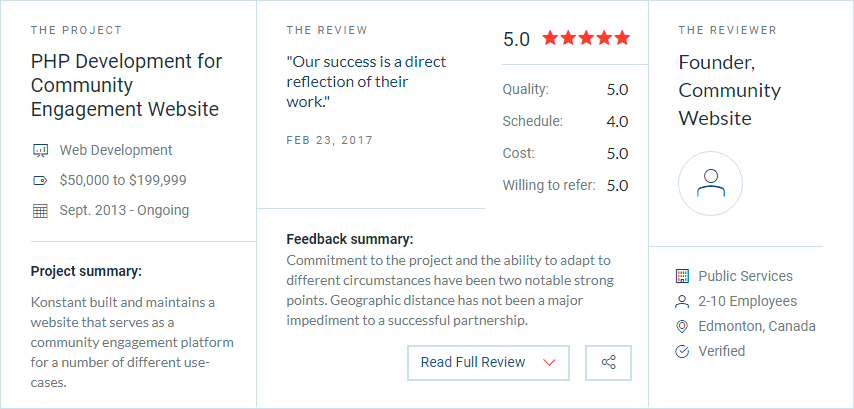 If it is direct hiring through an agency, you should be getting the developer at an even lower rate, but it would cost you highly to arrange for the development setup and deploy a process to allow your resource to work on your project. And that only makes sense if you already have a running facility and have access to enough of PHP knowledge resources and support to back your development goals.
Conclusion
So, taking an overall scenario, it costs around $9760 to $10,000 to get a one-month long PHP project rolled out in the US. If you are looking to go with everything of the top order and most assuring and your requirements are complex and rare, you can be asked to pay a sum of $50,000. However, if you get it developed going with other economical options like India and Ukraine, it can be about 25%-30% of it, keeping every factor static and qualitative aspects neutral. Of course, if you go by the parallel options like freelancing you can further get it developed at a half rate to that of a company.