Create Fantasy Sports App like Dream11 - Let's see how 'my fantasy league' is changing the sports industry!
Sports is the last entertainment content that has to be consumed live (as opposed to all the other things that can be watched on Netflix). Thus sports attract big money from advertisers and gamblers. This affects sports enthusiasts to bring in more money (as everyone witnesses huge TV right contracts) and could also eventually lead to selling out game and ruining the sport that is loved by millions.
With the legalization of sports betting, sports viewership has been drastically transformed. Sportspersons are no more idolized but are rather been treated as mere assets to be exploited for fast money. Betting comes as a supplement to gambling on unpredictable events and does not involve any researched skills that are the primary premise of a fantasy sports game.
Daily fantasy sports have changed fans' engagement with sports. With the two interesting outstanding questions – (1) Who is going to win within the daily fantasy sports providers? (2) Who is impacted the most in the sports industry and the gambling industry? Are daily fantasy leagues simply opening a new form of gambling to previous non-gamblers (increasing market size), or are they actually stealing share from traditional casinos or sports books?
While most of the fantasy sports teams certainly look promising, they will still face a host of a new startup and entrenched competitors in the future, and it'll be fascinating to see how the market pans out.
Nothing is certain with fantasy sports, whichever starting lineup is chosen will be the wrong one. What happens when you launch a sports league that's really a tech startup, with a nebulous mission, shaky funding and a killer app promising more than it delivered? The inside story tells about how to build a fantasy sports app like Dream 11. If you don't remember anything else from this post, remember this bit. Everything else follows from here.
Q: How does fantasy sports app like Dream11 work?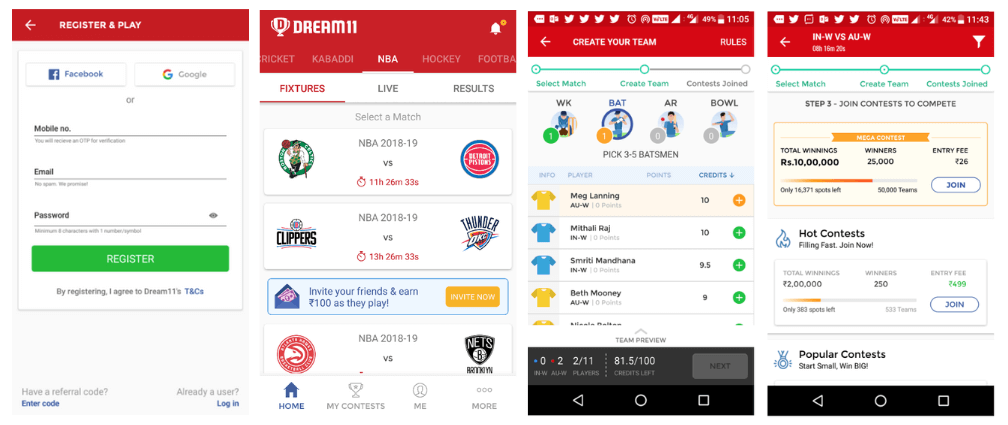 A: Fantasy Dream11 offers single math daily for all sports enthusiasts where they can leverage their knowledge and showcase their skills in a particular sport. All this helps them fetch instant gratification in the form of bragging rights and winnings. In this game, fans can also be team owners, rather than just spectators as Dream11 allows users to create their own team (based on real-life players) for upcoming matches, score points based on their on-field performance and compete with others. As a company, Dream 11, officially partners top global sports leagues such as the Hero CPL, Hero ISL, and NBA.
Q: What is the standard technology stack of Fantasy Sports App (Drafters) – API's used (for sports), payment, database, front-end, cloud environment, real-time analytics, push notifications
A: Standard Technology Stack for a Fantasy Sports App:
Front End: Node, Express.JS, and Socket.IO, AngularJS and PHP
API Used: Stats.com (API)
Payment: Paypal and Paysafe
DataBase to be used: MySQL, MongoDB, Redis
Cloud environment: AWS
Mobile Notifications: Firebase, APNS
Push Notifications: One signal
Real-Time Analytics: Gleam.IO Google Analytics
 Q: What is the business-model of Fantasy Sports App like Dream11 and Drafters?
A: Dream11 Fantasy Cricket App is an online fantasy sports portal, which is dedicated to users who are passionate about sports leagues like Cricket, Football, Kabaddi, NBA, NHL and NBL like to live the game in their own way. It is a fantasy sports website that will give you daily and weekly snake drafts for NFL, NBA, NHL and MLB along with personalized sports news feed. It has the highest payouts in the industry.
Q: What are prime and additional features in Fantasy Sports App (Dream11, Drafters)?
A:  Live Match Score, CRM Integration, CMS Integration, Players Record, Push Notifications, GPS Location Tracking, Multiple Payment System, Custom Mail Reminder System, and Loyalty Programs, sports betting and real-time chatting.
Q: What are the features of the Admin Panel?
A: Role-based dashboard, Manage Users, View earnings, Manage Reward points, Manage Bank with-drawl request, Manage Cash Bonus, Content Management System (CMS), Home screen, browse sports, My Profile (Dashboard), Create Contest, Join the Contest, Invite and Earn, Winning History, Playing History and Wallet.
Q: What are various types of contests played in fantasy league Dream11?
A: Cricket, Football, Kabaddi, NBA (Day/week/month/season/playoffs), Snake Draft and Rank them for all the sports.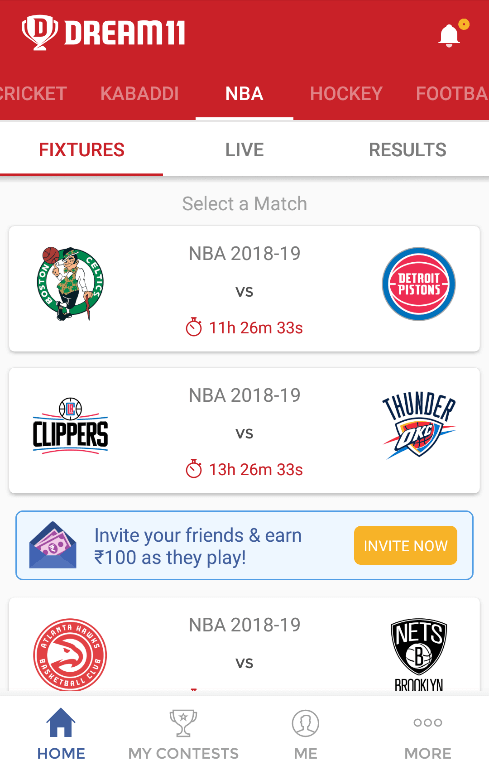 Concluding the Proposition
Daily fantasy sports business model looks more or less like a lottery. It is betting that is legalized, except it's not owned by the state like the lottery is. It works a for-profit entity that maximizes shareholder's values. MLB and the NBA have ownership in these daily fantasy sports companies without concerns about moral hazards.
Fantasy sports apps like Fanduel and Draftkings have pulled in a lot of money, and the line between fantasy sports and sports betting has been blurred. There is a chance of many markets to arise once this sport is legalized and loses its social stigma. One has to simply wait for a fully liquid sports prediction market that disrupts the existing sports-book model. Dream 11 has emerged from a legal wrangle to build India's leading fantasy sports platform.
Begging an interesting question on the values of the sports, should the quality of engagement with fans (i.e. focus on the player's athleticism and talent) be considered the amount of engagement (dollars spent and the time spent on watching the sport)? Either way, the Dream11 prediction leagues, and media companies will have to deal with the ethical questions and the potential conflict of interests that stem from investments in betting platforms.
Betting in sports makes it really difficult to watch games with people who root for both the teams because they are only interested in the individuals whom they have bet on. Looking to build your own fantasy sports app, get ready hand help from our experts.
We will help reduce time in collecting sports data, save time in prepping, maintaining and cleaning data, increase customers' engagement, maximize advertising and sponsorship revenues and finally decrease technical implementation costs!