Get your app looking all glammed up with these essential features to make it a gaming app like HQ trivia!
While (1) Market Research, (2) Strategic Marketing, (3) Intuitive User Experience, (4) Defect Testing, (5) Feedback System, (6) Customization, (7) Simplicity, (8) Social Media Share-ability, (9)Elimination of Clicks, (10) Analytics are some essential features required within every mobile application,  if the process is not directed properly, it might become a complete crapshoot and might not lead to anticipated results. It is easy to develop a solution if the idea is perceived in the right way.
Apps like HQ Trivia works on a simple principle – Players have to participate in a no-cost daily trivia games through which they can win outright or split the prize money. The difficulty level of questions keeps on increasing.
What Does HQ Stand For in HQ Trivia App
HQ is a popular gaming application that helps people win cash prizes in real. Gaming enthusiasts can answer questions that appear on HQ daily, solve word puzzles ranging from easy to difficult and win cash prizes.
HQ stands for Hype Quiz in HQ Trivia, however, this is not an official answer (not even according to co-founder Rus Yusupov). But HQ host Scott Rogowsky chimes that it could be anything that is perceived at the moment – something like "Hard Questions" etc. But he quickly revealed weeks later (February 2018) that HQ stands for "Humpbacked Quail".
How Does HQ Trivia App Works
HQ Trivia app is one of the most popular iPhone games in the world (counted amongst top 50 games on App Store). It looks more like a game show than an app, with thousands of people competing against each other to win real money.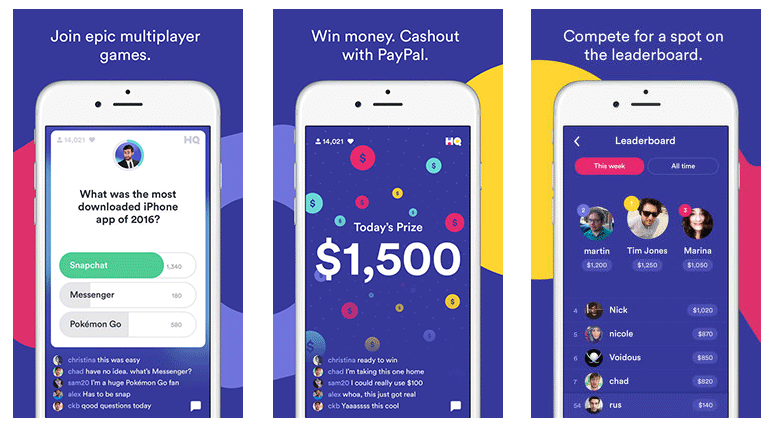 A user is asked to sign up with the app as he first enters the app. He must create his username, enter a phone number and start with the game.
Money won so far can be tracked at any stage of the game. Ranking can be checked and leaderboard can be browsed.
The game is played within strict timelines every day. The games happen twice or thrice every day. Players can interact amongst themselves.
Users are presented with a series of multiple choice questions, for which only 10 seconds are given to every participant.
Participant is disqualified on an incorrect answer unless he has an extra life. This extra life can be earned by inviting other users to play the game.
Correct answers get displayed if the time to answer that particular question runs out.
How to Build an App like HQ Trivia?
It is a mix of technology, efforts, imagination, business sense, continuous practice and expertise to set up live interactive formats like HQ Trivia app. Not every step is going to be a hit, neither failure is going to be the final destination. There is no such thing as failure. There are feedbacks and it is how you deal with it that will ultimately define the success of your next step in app development. It is as well important to prepare grounds for audience experience on a massive scale.
Some technical points need to be considered if you are thinking of making your own version of HQ Trivia app.
Gameplay

Gameplay is the foremost factor that helps in an app's success. These are the features of the videogame or the way in which it has to be plotted. The reason this is extremely essential is that this brings uniqueness in the concept, art and the way in which a game is to be played.
Featured Listing in the Gaming App

A gaming application must have all the important features like user profile, social media authorization, Selection of modes, selection of levels, messaging and ranking of players, selection of game and players, volume control, intuitive UI, Integration with web social services, rewards, appealing design, freemium games, bringing the personal avatar, tutorial for beginners, in-app purchase, security and must be customizable.
User Interface of the Gaming App

UI of a mobile definitely helps in improving the user experience. UI/UX designs are subtractive in nature. With every addition in features within an app, there are a new obstacle, new mechanics and new design patterns. Concept artists will create many sketches but the design team will keep only those that best captures the essence of the character in the environment. It must be specifically for the platform and for a particular audience. Proper use of animation, color contrast and extra effects to draw a player's attention to create a visual hierarchy backing up with web design and motion design.
Coding and Security

With easy coding, and multi-player or asynchronous features it looks easy to secure the gaming app application but if cash prizes are associated in real time it must be ensured that the individual's score is robust and secured. Users must be allowed to edit, add and delete the data.
Launching and Promotion of App

Game marketing is as important as app marketing with increasing competition and an increase in potential audience. Points to be considered while marketing a gaming app must be – when to start promoting the gaming app, what to aim at, whom to target, how to deliver, which platform to promote and how to analyze the viability of the idea.
HQ Trivia Live Stream

The tools that must be used to stream the video, that help in feeding live results, triggering the questions, generating graphics and animations – making it a creative challenge altogether, the app needs to configure the target audience' behavior.
How Does HQ Trivia Make Money
HQ Trivia App founders make money by advertising with likes of big brand names like Warner Bros and Nike etc. Games are often sponsored by celebrities who wish to earn name and fame and want to publicize their films. Also, some investors take it as risky. If costs are to be considered, this might keep earning moderate profits, but a strong basis or permanent source of income needs to be figured out.
Mopping Up
This app is equally famous amongst iOS and Android users. Users must ensure that they keep their push notifications on so that they might never have to miss an offer, miss live show and get a chance to make money. Friends can be invited to join into the fun and if they use your referral codes, more extra lives can be earned. Many celebrities are associated with apps like HQ Trivia like – Robert De Niro, The Rock, Gordon Ramsay, Alicia Silverstone etc and it's been featured in The Today Show, CNBC, Time, The New York Times, and many more. It is going to be the future of television in coming times! Get acknowledged about how to make an app like HQ Trivia. Get a free quote now!
About Author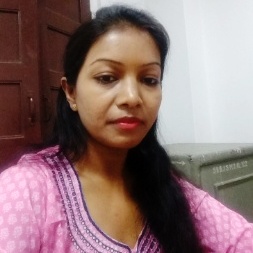 Neeti got her master's degree in software engineering in 2009 and has been working since for software companies of all sizes as a technical writer. What started as a high school passion has now been converted into a serious profession. She has a special knack of learning from all verticals and imbibing the extracts into her writing. She enjoys learning technical aspects of writing from her tasks where her experience and understanding are most impactful.