Let's give a short shuffle to the idea of having digital wallet app, how they facilitate digital transactions, what sets them apart, and what scope they carry!
Understanding the concept of what is a digital wallet – these are the financial accounts that allow users to store and retrieve funds, check payment histories online. These are also known as digital wallets/e-wallets that allow electronic transactions by bartering digital currency units for goods and services, making use of mobile payment systems, allowing customers to pay for purchases with their smart-phones, save loyalty cards information and digital coupons. These secure store users' payment information and passwords for various payment methods.
NFC Payment Apps: How Do They Work?
P2P or NFC payment apps make use of Near-Field Communications Technology (NFC). These eliminate the need to carry cash cards/debit cards/driver's license/gift cards/tickets for entertainment events and transportation passes. Peer to Peer payment applications is digital versions of your cash cards that can help in making cashless payments. You simply need to open the application, scan the business/user's code, or enter their mobile number, enter the amount to pay and you're done. This digital wallet can be used to withdraw cash at enabled ATMs.
Top Features of Digital Wallet Apps
Must-have features in Peer to peer payment apps (illustrative). Such applications can be scaled up according to the need of the business and consumer demand.
Sending invoice
Record Transaction history
Unique ID/ OTP
Transfer amount to the bank
Fingerprint security lock
Buy/sell crypto-currency
Registration/Login
Identifying users
Adding Digital Wallets
Notification Alerts
Keeping track of transaction history
Synching bank accounts
Linking mobile number with bank account – UPI
Setting the payment methods
Setting the merchant and business/bill payment options
Rewards, offers, referrals, coupons
Adding chatbots/virtual assistants if that is applicable
Virtual cash card storage
User-friendly dashboard
Currency rate conversions
Text Notifications
Cryptocurrency To Fiat Conversion And Transfer
Adding a Blockchain Feature
Adding security features – App Security, Two-factor authentication, Instant notifications, Follow the regulations
Make Payments
Purchases
Money Transfers
Share Payments
Data Encryption
Request Money
Payment check-out
POS(point of sale)
PIN code
Account settings
Split Bills
E-tickets sent via email
Social feed
Sync with Facebook and phone contacts
Top Digital Wallet Trends in 2020
AI-Powered Wallets
Crypto-currency Wallets
NFC-Based Wallets
Biometric Wallets
Smart Voice Wallets
Virtual Cards
Foreign Remittance
List of P2P Payment Apps 2020
Contactless payments emerged as a consequence of the ubiquitous use of mobile phones indicating risks and opportunities both. The higher swipe fee, the diminishing foot traffic due to the Covid-19 pandemic, and the shifts in consumer spending from retail to e-commerce have all led towards proportionally increasing online transactions.
Major NFC payment applications: Paypal, GPay, Apple Pay, Zelle, Amazon Pay, WeChat Pay, Alipay, Due, Accelitec WalletBuilder, Adyel, Airtel Money, AlliedWallet, Alipay, American Express, Android Pay, Bank of America, and Boost Mobile, Bank, Venmo, Google Wallet, Square Cash, Zelle, PopMoney, SnapCash, Chase, Bank of America, Wells Fargo, Credit Karma and Cash App etc.
| Bank Centric | Social media-centric | Standalone App | Mobile OS/Device Manufacturers |
| --- | --- | --- | --- |
| Dwolla | Facebook Messenger | PayPal | Apple Pay |
| Zelle | Snapchat | Venmo | Samsung Pay |
| PopMoney | Kik | Square Cash | Android Pay |
| clearXchange | WeChat | Alipay | |
| Square Cash | M-Pesa | | |
| | G Pay Send | Airfox | |
How Do The Best Digital Wallets Make Money?
Digital wallets store user's credentials like credit/debit card/net-banking details. Ask for a confirmation from a bank to link the mobile number to the bank account. The user can simply unlock the application scan it and make the payment anytime. This way user does not have to enter their bank account or card details every time they need to make any payment.
How to Create Mobile Wallet Apps Like Paypal Or Venmo?
Here is a list of points that you need to consider as you create a P2P Mobile Payment App (basic):
Watch what your competitors are up to, consider every step they take
Analyze the challenges and form strategies to overcome
Look what monetization model suits to your p2p payment app requirement
Make use of third-party API's and services as and when required
Select the type of a P2P Payment App like bank-centric, social-media centric, standalone or mobile OS/Device Manufacturers centric
Tech Stack (For iOS- Swift/Obj-C, Apple XCode/Intelli Appcode + For Android – Java, Android Studio/Eclipse)
What Should Be The Cost To Create A Digital Wallet App?
A basic to advanced level P2P wallet app will cost close to $100k-$150k USD (for the feature set specified above). We are adaptable to your requirements and the app will be scalable to accommodate a future scope.
Key Takeaways: How Useful Is It To Create Digital Wallet Apps?
Having an NFC or P2P wallet app helps lessen the need for people to reach out to their traditional wallets or to remember debit/credit card passwords for every single transaction. Moreover, P2P Foreign Exchange/P2P FX allows saving up to 90% of the transactional middleman fee on international exchange and transfer fees. Peer-to-peer cross border apps for money transfer makes international remittances less costly. NFC for cross border money transfer makes international remittances less costly. Some digital payment apps offer micro-loans at a lesser interest rate than banks. Drop us a query to know how we team up the digital wallet apps with the best on-demand solutions for an added advantage. These secure transactions and provide convenience at the same time.
About Author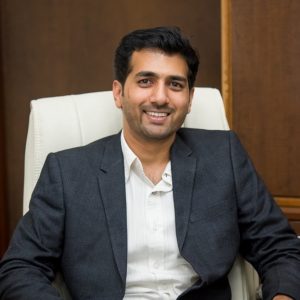 Vipin Jain is the Co-Founder and CEO at Konstant Infosolutions and is in charge of marketing, project management, administration and R&D at the company. With his marketing background, Vipin Jain has developed and honed the company's vision, corporate structure & initiatives and its goals, and brought the company into the current era of success.