Geo-Location Based App - Are you always eager to update your present position on social media for varied purposes? Geo-location is the trend that is escalating through almost all social media channels recently. Whether it is about finding nearby restaurants, or about locating cabs nearby or locating nearby shopping malls, Geo-location has suddenly become a quintessential feature of any mobile application.
Every alternate individual makes use of location based apps services at least once a week. Any mobile experience is not complete without the input of location data these days. It is the driving force behind some of the most widely used mobile apps which are used for geosocial networking, retail, and real estate searches, navigation and travel, mobile marketing and advertising etc.
How do they Location Based Applications work?
With an interactive UI and a strong backend and backing of some special features like Integration of Map (Apple, Google or Bing)
Searching for Routes (That give customized driving directions for location based services)
Detecting locations (Finding out the current location of the user and offering shortest possible routes)
Finding out GPS Coordinates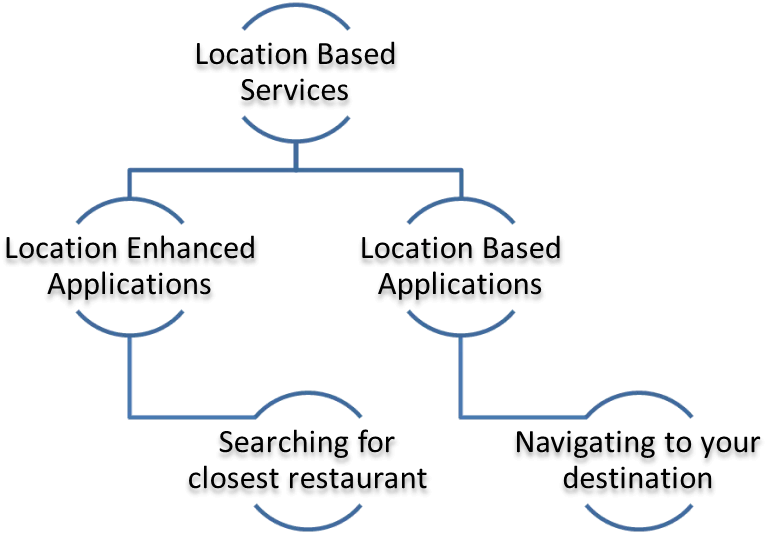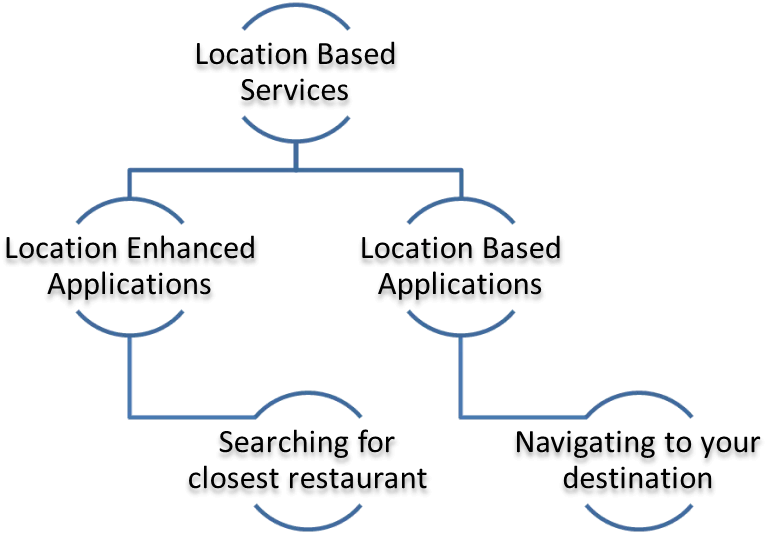 Such hybrid location technologies have brought some major improvements in reliability and accuracy of the services that can be delivered. There has been a significant improvement in the deployment of location-based services in mission-critical applications such as guiding emergency services directly to the caller.
Making use of cell site triangulation apart from GPS, geo-location acquires some of its features from the Global positioning system but also helps in determining and identifying the exact location of an object. Retail marketers can find out the exact location of their customers and determine their purchase history. Trying to find out an address simply put an element in the online space map that will help in contextualizing it. As soon as the site gets marked, context is added to the location.
Top industries using geolocation features
For the Taxi and Cab Industry
With the ease of location tracking and book at a click feature, even kids can book a ride to their favorite locations with geo-location features embedded within the location based taxi/cab applications.
Within the Gaming Industry for Augmented Reality
Sometime back, games were not the obvious choice for geo-location and both have synced lately and it is hard to separate them now. These are more practical use now and help a user experience the virtual world by simply rotating the camera across the room while sitting in one place. You can simply try to fix the things in the virtual world before actually shifting them in the real world, like moving the chair from one room to another etc.
Location Based Online Food Delivery App
Get close to your favorite restaurants and eating joints with the help of location tracking applications installed on your smartphone. It's easy to find your favorite momos, burgers, and pizza at a place near your current location.
Helpful in connecting you to your Neighborhood/Social Networking
Location based social apps – What used to be a fantasy sometime back has become a serious feature with Geo-location features wherein users can share their check-in; check-out details and it essentially works as the personalized recommendation? It makes finding a location easy and also helps shape public opinion about that place.
Recommending venue and Navigation Tool/On-Demand/Geo-fencing
Making use of GPS in your mobile this feature will allow you to determine how close you are to a particular destination. You'll be able to find out whether the user is in or out of the building. It can be static, dynamic or combined Geo-fencing.
Location Based E-commerce Applications
Unlatching the most out of geolocation services, e-commerce is one of the most popular application ideas these days. From finding the best discount and product available and locating a store with fresh grocery and dairy, it's all a cakewalk for people looking for suggestions and the best possible path to reach there.
Location Based Travel Application
Locations are not just for real estate transactions, finding getaways on city outskirts is just that simple with innovative travel apps, which are giving smart-phone tugging travelers inside information with a click and a swipe. Contextually relevant information is all that is required; any information becomes more instructive when the location is tagged with it.
Helpful in Tracking Sports Activities
Being able to acquaint the user with its presence, but the proper algorithms for geolocation fed in the app also help in identifying all the details on screen. Also with the appropriateness of the Geo-location feature, you can help your users make rounds of rigorous training for distance, speed, heart-rate, acceleration/deceleration, dynamic stress load, average metabolic rate, high metabolic load distance and step-balance etc.
Location-Based Health and Fitness App
Fitness is definitely the new black these days. With an increasing number of fitness freaks, tracking cardio activities like cycling, swimming, running has become easier than ever before. GPS data helps in achieving that end which is exciting. The inception of this idea is going to go a long way in redefining the way fitness apps were developed.
Location Based Dating Apps
Location based dating apps – How can a simple dating app become the app of choice? While I was out with my friends, I happened to look down at my dating app – which had Geo-location features in it – I saw that he was close by and since I was out and dressed up, I quickly thought of meeting him up, to avoid the potential wasting of endless time and back and forth messaging before the meeting. The ease of such applications makes the experience even more exciting.
Location-Based Weather App
Weather application stores a lot of benefits for those who wish to remain updated with their surrounding temperature or who have to schedule their outdoor activities accordingly. It often brings a 2 hours precipitation radar that gives you an idea about the forthcoming weather, whether you require an umbrella or gumboots will do the trick.
Adding Together
Mobile App Development Firms have been trying to incorporate location based services in their applications. Such location-based services (LBS) will grant you access to relevant and updated information about the surroundings. All this adds up to a dynamic experience and provides a new level of convenience that will finally transform the way you as a business organization had been interacting with your customers and with other enterprises.