Looking to develop an app like Snapchat? Read the article to know how much does it cost to build a chat app like Snapchat.
Snapchat is one of those rarest of chat applications that have gained immense popularity with users across different demographic segments. The innovative startup registered about 400% of growth in video views that occurred between the period of May 2015 to May 2016. This upsurge in the usage and following has turned everything in the favor of the mobile application, in terms of audience reach, revenue, and returns in a matter of just 4 years. Which vitally approves of the fact that an application built with such chat features and traits efficiently attracts users and is highly competent in engaging them if it can offer digital leverage through its imposing model of communication.
So, if you are also thinking to get benefited building one such application that resonates with users well and want to go with an app like Snapchat, here all you would like to learn on how to approach it right and what will be the cost of development.
How it started
Now as we see Snapchat becoming a big business with its versions spread across 20 different languages, the value that it claims to have today is about $20 billion for both iOS and Android platforms. And this is when Snapchat has just completed 5 years! Not everyone knows Snapchat started as a student project called 'Picaboo' in 2011 mid-summer. The mobile app only supported iOS in the beginning and had limited features that were just meant to serve the pilot idea of the app. However, about a year later, it expanded into Android version too and started gaining a great response from users.
Basic features of Snapchat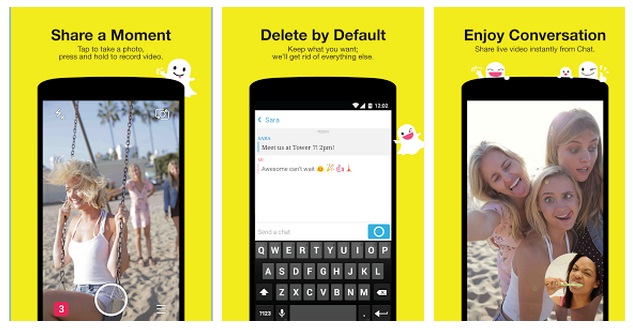 Among the foremost features of Snapchat, creating and sending multimedia messages called 'snaps' is at the core of the app's offerings. With this, one can seamlessly share received images and videos by altering them with rich filters.
The most striking feature that makes it a pioneeringly different photo sharing app is the lifespan of snaps. This feature allows users to assign a time (from 1 to 10 seconds) for the photo to be viewable by the recipient before it gets inaccessible.
Snapchat's unique "micro transaction" based replay feature allows users to access and rerun three snaps after they are done with their free daily replay. This costs $0.99 for three resurrections.
Snaps could be sent to selected contacts or can be shared to a "Story" which can be accessed or seen by the public.
As a user, Snapchat gives you the option to add friends using Snapcodes, usernames, phonebook contacts. You also get to go with much more social "Add Nearby" Function. It looks up for Snapchatters who have opted to go with this feature too.
A comparatively newer addition includes an optional feature called "Memories". With "Memories" you can create a private archived space where selected posts from Stories and Snaps could be saved just like locally stored media.
Custom filters are again highly popular with users and allow them to modify their photographs by syncing them with a popular event, movie or brand based theme – allowing them to get an environment-inspired appearance and expression for their snaps.
The Niche
Snapchat later evolved into a mix of messaging service allowing people to connect and communicate via different content options. Further, it also introduced brand networks and provided coverage for live sports and music events. However, messaging is still the most demanded function.
Based on a survey it was found that about 63% of respondents used Snapchat as a messaging platform. 59% of the lot primarily used the service for video creation. Additionally, when the Live Stories section covered important events like US presidential campaign, it caught a lot of user attention and got famous among them.
Big Players' Presence
A thick involvement by top media players in the Discovery section of Snapchat makes it deliver a rich and vast presence. Besides, it is connected with highly significant and authoritative groups like Food Network, Comedy Central, ESPN, Refinery 29, BuzzFeed, Tastemade putting up as leading channels to reveal its amazing popularity with audiences.
The Audience
The most active and frequent users of Snapchat are millennials. Women form the majority and share much higher percentage compared to other apps in the category. If we look it from the income perspective, about 40% of users belong to the >$50k mark.
How much does it cost to build an app like Snapchat?
Now as we have touched all the factors and facets that define an app like this, we can now have a fair idea of how much developing an app like Snapchat costs.
Looking at the functional resources, feature elements and communication interface it puts up with and syncing it with value propositions that aim at creating a comprehensive platform – that serves the overall idea of having such app inclusively (excluding the animatronics and character simulation part), we can reach a figure of $120,000. However, if we just look to develop an app with MVP features the cost could be as low as $30,000. Well, these are extreme values and you can get different quotes in between from different companies based on factors like operational expertise, relevant experience, technical range, location, and resources.
On the basis of the scale of the project, it can vary up till around $20,000. This includes the number and density of features and functional traits in the app and the level of communication you need to establish and the kind of details it is going to depict and exhibit. Further, about a $30,000 of cost can vary on the basis of security and back-up choice you plan to go with – as any such app needs to put up with authentic order and scheme of assistance.
This would go a long distance in deciding the success of your app, hence the variation. Among other major cost variants,you have the type of engagement and the geographical location you choose to go with. These combinedly decide about 50% of the price. If you would like to add more innovation into your version of Snapchat and would like to include some additional creative traits, add an extra 10%-20% for consultation and validation fees.
Closure
In a nutshell, what your final cost will be,largely depends on your taste and preferences and of course the mobile app development team you choose to go with. All you can do in the beginning to get started right is get the requirement jotted down and put the idea in place and have a word in detail with your provider. Rest will follow as you progress keeping close with your core idea and executing it right with the help of experts.
If you would like to get a free custom quote on Snapchat clone development, contact us at [email protected].
About Author
Manish Jain is the co-founder and Managing Director at Konstant Infosolutions. He is responsible for the overall operations of the company and has played a major role in bringing Konstant up from its humble beginnings and, with his immense energy and drive, transforming it into a globally trusted name in IT solutions.