Here's everything you need to know on how to go about getting an on-demand fuel delivery app developed for your business.
As we evolve and grow into more technologically driven society, we want products and services to offer more convenience and value to us. We want all things accessible to us in a flash on a clap. And keeping up with that quite approvingly, modern resources and supply formats tied up with on-demand apps are all equipped to serve you with such amazement, all at your door steps.
And this trend is rising high across domains for different types of services. And this has grown far and wide to touch remotest possibilities of on-demand services – to even find a hot spot in something as conventional as fuel delivery. And it has not just grown to serve people in this segment but also proved to be successful in its firsts of attempts. Thus far, already a hit in California and London, on-demand fuel delivery is finding its way to a splendid disruption in the domain and is spreading across the globe quite steadily and impactfully.
What on-demand fuel delivery app is all about?
Just like you call Uber to your location to take its pick and drop service, you can ask a fuel-delivery service to come at your location and supply you the fuel for your car or generator connecting you with the service through an app. Here, this app covers information and do reporting for procurement, stocking, accounting, delivery of fuel. Plus, almost everything done by a cab service.
That's why it has a lot beyond GPS technology to deliver it all as an on-demand fuel delivery offering. Which can be enumerated as additional set of hardware and software and of course the wide range of features to support the requirements native to the nature of the service.
Building the fleet
This is the very first thing to be done when you are planning to build your on-demand fuel delivery app. Here, you need to first ensure that you follow all the regulatory compliances and implementation standards referring to your judiciary rules. Based on this you need to develop your system and make it compatible to the process and service protocols you need to follow. And better if you have a comprehensive product or service to offer – including Petrol, Gasoline and Diesel. So, you cover most of the range and can serve more users and cover better market share.
Building the IT infrastructure
To be able to start up with a digitally-driven solution through apps you need to build the infrastructure to support the entire idea of on-demand service offering. For that you need to arrange for tools and resources to build a compliant response mechanism and processing facility for your on-demand fuel delivery service. Also, you need to fit in the GPS systems into the vehicles to allow you to fetch different information for tracking and managing fleet and facilitating delivery system. The IT infrastructure should be allowing you to digitize information and communication systems to generate optimum value with the service.
Reporting and analytics
The fuel delivery services should comply with enough safety and security measures and should have extensive control in processing the services. For this you need to set up a system that helps you with data reporting and analysis and do the assessment of different numbers and details that are important in business. In an on-demand fuel delivery service you may need to measure and control things like temperature and pressure from security perspective. Further, it also helps in managing inventory and supply and aids in planning marketing activities.
Developing the software
As you are done with building the base for your on-demand venture you should look forward to building the app. Here, to start with you need to bring along all the resource details and pointers together to help you define your solution and build a functional architecture and communication flow of it.
The first thing you do here, is building a compliant backend. It is necessary as everything working on the app would be only as strong and functional as its backend codes. And this is imperative to the fact that how arranged and intact the interface of the app is and how well it responds to and connects with users. Once this is done, it should be checked for completeness and validity to best support the product idea and performance needs. Also, it should be best conforming with the communication layout and interface of the app to best connect with the users.
A whole mobility solution
The primary idea of building an on-demand fuel delivery app is to allow users/businesses to connect with the suppliers with the best of mobility and accessibility with the solution. By the virtue of its existence it should be helping users and carriers both in accessing and utilizing it while on-the-move with all required features that should help drivers and customers connect better and with ease.
Business model of on-demand fuel delivery platforms
The convenience and time saving are two virtues that form the basis of on-demand re-fuel systems. There are three key participants of fuel delivery business:
The Fuel Delivery Unit Owner
The Delivery Agents
Customers
The advanced fuel refilling business system works across the web application for the business operations team and mobile app for a customer in a Uber for fuel model. The user does not have to drive along to the gas station. They can order online and get the required fuel. An example of this is Cafu in the UAE.
Features in on-demand fuel delivery app
Must-have features in on-demand fuel delivery app:
Sign Up
Location Sharing
Requesting Fuel Delivery
Real Time Sharing
Payment Integration
Delivery Schedule
Push Notification
Transaction History
Cost Comparison
Managing Profile
Offers/Promos
Notifications and Alerts
Reviews and Ratings
Customer Support
How easy it is to start an online fuel delivery business?
Here is a list of prerequisites for creating an on demand platform for fuel delivery:
Terms and Conditions and Services
License Arrangements and ownership
Websites Design, Development and Publishing and Mobile Applications
Geo location and routing enabled transportation system (Driver app)
Account maintenance, user eligibility and user conduct
Checking prohibited activities
User provided content and payments
Online and offline marketing
Cost of an on-demand fuel delivery app
The cost of developing a fuel delivery app on-demand depends upon OS for which it is to be developed, the features of the app, UI/UX experience, technologies involved, testing tools to be used, etc.
The cost of fuel delivery app also varies according to user accounts, their buying carts, and order archives. It also varies with variants like data sync, geolocation, booking/transfer calendar, data transform, push advice alongside OTP confirmation and in-app calling/messaging.
Location and availability of developers also play a major role in determining the cost of developing an app for a particular platform. Although fuel delivery app is not very common, it is prevalent in California and some more states across the US. Users wishing to have their work done at their convenience and wish to utilize the time in more essential tasks.
Rounding off, the cost of building such a fuel delivery app will be around $40,000 to $60,000 (approximately).
Coming Together On Fuel Delivery App Solution
At Konstant Infosolutions, we have a team of on-demand solution experts with high merits and experience to help businesses from different verticals to have resourceful solutions for their on-demand services venture. Working within full-fledged production environment served by high-tech resources and fool-proof processes they are able to deliver just the right solution that best represents your unique idea of on-demand services. To reach them, you can contact us at [email protected]
About Author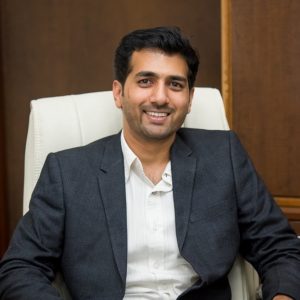 Vipin Jain is the Co-Founder and CEO at Konstant Infosolutions and is in charge of marketing, project management, administration and R&D at the company. With his marketing background, Vipin Jain has developed and honed the company's vision, corporate structure & initiatives and its goals, and brought the company into the current era of success.