In old times, when we were just a kid, recall how our mother became the reminder of our routine activities. Nevertheless, in modern times, we are the same kid, but now, in spite of our mother, push notifications are playing her role and reminding us -- the everyday activities and events.
Push notifications allow users to get timely updates, plus let them stay tuned for the applications they love. Pieces of information provided by alerts would enable the users for active engagement with an app. Push technology is being lifted high as users demand to get informed about all the little things they love and care regards to an app.
What?
Blackberry marked the history by proposing push-emails back in 2003. But, history repeats itself and then Apple took an entry into push technology by releasing this technology in its Apple device with iOS 3.0 on June 17, 2009.
Push notifications allow the apps to notify users by communicating with some precise text about the current information, events and activities going to take place without digging into an app.
In technical terms, on one hand, iOS developers write a program on APIs (Applications Programming Interface) using Apple Push Notifications services to deliver push notifications on iOS apps and on the other hand, Android developers write on the same platform using Google Cloud Messaging services for the devices powered by the Android.
Why?
Why are the push notifications useful? Easy to answer, it is a powerful part of an app for keeping the users engaged with them. From user prospect, push notifications are simple and uncomplicated as they provide precise, relevant and essential information linked to the app. While on the developer's part, they're easier to produce and cheaper than SMS. The information can be customized through push notifications, beneficial for both of them.
When?
Timing is everything; push notifications should show up when the users are most ready for them. It's important to analyze, whether push notifications are scheduled for the right time or just annoying the users who might choose to delete the app. For instance, if a person is using any fitness app to maintain his/her health & fitness, then the app should guide them through notifications early in the morning about their fitness goals, diet charts and health issues. Instead of notifying them when the day is already over, this would exasperate them.
Who?
Targeting a particular segment for push notifications is one of the strategies that have to make while developing a mobile application. Ask your user immediate after they install an app whether they want to get notified or not. And if they set 'Yes', then the notifications should give something that is useful to all users at the exact moment they need. Let's take one more example, an app that is offering online deals, in which the customer selected the category of their interest area and location, and then the notifications should send according to the type and place. If the strategy has not applied and continuously sending alerts to everybody who have that app installed on their devices, then they would end up deleting that app.
Where?
For an app publisher, push notifications are the best way to reach out and speak to the users directly. Where to place your notifications? Suppose, you've developed an app for booking cabs or any commute medium. In this particular app, it's better to notify the users about the offers or any special discount when they open their app because that's the exact place where they need the facility, and then notifications prove to be useful for them.  Another situation, if the user doesn't want any alerts on their lock screen, the best thing you can do is to develop a push notification option button in an app from where the user gets aware about the notifications without getting bothered.
Don't worry, we're here to Play Our Role
We develop an app including push notification feature with the help of OSPNS (Operating System Push Notifications Services), and each operating system has its OSPNS:-
> iOS – Apple Push Notification Services
> Android – Google Clouding Messaging
After developing an app with push notification features, we upload it on the app store and when the user install that app; it starts receiving incoming notifications. To enable extended segmentation & analytic capabilities, our developers can fix the optional code (OS client library software development kit). Our professionals will guide you to take advantage of this latest technology in app development.
About Author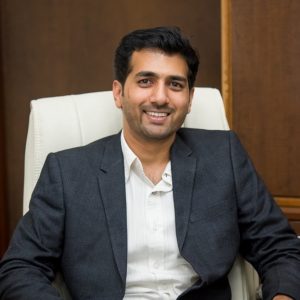 Vipin Jain is the Co-Founder and CEO at Konstant Infosolutions and is in charge of marketing, project management, administration and R&D at the company. With his marketing background, Vipin Jain has developed and honed the company's vision, corporate structure & initiatives and its goals, and brought the company into the current era of success.