Read the blog to know the technical comparison of Shopify vs WooCommerce vs Magento.
How can you ensure that your e-commerce business is the right fit for your company? It requires substantial effort to build a socially responsible e-commerce platform brand that can be even more challenging than a conventional company – as it can be reliant upon a single variable – a third-party platform. This calls for the need to realize and leverage a third-party platform like BigCommerce, Shopify, WooCommerce, Magento and Volusion, etc. often arises.
An important part of the puzzle is, when it comes to starting your very first online store is:
The choice of the platform
Flexibility of platform
Can the platform support the growth plan?
Is it cheaper to set up and maintain? (Calculate the cost)
Is the platform easy to use and manage?
Don't believe the hype, do your research.
Can you ensure that your team will be able to use it?
Can your e-commerce business make it easy?
Are your primary goals getting accomplished?
Is the hosting company the right match for your e-commerce platform? The right e-commerce platform must have just the right server to get matched up with the requirements. A poor web hosting platform can harm your search rankings because it can cause your site loading times to be slow, or worst-case scenario, cause site downtimes. The host is where your site will live, and that should be on the most reliable and effective service you can get.
Do they provide 24/7 support?
Do they provide daily backups of your site?
Will your site be on your shared server? If so, how many other sites are on a shared server at any given time?
What security precautions are required when you are sharing a server with other companies?
A business can always sell products independently through a custom-built website, but to scale your operations, at a certain point you're going to need one of these platforms. Overall, after all the time, money and effort companies put into designing a site that will convert traffic into sales, it's of utmost importance to ensure that the site is up and running all the time.
What is Shopify?
Shopify is feature-loaded, scalable, and offering numerous templates for different niches, Shopify stores are plug-and-play e-commerce. It still has certain ranking issues, clunky WordPress plugins, and URL structures that are difficult to modify can make increasing retention rates with on-site SEO tough, though.
What is Magento?
Magento is an open-source e-commerce platform owned by Adobe.  Magento is one of the most popular open e-commerce systems in the network.
What is WooCommerce?
WooCommerce is a powerful eCommerce toolkit developed to transform any WordPress website into a beautiful online store. It is a free option, a little difficult to scale but scores well for site visitor experience. A site built on WooCommerce is an alternative to expensive website creation options available around.
List of Shopify Features:
Shopify has all key and advanced shopping cart features.
Shopify has a big, imagery theme store where you can find beautifully designed and responsive e-business templates. You will have limited customization options because Shopify is a hosted shopping cart.
Shopify is super user-friendly. It's a drag-and-drop interface, simple tools, easy theme editing that will ensure a seamless user experience even to eCommerce newbie.
Web-based website builder
100+ professional themes.
Full blogging platform
Mobile Commerce Ready
Brand and customizing of your online store
Your domain name
Free SSL certificate
Automatic carrier shipping rates
Accept credit cards with Shopify
To payment gateways
Flexible shipping rates
Automatic Taxes
Multiple Languages
Customer profiles, accounts, and groups
Order fulfillment
Email templates
Dropshipping
Refunds
Marketing and SEO
Web Hosting
Analytics
Shopify Mobile
24*7 support
List of Magento Features:
Web Design
Shopping Cart
Customer Service
Order Management
Mobile Commerce
Product Management
SEO
Marketing
Analytics and Reporting
Multiple Websites
List of WooCommerce Features:
Modern and clean interface
Improved experience for store owners
WordPress Content Integration
Pre-installed payment gateways
Total control of the checkout process
Set Default Currency
Geo-location Support
Automatic Taxes
Cart Behavior
Reduce Page Loading
Add/Manage Products
Product Types
Product Variables
Inventory Management
Shipping Calculations
Cart Calculator
Flexible Shipping Destinations
Shipping Prices
Restrict Sales
Multiple Shipping Methods
Custom Tax Calculations
Geo-location enabled taxes
Select Customer Address
Tax rate definition
Search Engine Optimization
Simplified Coupon System
Discount Coupons and codes
Product Reviews
Owner Verification
Reporting
Dashboard
Analyze Products and Orders
CRM/Store Management
Support/Hosting
Detailed Comparison of E-Commerce Giants: Shopify vs. Magento vs. WooCommerce
Differences
Shopify
Magento
WooCommerce
Hosting
Web hosting

Unlimited bandwidth
Email forwarding
Level-1 PCI compliant
SSL certificate
Instant upgrades
99.98% uptime and 24/7 monitoring

Self-hosted
Shared Hosting
Benefits
Storefront:

70+ professional themes
Mobile commerce ready
Work with an expert
Full blogging platform
Brand and customize your online store
Edit HTML and CSS
Your domain name
Web-based website builder

Shopping Cart:

Free SSL certificate
100 payment gateways
Offer free shipping
Multiple languages
Automatic carrier shipping rates
Abandoned checkout recovery
Flexible shipping rates
Automatic taxes

Store Management:

Customer Profiles (Customer's contact information, shopping habits, order history)

Customer accounts

Fulfillment centers

Dropshipping

(Ordoro, Inventory Source, and eCommHub)

Refunds

Manage on the go Email templates

Marketing & SEO

Search engine optimized
Generated sitemap.xml
Discounts
Gift cards
Social media integration
Product reviews
Sell on Facebook
Products
Inventory management
Product variations
Product organization
Multiple images
SEO product tags
Digital products
Import/Export
Unlimited products 

Analytics

Dashboard
Product reports
Export reports
Google Analytics
Traffic/Referral reports

Mobile App

Order fulfillment
Mobile dashboard
Manage inventory
Email or call customers
All your data synced with Shopify

24/7 support

Dedicated support team
Shopify Help Center
Shopify Experts
Discussion forums
E-commerce University

Shopify turns out to be a decent option in case users look to build a complex, still easy to use online web store to sell goods. It has Amazon as its sales channel and can be managed by the Shopify Admin Panel.

Magento e-commerce and Magento open- source has huge community support for users.
It is a very flexible platform.
The cost of the platform is very less.
It is SEO friendly.
The speed of a Magento based application is faster as compared to WooCommerce or Shopify platforms.
24*7 support is available.
Website customization is possible.
Versatile content management.
Mobile-friendly configuration.
Built-in upsells and cross-sells.
Easy third-party integrations.
Customize security permissions.
Intelligent filtered search for shoppers.
Saves time, money and effort.
Catalog and order management.
Marketing and promotion tools.
Varied hosting options.
Multi-website options.
Currency and language support.

It is a free eCommerce plugin that comes with a robust set of tools and features that you need to get started.
Full support from the WooCommerce team as well as from user communities that include software experts and actual business owners.
Open source codebase: WooCommerce is fully open-sourced, meaning the code is freely available for anyone to view, modify, and contribute towards. The open-source nature of WooCommerce encourages an active community of contributors to the project.
Powered by WordPress: Powering approximately 24% of the internet, WooCommerce enables these website owners to sell online using a platform they already know and love.
Intuitive and powerful interfaces: WooCommerce focuses on making the process of setting up your online store as quick and easy as possible. It offers an onboarding wizard to guide you through the setup in under five minutes.
Extension library: WooCommerce boasts a wide range of official extensions (add-on features) such as payment gateways and shipping calculators for your specific country, advanced tax calculators, membership system management, subscription management, anti-fraud and many many more. This library is also backed by a large collection of actively-developed community extensions.
Scalable: When growing their online presence, companies often run into scaling issues with their platform of choice. Powered by WordPress, and with savvy developers behind the project, WooCommerce can scale as rapidly as your business.
Customizable: Your store operates out of Spain and requires a Spanish payment gateway to be connected. You also require a shipping rates calculator connected to the small local shipping company you've decided to work with. Being open-source and extendable, it is easy for developers to craft customized integrations with just about any service provider.
Logically feature-rich: WooCommerce core includes all of the core features required to run an online store, with none of the bloats. From the simple act of adding and managing products to advanced stock controls, tax rates calculations, and order management, WooCommerce handles all of this swiftly.

Customer Experience
Their buying experience is seamless with uncomplicated steps to check out.
Magento sites can feel, look and function as required. Shoppers can easily narrow the product options while browsing, and find out exactly what they are looking for by powerful search and improved navigation in the least possible time. Multiple filter and search criteria can be applied to a single product category or a product e.g.: category, style, size, climate, color, material, pattern, price and likewise.

Magento features a sharp and frictionless checkout process, that is intuitive and easy (minimizing the number of steps/information that can be provided). Just provide the email and if an account is linked, the site prompts to ask for a password and detail out any orders, billing and shipping information related to it.
Payment options are designed to reduce card abandonment. Users can still view product details while on the payment page along with the quantities selected in the cart and total amount for the cart value.
This whole experience is also available on mobile.
No other platform gives users the power to build unique and engaging customer experiences. That is why Magento is the worldwide leader in digital commerce.

Categorization and nomenclature, Description And Copywriting Of The Product, certified Genuine Shopper Reviews and customer stories bring great value to the online store. Focus On User Navigation, effective plugins to improve UX, Consistent Loading Speed Of The Store Website help a lot with high-performance and impressive sales.

Pricing Model
Monthly Subscription:
Shopify offers a 14-day free trial after you need to buy a monthly subscription, where the prices start from $29 for a basic plan.Shopify offers four pricing packages. You can also try Shopify for 14 days for free.

Basic Shopify – $13/month (for starting your business)
Online store (with e-commerce website and blog)
Unlimited products
2staff accounts
24*7 support
Sales Channels (online marketplaces and social media)
Manual Order Creation
Discount Codes
Free SSL Certificate
Abandoned Cart Recovery

Shopify – $54/month (for growing your business)

All basic Shopify plan features, plus:
5 staff accounts
Gift Cards
Professional Reports
1.0% transaction fees

Advances Shopify – $107/moth (for scaling your business)

All Shopify plan features, plus:
15 staff accounts
Advanced report builder
3rd party calculated shipping rates
0.5% transaction fees

Shopify Plus – by quote (enterprise solutions for large businesses and high volume seller)

Monthly Payment: Magento offers enterprise pricing packages. The final price depends on your store's average order value and expected annual online revenue. A 30-day free trial lasts from the date of account creation.

Magento Commerce Starter – Starting at $2,000/month

Promotions and Pricing
Search Engine optimization
Site and Content Management
Catalog Management
Catalog Browsing
Product Browsing
Checkout and Payments
Shipping
Order Management and Customer Service
Customer Loyalty
Customer Accounts
Support for global sites
Analytics and Theming
Cloud hosting and deployment
24*7 email support
Business intelligence.

Magento Commerce Pro – starting at $3,417/month

All starter features, plus
High availability infrastructure
Dedicated hardware
Dedicated Launch Manager
Integrated B2B functionality that includes:
Corporate account management and support
Customized  catalogs and price-lists
Tools for rapid ordering
Online requests for quote workflow
Increased inventory visibility across retail outlets

The price of the app is decided by the quote.

WooCommerce is a free shopping cart plugin. For those who want more than the basics. WooCommerce offers license upgrades, extensions, and updates.

Languages Supported
English
English, Dutch
English
Prominent Clients
Los Angeles Lakers, Wikipedia, Johnny Cupcakes, Citizen, Tesla etc.
Coca Cola, Ford, Fox Connect, Olympus,  Rebecca Minkoff, Vizio, Christian Louboutin, Nike and Nestle Nespresso etc.

PageLink, Pro4Mance, FilterGrade etc.
Integrations
Shopify supports integrations with the following business systems and applications:

MailChimp
Quickbooks
Fulfillrite
Zapier
KISSmetrics
Chargify

Magento supports integrations with the following business systems and applications:

Enterprise Suite ERP
Embedded ERP
Bank Payment
eBay
WebShopApps MatrixRate
PayOne
ShipWorks
CashOnDelivery
Mage Monkey
MailChimp
Mandrill
osCommerce
Correios
Fontis Australia
Bee Trailer
Debil-Payment
MigraShop
SOFORT
AddThis
WorldPay
Facebook
Twitter
eBay
Searchanise
GoMage
Social DHL
Bcash
Ingenico
Zopim Live Chat

WooCommerce can integrate with just about any service provider, due to its extendable nature. Some of its popular integrations include:

Zapier
Taxamo
Xero
FreshBooks
ShipStation
Stamps.com
WordPress
Jigoshop
TradeGecko
Veeqo
Mad mini
Help Scout
Ambassador
UserVoice
Stripe
PayPal
Amazon Payments
FedEx
USPS
UPS

Available Devices
Windows, Android, iPhone/iPad, MAC, Web-based
Windows, Android, iPhone/iPad, MAC, Web-based
iPhone/iPad, Web-based
Company Size
Small to medium businesses, Large Enterprises, Freelancers
Suitable for large enterprises
Small Business, Medium Business
Available Support
Email, Phone, Live Support, Tickets.
Email, Phone, Training
Email, Tickets
Popular Alternatives
Yotpo, Shopify POS, Walmart BigCommerce, B2B Wave, R.O Writer
Volusion, Payability, Seller Prime, Salsify, Yo!Rent
Shopify plus, ShipBox
ShopifyPOS, Genstore,
Retargeting
Concision
Myriad of references and sources that I have looked at agree that these platforms with a variety of features can enable businesses to build and operate online stores and sell products. But as there has to be a time when you have to choose between turning a page or closing a book, we highly recommend Magento as an apt solution to build interactive, functional and feature-rich B2B/B2C website. Konstant recommends all businesses to eat your vegetables first, don't believe in hype, contact us to know more!
About Author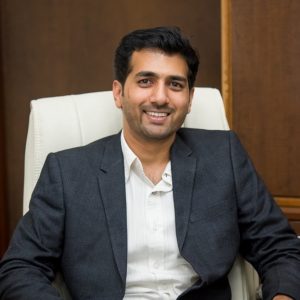 Vipin Jain is the Co-Founder and CEO at Konstant Infosolutions and is in charge of marketing, project management, administration and R&D at the company. With his marketing background, Vipin Jain has developed and honed the company's vision, corporate structure & initiatives and its goals, and brought the company into the current era of success.