Here's the Mobile App Development Trends 2020 continuum that will propel the future of mobile applications in the year ahead!
The more a technology advances, the better we become at nailing its limitations, which further helps us define the areas of improvement. Mobile App Development is one such area of Information Technology referring to the development of mobile applications (that can be native or hybrid or cross-platform or web app or a PWA), having a tremendous scope of expansion and improvement. These can run on any kind of mobile device and any mobile operating system.
Reading Help
There is a need to reckon few points before starting off with trends:
Why do you wish to adopt a trend? Is it to scale, to update, to improve or to enhance the mobile app?
Is it going to cost you so much that you get squared with the restrictions?
Mobile App Development: Some Public Dreams/Private Myths
What if I say there is a pervasive myth (+n) out there about mobile app development techniques, upcoming trends and lots more. Trends might not just about fixing something but starting over again. In time every mobile app development trend has emerged with a purpose and businesses have to stay aligned, in periods of great technological and cultural transition.
#Myth1: An Idea is enough in mobile app development. This could lead to a simple or a complicated app, feature-rich or the one that requires umpteen changes. It can be fast and efficient or the one with a high turnaround time.
#Myth2: Mastering Coding Is Directly Proportional to a Robust Mobile App: The developer who can master a coding technique might not be efficient enough to create a robust mobile application. Knowledge of frameworks, architecture, the right approach to troubleshooting issues, UI/UX, gathering requirements, testing of the application requires relevant expertise. Even though the developer should have the vision of the final product.
#Myth3: End-Users Directly Start Using Your App: We live in a scenario where information is not consumed but is shown in every possible way. Millions of apps are created daily, published on Google Play Store or Apple App Store but they somehow get lost without a properly structured marketing plan. Search Engine Optimization, Social Media Marketing, Advertising on Youtube and other marketing channels is therefore important and is required to be considered in the marketing mix.
#Myth4: The Task Is Accomplished As Soon As the Users Have Downloaded the App: Downloading the app is the first step, installing it is the next, using it is the third, and liking it is the fourth, recommending it is the fifth. A business should keep track of its users/potential users and periodically supply the app with push notifications to acquaint or remind the users about the presence of the app in their smartphones.
#Myth5: Customer Support Is Not Mandatory: An app without customer support fails to be trustworthy. Feedback, review, appreciation, criticism – every remark plays an important role in creating and sustaining a robust mobile application.
#Myth6: Every Mobile App Development Process Is Expensive: A budget and a plan are all that is required to start a new project. And the majority of the app development cost depends upon the structure of the idea, the requirement gathering process, coding and less on the development, testing and maintenance phases. Each phase can be shrunk or expanded according to the requirements of the project.
The Rise in the Mobile Apps and Trends
The proliferation of client-side technology used to be one major concern when enterprises began building mobile apps. Enterprises were in favor of standardizing on a platform, mostly the one business could contain a skill set around a standard architecture. Needless to say that mobile devices have their own application SDK's which eventually result in a proliferation of client-side choices.
Apple makes use of Objective C and Swift. Android makes use of Kotlin, Java, and Flutter. Blackberry has started with Android. There are many more technologies that have been adopted by established platforms, in line with the current trends, dominating major markets. These may be used in combination or as desired to have the best native-like experience.
Modern devices can as well be adopted to support building apps by making use of HTML5, CSS, and JavaScript – a whole concoction for hybrid app development. Most of the applications are built in this way in an attempt to save costs by having a single code base.
Taking Hold of Current Trends…
Ready-made CMS systems require adding new features and plugins. Later, in turn, slows the entire system down and simultaneously cost extra. Alternatively, it is unimaginable for a software product to survive with regular upgrades.
In Related Manner…
The talent war, the fight to introduce new trends in mobile technology, the competition to be the first one to adopt the latest trends is becoming fiercer. It, therefore, becomes important to explore new ways to reach the right business/client, ensure optimal productivity, looking into quantity rather than the quality of resources, and intelligence across the people, processes, place, and products that will drive enterprises and their customers to become much more aware and intelligent in their approach.
Statista Reports for Mobile App Development in Recent and Upcoming Years
In 2018, Mobile App Development revenues crossed 365 billion USD.
In 2023, Mobile App Development revenues are going to generate approximately 935 billion USD via paid downloads and in-app advertising.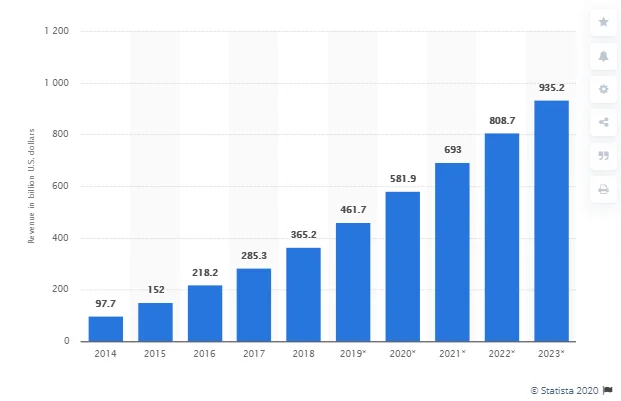 (Image Source: Statista)
App Annie Reports about Mobile App Development Revenue Current and Upcoming Years
The gross revenue for mobile app development is going to exceed $10 billion globally by the end of 2020.
China surpassed global revenues in mobile app development in the past decade. This year and beyond, India, Indonesia, Brazil, Argentina, and Turkey will play a pivotal role in twisting the scenario in their favor. (Updated January 2020)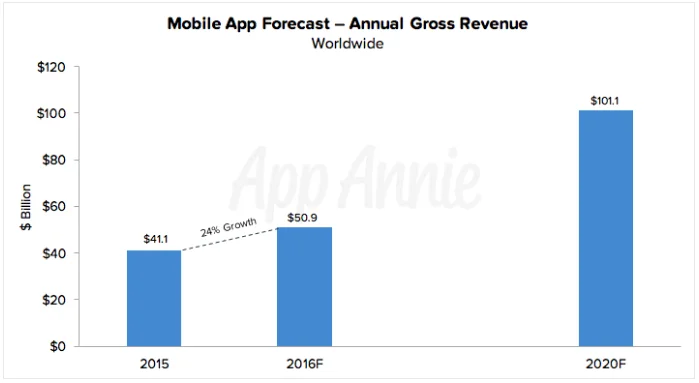 (Image Source: AppAnnie)
Steve Jobs once remarked about the trending technologies by saying, the new technologies will not necessarily replace the old ones, but will date them, by definition. Eventually, it will replace them. Much like the evolution of color Televisions, while Black and White Televisions were still around. And the users have all will and power to decide whether the new technology is worth the investment.
1. Beacon Technology
Beacons are wireless transmitters that make use of Bluetooth technology to send signals. Retail, Museum, Hotels, Healthcare industries are already being benefitted by utilizing a combination of beacons + Bluetooth to define their proximity sensors (magnetic tags) with the items.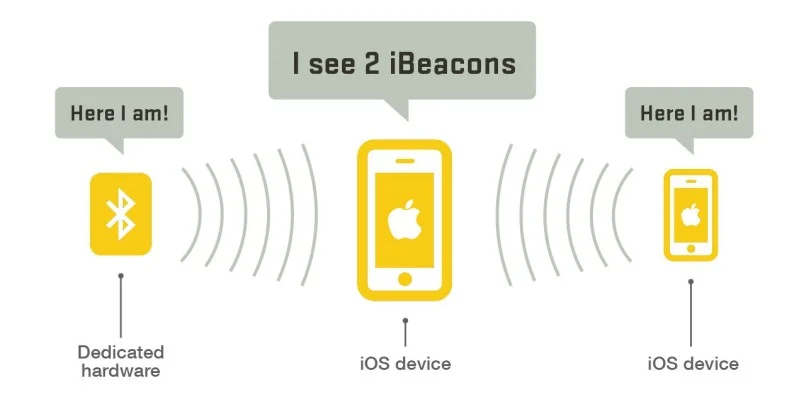 (Image Source: technocom.asia)
How beacon technology will benefit Mobile app development in 2020?
More Mobile applications will top up with beacons making it a new trend in 2020. Essential use-cases will include Mobile payments beacons, AI-enabled chips, automated machine learning, and Beacon treasure hunting.
2. Application Performance Management (APM) and Enterprise Mobile Management (EMM)
APM is a technique majorly used by quality assurance engineers, introduced to reduce and subsequently eradicate the processes that tend to slow down the app performance, thus boosting the overall performance of the app.
Enterprise Mobility Management or EMM is a platform/people/process allowing organizations to manage mobile devices, wireless networks, and other mobile computing services in a business context. This further streamlines the business process by helping in mobile computing.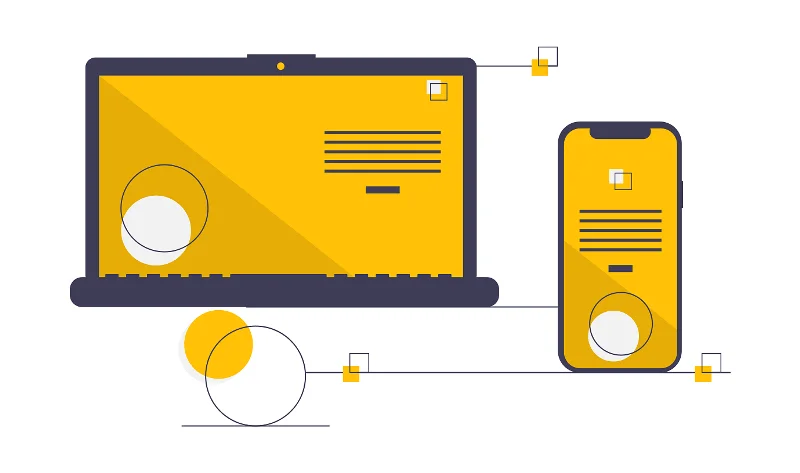 (Image Source: technocom.asia)
How APM will benefit in 2020?
APM and AMM will enhance app security, manage finances, and maintain the application efficiently.
3. Switch from 4G to 5G Wireless Services
Introduction to 5G networks promises swift speed, less congestion, creating new economic opportunities. This technology is going to be a step-change in the ongoing mobile technology networks, promising exponentially faster download speeds and data-sharing in real-time.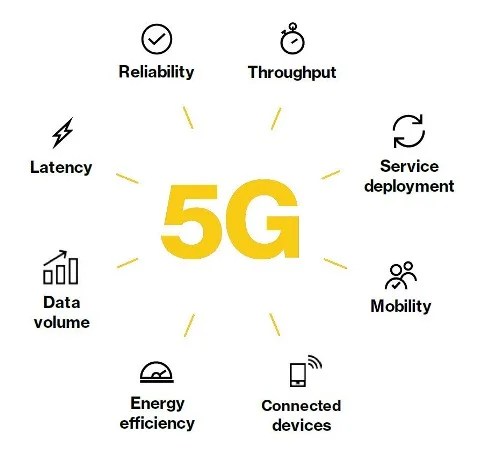 (Image Source: technocom.asia)
How 5G Wireless will benefit Mobile app development in 2020?
Big network providers like Qualcomm, AT&T, Verizon, Nokia, Ericsson, and Huawei have accentuated their network connectivity to 5G. World's biggest Android smartphone makers have been releasing 5G based handsets already.
4. Augmented Reality and Virtual Reality
Artificial Intelligence and Virtual Reality are two such futuristic technologies that gained traction in the past decade but are still in a nascent stage of development. Hospitality, real estate, Food Delivery, e-commerce, marketing businesses have implemented these in the initial stage to uplift their scenario.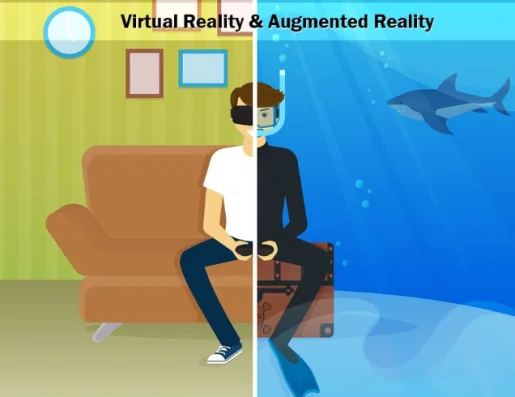 (Image Source: wittysparks.com)
How Augmented Reality and Virtual Reality will benefit Mobile App Development in 2020?
Gartner recently removed AR and VR from its hype cycle which means that these technologies have peaked and no longer an emerging one. But, this time is still ripe to witness some of the software excerpts that could be gelled along with the technologies in demand to be of higher precision, low maintenance, and greater utility. Like in case of prediction goggles etc.
5. Blockchain in Mobile Apps
Blockchain is essentially a digital ledger that is used to record transactions but is secured by its encrypted and decentralized nature.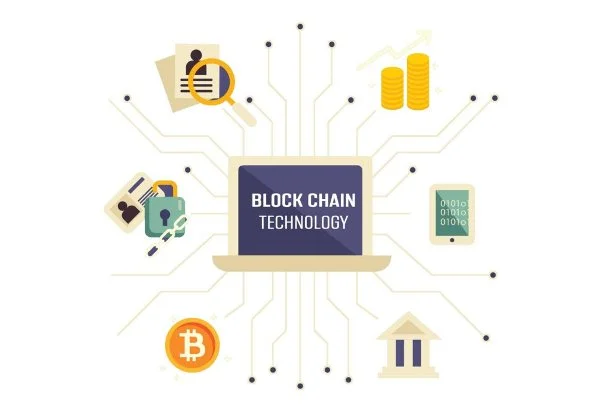 (Image Source: technocom.asia)
How Blockchain will benefit the Mobile App Development in 2020?
FedEx, IBM, Walmart, and Mastercard made huge investments in Blockchain crypto-currency in 2019. Mid-size to smaller businesses are soon going to follow this trend. Facebook is in news for launching its version of crypto-currency in 2020.
6. Instant Apps
These apps do not require to be downloaded. Instant apps are native apps for the android platform and offer some brilliant functions. These work instantly by tapping on their URL. This eliminates the need to download and install apps on the mobile device.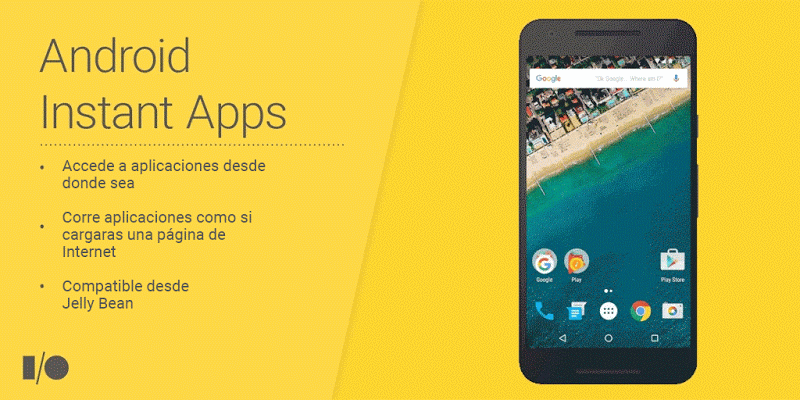 (Image Source: technocom.asia)
How Instant Apps will benefit Mobile App Development in 2020?
These are smaller in size than regular apps, thus require less memory and provide a better user experience. These possess all functionalities of a website. Do not use device memory.
7. Mobile Wallets
Mobile Wallet applications enable a user to make all their transactions online, thus reducing the need to make frequent cash payments. These are secure and fast. These wallet applications need to be linked to bank accounts. These wallets can request payments from bank and users can easily transfer money to other users.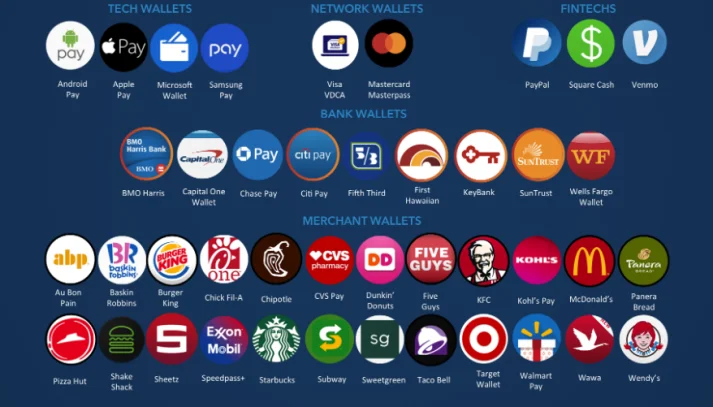 (Image Source: businessinsider.in)
How Mobile Wallets will benefit Mobile App Development in 2020?
Enabling mobile wallet payments into mobile apps can be a great addition to business. Adding Amazon Pay, Google Pay, PayPal, Apple Pay, Starbucks App, Samsung Pay  etc. to mobile apps will double up the payment volume. These will expand the payment areas including government payments, digital goods, travel, insurance, nonprofits, and charities and entertainment.
Forrester Research poll and ComScore reports that Gen Z shoppers are 2X more likely to complete an online purchase using a mobile wallet like Apple Pay, Amazon Pay or Google Pay than the average global consumer. Security concerns, inability to see payment details, easy navigability, inability to browse or compare multiple screens, difficulty in input-ing details. With magical convenience, communication and creativity there is this default insecurity that is going to go this year.
8. Chatbots
Chatbots are powerful up-and-coming tools for transforming the customer experience. Mobile applications like food delivery, cab, and e-commerce apps have already started integrating the chatbots to their apps, helping customers in getting their frequent queries resolved instantly without waiting for a dedicated customer care representative.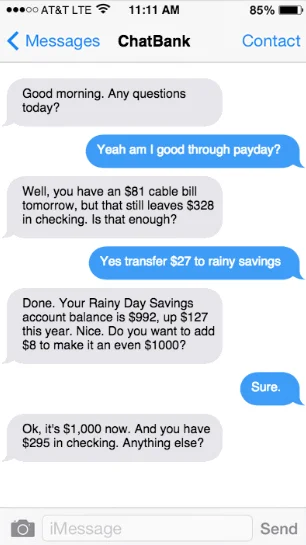 (Image Source: finovate.com)
How Chatbots will benefit the Mobile App Development in 2020?
With more than 2 million apps on the Google Play Store and App Store, Chatbots will escalate from being fairly rudimentary towards a fiercer version.
9. Wearable Devices
Foldable phones, fitness trackers, diet management, car insurance, police and security, outdoor pursuits navigation, personal trainer, arranging a meeting, a memory aid – these devices and more have changed the way we interact with the smart devices.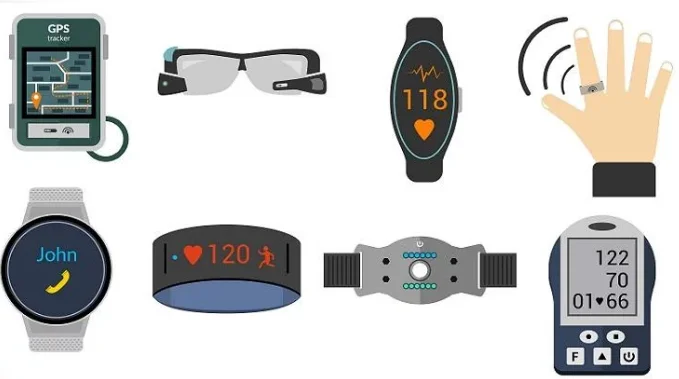 (Image Source: www.newgenapps.com)
How Wearable devices will benefit Mobile app development in 2020?
There will be a rise in the use of fitness trackers. Users will be less dependent on their smartphones.
10. Artificial Intelligence & Machine Learning
Artificial Intelligence is a technology that has made mobile apps smarter by making it faster, reducing human effort, saving time and cost substantially.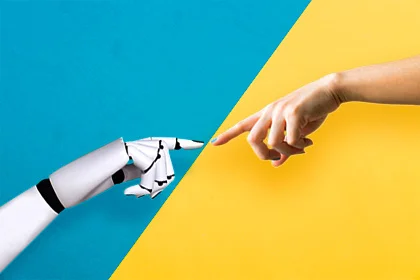 How Artificial Intelligence will benefit Mobile app development in 2020?
In 2020, AR integration will be an essential step for the mobile app development industry. Mobile applications will have an upsurge in AI automated DevOps through AIOps, AI-enabled chips, Automated machine learning, Interoperability among neural networks, Mobile AR disruption, AR in marketing & advertising, AR in healthcare and AR in manufacturing, etc.
11. Internet of Things
Internet of Things refers to the various electronic devices interconnected to each other for a very special purpose. Smart bulbs, smart Televisions, Smart Doors and Lights, Smart Garages – they have certain sensors to analyze situations, control temperatures, cameras, doorbells, alarm systems, locks, smoke detectors, and other devices that go around making a home/office smart.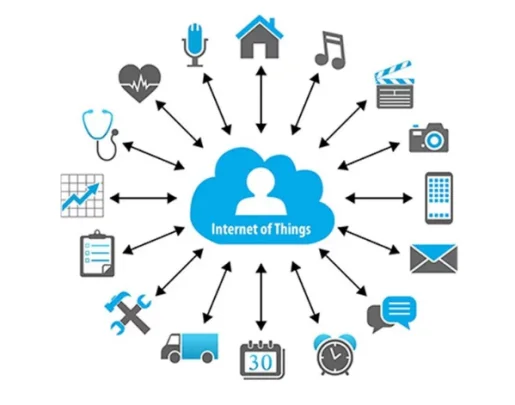 (Image Source: justcreative.com)
How the Internet of things will benefit Mobile app development in 2020?
Internet of Things is going to penetrate deeper in vehicles, wearable gadgets, RFID sensors, software, biometric locks, home automation, etc., making for a smart and convenient living.
IoT projects worth checking out in 2020 will be Touch-Based Home Automation System, Smart Garage Door, IoT Based Air Pollution Monitoring System, Smart Parking System, IoT Based Health Monitoring System, IoT Based Traffic Management System and IoT Based Baby Monitoring System, likewise.
12. Cloud-Based Mobile Apps
Cloud-based mobile apps are a sure solution to the seamless function of mobile applications across platforms – applicable to both native and cross-platform applications. Adaptation to cloud technologies assists in storing large amounts of data efficiently and carrying out complex tasks. Mobile applications with a larger database can make use of Amazon Web Services (AWS) as their cloud computing backup.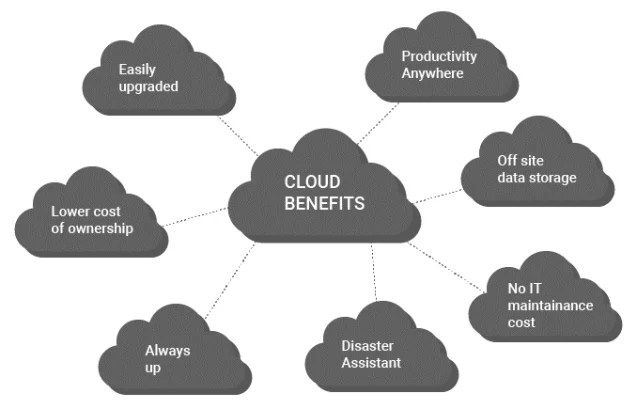 How Cloud-Based Mobile Apps will benefit Mobile App Development in 2020?
Cloud Computing based mobile applications will help streamline operations, reduction in hosting, less equipment cost, enhancement in storage capacity of apps and increased collaboration and overall productivity.
13. Low Code Development
Low code platforms like CMS quickly transform ideas into minimum viable products (MVPs), prototypes and even entire applications. the handoff is seamless with such platforms and it even facilitates the traditional developer to simply pick from where the earlier developer left off thus saving a lot of time and effort. Low code tools incorporate: Visual Development Tools, Easy Deployment and Scalability and Security. Popular low code tools include: OutSystems, Kissflow, Appian, Zoho Creator and Google App Builder etc.
(Image source: www.moveoapps.com)
Industries affected by Low Code Development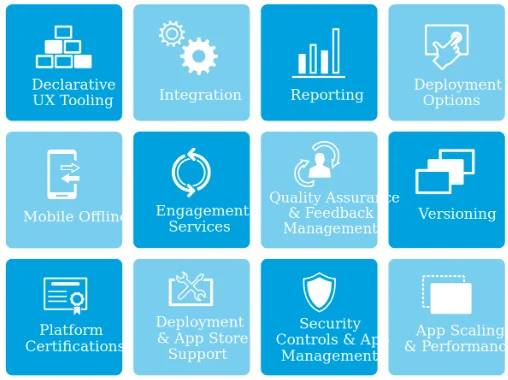 (Image Source: https://medium.com)
How Low Code Development will benefit Mobile App Development in 2020?
In 2020, More Traditional Development Teams Will Turn to Low-Code. It will be an essential Digital Transformation Enabler. More Traditional and Citizen Developers Will Add AI to Their Low-Code Applications. Low-Code and RPA Will Converge to Enable Higher Levels of Efficiency. More Businesses Will Trust Low-Code for Core and Mission-Critical Apps. Organizations will want to "Future-Proof" Their Applications and will be able to close the gap between the "Haves" and "Have-Nots" to some extent.
Conclusive: How easy it is to create a mobile app with the latest mobile app development trends?
Mobile applications are just about the innovations in mobile app trends and technologies. One could be forgiven for thinking this field will soon run dry of creative ideas. But still, over time we've witnessed just the opposite. Mobile technologies traverse, scratch and skimp from one level to another and change our lives for the better. The success that they carry is not scant and there is still a vast amount of untapped potential in this industry. The future of the mobile app development trends will be shaped by the business' behavior and how well they solve people's everyday problems with custom mobile app development.
There's always a new idea that we can't readily do and there's always a new technology that excites us. Let's find out which app development trend is going to throw their hat into the ring in 2020. At Konstantinfo, we understand that a customized app always costs more than off-the-shelf one. Here you'll get what you pay for. Reach us for more!