Startups should look into investing more into apps that create value with core utilities and resourceful engagements. And what's better than giving a thought to Kids' educational apps to begin with.
Even a decade ago, studies and mobile phones were contradictory things for kids. However, technology today has come to play a very surprising role in the knowledge sharing business and smart phones have become the new age learning device. The potential of this industry is still huge and can be a good platform to enter the market as a startup.
As of October 2016, there were more than 1,94,2015 education based apps on the Google Play Store, a majority of which were targeted at kids. Smartphones have not just been introduced to our lifestyle but have become an important part of almost everything we do. Whether it is about paying bills, shop for utilities, order pizza or teach basic mathematics to your kids, a smart phone is the one stop solution.
With education and learning related apps, parents find a productive way to engage their kids. Interestingly, there's a variety of experience on offer. Educational apps for kids are designed to improve handwriting, enhance vocabulary, help with grammar and spellings, improve mathematical abilities, improve cognitive skills, present information in a fun way, help learning music, engage kids in challenging courses/classes and much more. Education based apps consequently, aren't just targeted to individual kids but are being graciously adopted into learning systems within institutions and sees the active participation of administrators, parents, teachers, and kids.
Now, there are a variety of good reasons why startups have a great opportunity with education apps.
Credibility
The average price of an education based app is about $4, affordable enough to get a lot of hits in the market. The takers are obviously the parents. However, even if you are offering a free learning based app, it would be helpful in creating a brand image and getting recognized in the community. Regardless of whether you plan to stick to the educational app market or move to other industries, these apps will certainly give startups, the much necessary initial exposure.
Generating Income
It gets more interesting here. There isn't just one way of generating revenue through apps. The options include:
Selling your app at a flat rate – a onetime buy for every user
Offering a basic version for free and earning revenues with upgrades
Partnering up with other brands and businesses to target audience (parents) with ads
In-app purchases (76% of Android apps earn through in-app purchases)
The choice in revenue system really depends on the type of app you are coming up with and the features it promises to the end user.
Marketing your brand
Even though education based apps have end users in kids (sometimes, even toddlers), the target audience is always the parents and teachers. They are the potential customers you would be targeting your more serious products and services with.
Becoming Distinct
Every startup needs to come up with a core competitiveness that is carried forward through their products and services. The user of an education based app is a mature audience and the chances of getting noticed are huge if the platform you have created in productive and meets the expectations.
Success with education apps comes with the understanding of design, offering an intuitive layout (the users will be kids), and create a learning experience that is fun, engaging and productive. It's a huge market with unprecedented opportunities and several startups are already coming up with path breaking learning apps. Competition is huge here but the listeners are many too. A forward-thinking startup that can think on its feet will surely enjoy the ride with kid's education mobile apps!
To know more about Kids Educational App solutions contact us at [email protected]
About Author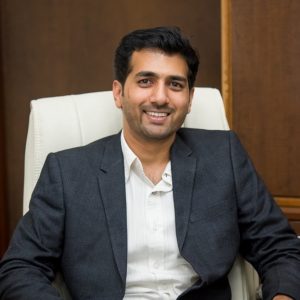 Vipin Jain is the Co-Founder and CEO at Konstant Infosolutions and is in charge of marketing, project management, administration and R&D at the company. With his marketing background, Vipin Jain has developed and honed the company's vision, corporate structure & initiatives and its goals, and brought the company into the current era of success.