Not only people want to hold the Tech, moreover, they want to wear it. Computing devices have moved from our desktop to lap, to our pocket, and nowadays to our body and this agile mobility in tech gives birth to the Wearable Devices.
Wearables' refers to the electronic technologies or computers incorporated into watches, contact lenses, eye-wear, bracelets, rings, clothing and more — all designed to be worn on the body.
Guillaume Roques, head of developer relations EMEA at Salesforce said "Wearables are not useful on their own, they have to be part of the move toward a system of intelligence, which combines big data, the cloud and analytic. Connecting them all together is a big challenge."
Wearable devices didn't promise to stand by your side, but they promise you to be a part of your body. Wearable tech trend spreading from common users for handily purpose, to workplace for better productivity and for employees they're becoming more fashionable tech.
Wearable gadgets can go way beyond then your approach of getting qualified information about yourself, these high-tech devices with more sensors, more comfortable, more accurate & reliable data and with greater computing power can do from tracking the records of your fitness, to monitor heart rates, to identify mood swings, to eating habits, to virtual gaming and give the quantified information about yourself.
Let's take a look how bright future of wearable technology becoming?
According to the recent research, the global wearable electronic devices market led by the sports, fitness, healthcare, smart clothing segment is anticipated to grow up to $8.3 billion by 2018. By volume, the market will increase 30 percent CAGR from 35.7 million to 134 million units. Analysts witnesses that the there would be big opportunities for the wearables development players as they are going full throttle to cash in the big opportunities that the market is currently offering and is yet to offer in the coming years. It is most likely that the market would see some big mergers and acquisitions along with many new players and start-ups, making it big in the industry.
Different connected segments
Wearables change the consumer perception of what technology can do for them. These devices carry brilliant future along with huge opportunities. Most popular segments in Wearable devices are: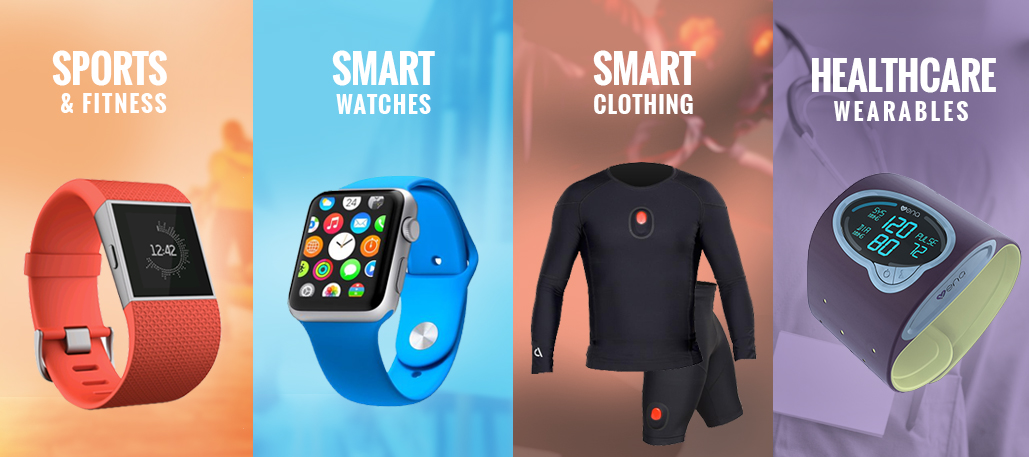 1.Sports & Fitness – Sports and fitness gives kick off to Wearable technology epoch, the devices allow consumers to keep records of their jogging steps, heart rates and how much calories burned every day. These fitness devices become a virtual gym for users and wearing them become the most visible aspect of the fitness market today. Fitness and sports wearables accounted for over 40 percent of the overall market share in 2015.
2.Smart watches – Smart watches has a huge growth and more acceptance among wearable technologies, it took the consumer electronics by storm. Smart watches allowed wearers to be more involved with the people around you.
3.Smart clothing – There are smart sensors and monitors along with apparel, to keep track of vital signs of wearers. The high-tech clothing trends becoming popular among consumers as they're actually wearing the tech and finding functional uses for it. Madness about this tech is going tremendously, mainly between health and fitness folks.
4.Healthcare wearables – Other than smart watches and fitness wearables, nowadays companies have entered into the market of developing wearables for Healthcare domain and this technology is forecasted to be faster growing segment among wearable tech market, growth anticipated of over 41 percent of the overall wearables market by 2018. To monitor elderly remote patients, these devices can provide qualitative and convenient healthcare services.
How wearable devices could fit into business
The outburst interest in wearables is one of the fastest rising trend in technology. There's an outlook where wearables are responsible for driving innovation and productivity in business. An enterprise discovers the world of wearable devices as they let their employees go hands-free and easy-to-use. And through them companies can have access to huge data and track the mobility of their employees.
For industries, wearables are designed to manage equipment, such as machinery on an assembly line that would make workplace a safer one for their workforce; an environment disaster safety team can wear special suits and they get the ability to access the data without any physical distraction. It might be possible that the usage of wearable devices, in company premises may attract the talent and increase the productivity of the same. Any employer who needs instant access to important data with the real time — members of the sales teams, real estate agents, lawyers, rural doctors, law enforcement and firefighters, military personnel and more — can made it possible by using wearables at the workplace.
Some folks may think that, the features offered by wearables could be operated through their smart phones or any other digital devices, so why they need wearables? After doing research on this query, it is concluded that, wearables will be different from your smart phones which you already have and what wearables going to do in near future, is way beyond then our thinking.
Step Forward:
Wearable devices open up the brand new ways for businesses to let them connect with their employees and customers. Usages of wearable devices are increasing with each passing day. Smart watches, smart fitness devices, smart clothing are definitely going to give a new turn to users, employees and company's mobility. The companies who are already running their apps on smart phone best suited to android and iOS one; for them, now is the time to make the same applications compatible with wearable devices to let their users get immediate information and data with the real time and also to increase productivity with real time. Why it is necessary because these apps are — user friendly, which gives leverage to your users and work more effectively.
Raise your hands for us!
We always think of taking one step ahead in this high-tech journey by keeping ourselves updated with new technologies. Our experts, who already started working on various wearable app development, will ensure you to develop the wearable applications in such a way that will stand out of the competition. Whether it comes to sports and fitness apps for Fitbit, Jawbone like fitness devices or applications for smart watches like Apple iWatch or Pebble, our team of expert designers and developers can develop any of wearables apps according to the trends and as per the wearables standard.