Know where the futuristic technology of Internet of Things is heading towards with these leading real-world industry applications across 8 super-domains.
Human race is always curious to find ways that help them reduce their efforts. This makes them incessantly work towards inventing new tools and techniques. And with rich internet resources ingeniously mating with the finest of computing hardware and processing references brings across great possibilities for executing toughest and trickiest of pro-human tasks.
Making most of that, technologists are working towards ideas to bring in more of 'Connected Devices' into play. So, individuals and businesses can have smart devices and automated systems to help them utilize the best of IoT benefits to commit to better and faster ways of exploring possibilities and performing tasks.
With IoT experts continuously embedding ever sharper intelligence into devices and machines through artificial neural networks, businesses and tech-mavens are looking to explore and commit to this magnificent bid of technology, making real-world IoT applications happen across different utility domains. And this is continuously expanding to reveal great possibilities for users and their real-world needs.
Here are the Top 10 of those applications:
1. Smart Home
Smart Home is certainly the most popular IoT driven facility that is creating big buzz throughout the globe. If we look into this Statista report, the global smart home market is forecast to reach a value of over 40 billion U.S. dollars by 2020 and this would further reach to 53 billion U.S. dollars by 2022. Also, it has been counted as the most searched IoT application on the internet and is seamlessly catching pace to break into significant value-defining trend.
Just think about a scenario where you are able to switch off your lights when you have left the home. Or unlock the door for friends when you are not home. Or maybe monitoring your property remotely through CCTV cameras. Smart Homes are able to provide all this and more to save your time, cost and efforts. And no doubt, companies like Nest, Ecobee, Ring and August, have become big household brands offering great value to households in useful IoT applications.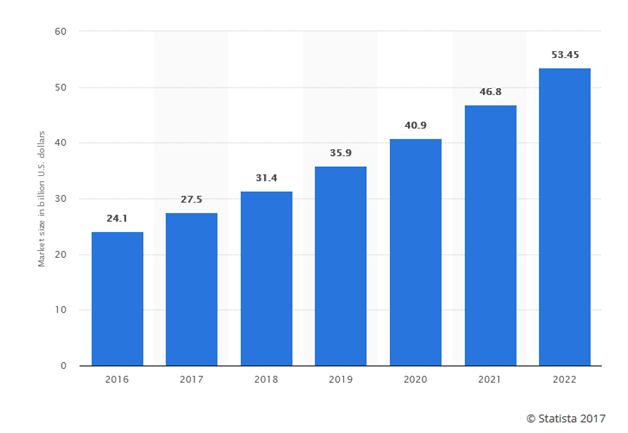 2. Wearables
Wearables are certainly the fastest growing offerings of IoT. Big brands like Google, Apple and Samsung are making the most of the technology releasing finest of solutions across different utility segments like fitness, health, entertainment, and GPS tracking.
We have Fitness Tracking Bands, Head-Mounted Oculus Displays, GPS Tracking Belts, Implantable Gadgets, Smart Clothing that are continuously being conceptualized, defined and built to suit different computing needs and technical purposes. And these devices are continuously evolving to offer more compact and energy efficient offerings with time.
A study on wearable market reveals that in 2015 the total number of wearables shipped in just Quarter 4 was 27.4 million devices. There was a 127% increase in the same compared to the Quarter 4 of 2014. Also, the estimated number of US adults using a wearable in 2018 will reach a whopping figure of over 81 million. If we go with the latest market reports, the projected number of wearables to be sold in 2020 is 411 million as per Forbes data.
3. Connected cars
The automotive digital technology is on a rise as auto engineers are ardently looking to go with IoT to make vehicles function optimally and effusively. The earlier efforts were more towards making vehicles more efficient in terms of performance but now with the evolved IoT possibilities it's more about the in-car experience.
A connected car can operate itself as per pre-stored inputs and based on sensors and can manage its operations itself. Most of the premium technology brands like Google and Apple are working towards taking automobile innovation to the next level partnering with automobile giants like BMW.
How big is this? As per Business Insider there will be 220 million connected cars on the road by 2020.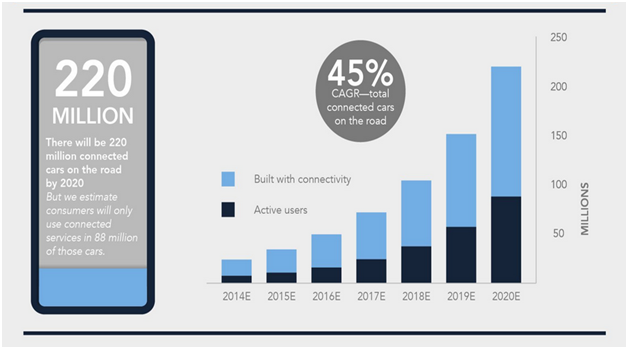 4. Industrial Internet
Industrial Internet of Things is the new buzz around and is phenomenally empowering industries with advanced sensors, programed resources, software systems and big data analytics to create futuristic infrastructure and ingenious machines. IIoT, according to experts, offers more consistent and accurate results in communicating with industrial data. Which allows companies to effectively deal with process inefficiencies and detect problems at earliest to leverage productivity.
Accenture estimates that IIoT could add $14.2 trillion to the global economy by 2030. This would contribute to reinvention of sectors that account for about 2/3 of world output. This idea gets even bigger with 87% of business leaders supporting the fact (in an extended study) that IIoT will contribute to net creation of jobs.
5. IoT in Agriculture
With the continuously increasing world population, there's an incessant rise in the demand of food supplies. With this the need to augment agricultural technology to a level that meets the mounting demand gets bigger. As per a Business Insider report, the world will need to produce 70% more food in 2050 than it did in 2006 to feed the population. That's certainly a big number to reach.
And this can only be possible by equipping the agronomic processes with advanced internet supported resources and going with smart farming. IoT in agriculture helps farmers and food production agencies to fetch and compute significant data and derive significant insights to yield better RoI. IoT-enabled agricultural system allows to sense and read soil moisture levels, nutrients, weather conditions, fertility rate and other factors that prove crucial in taking important decisions for better production.
Quite complimenting the trends, BI Intelligence reports predict that IoT agricultural device installations will increase from 30 million in 2015 to 75 million in 2020, for a CAGR of 20%.
6. Smart Retail
Retail sector is getting bigger both in terms of range and capacity as there are more things added to the product line-up with new brands and trends coming into play continually. And with the online facet revealing great scope and stirring the retail dynamics and disrupting the trends, the need for smart retail is growing high.Forrester estimates that US online retail sales alone will reach $294 billion by the end of 2017, and will be around $414 billion by 2018.
With Smart Retail, your retail venture combines with latest internet technology to detect and define marker trends and user interests. So that you are able to serve your customers better, refining your business value proposition to suit user preferences and allowing them better buying experience. This involves putting up with better visual merchandising techniques, selling process, customer engagement programs, new channels and revenue streams, customer penetration format and optimizing the entire process of retail.
7. Energy Engagement
Power grids are going to get more planned and technology-driven with the way they serve energy demands. To comply with advanced production processes and service roles, energy plants are progressively collaborating with IoT.
The smart grids allow power production houses to offer two-way dialog driven by advanced tools to automate energy exchange environment. This helps them in producing energy economically and control the operations more effectively while dynamically serving evolving energy production systems and cope up with smart energy needs in smart homes.And this is possible as these facilities manage systems for technologies, protocols and applications with IoT enabled resources and get the functional leverage to support evolved energy engagement needs.
As mentioned in a Deloitte report on Energy Engagement, the state of California is furthering its original renewable energy portfolio target of 30 percent in 2020 to 50 percent by 2030. And as per experts this is going to get bigger in its impact and expanse with Advanced Distribution Management Systems playing prominent role in sourcing and facilitating integrated and unified systems for energy engagement.As it succeeds in offering significant value to users, this should be replicated as a model by different state régimes and organizations, which will make it bigger as a real-world IoT application.
8. IoT in Healthcare
Healthcare combines with IoT to reveal great functional choices and quality enhancement not just in terms of service efficiency but also as clinical possibilities and assurance. This not only allows great benefits to the service providers and companies but also to the people consuming health services. This is the reason, IoT in Healthcare shows consistent incremental trends and is going to get bigger with time as it collaborates with health wearables, diagnostic supplies, data analysis and processing systems.
Also, as estimated by MarketResearch.com, IoT in healthcare would be striking big by reaching a mark of $117 billion by 2020. And, that should be the time when it will be used to its full potential and playing a defining role in revolutionizing the healthcare domain.
You can see it catching the trend already in advanced clinical tools and medical equipment.The best examples are OpenAPS – closed-loop insulin delivery, Ingestible sensors, Coagulation testing, Apple's ResearchKit for Arthritis and Connected Inhalers.
End Notes
IoT is vast in terms of reach and application and is not limited to any particular domain or segment. Though, if you are asked to pick the most impacted and served, these are some of the proven and tried domains that have been applied with valid and established IoT resources and practices. If you have other areas and factors of application in mind or if you would like to share your ideas with us and talk to our experts regarding IoT app development, you can reach us at [email protected].