Apple announced major updates to all of its software platforms during WWDC 2018 Keynote. iPhone cognoscente have their eyes glinting on fresh updates and features.
WWDC 2018 Keynote just wrapped up last week leaving some of its unswerving fans speechless. It was a mix of iterative refinements to make existing products better and some fresh features to surprise you even more.
Every-time Apple manages to bring out nitty-gritty updates to its existing array of features, given to frivolity, and it's also good to have such refinements every 5 minutes. Apple seemed to fail with its previous upgrade – iOS 11.3. To be honest, I've never had this much trouble with a new OS version, bogus crashes, just instability, regardless of the iPhone you have. If I make you scan through my experience in brief, a crash that I faced on my iPhone with iOS 11.3 – While I was trying to swipe the menu up from the home screen and iPhone simply crashed. It was not a good experience. After more such reviews from other iPhone users, there were rumors that Apple stopped signing iOS 11.3.1 as soon as iOS 11.4 released. iPhone, iPad and iPod owners will no longer be able to downgrade to iOS 11.3 or previous releases, after release of iOS 11.4.
iOS 11.4 users have reported rapid battery drain post update. This problem is independent of the iPhone model which is being used. Switching off the Wi-Fi when the phone is not in use and connecting a 2.4 GHz Wi-Fi instead of 5 GHz can do the trick, but several users say that none of these above tricks worked for them. Therefore, many of them have rolled back to iOS 11.3.1 which made the battery life normal again. The issue is expected to be resolved with iOS 12.
And like everyone else I want my iPhone to be stable and not crash every single moment. Let's review the enlisting of the brand new features that iOS 12 has brought to iPhone and how it fixes iOS 11 bugs:
Performance:
On a scale of 10, iOS 10 fetches 7/10 for being more responsive, faster with an acute camera swipe, up to 50% faster keyboard display and a double fast app launch under a very heavy workload. All these enhancements improve performance on all supported devices like iPhone 5s and iPad Air.
Rebirth of MAC:
iPad was once considered as future of all personal computing. While Apple is striving hard to make MAC more "iOS like", it will focus on professional users. Features inspired from iOS coupled with power and system flexibility that are valued high by MAC users.
Group FaceTime: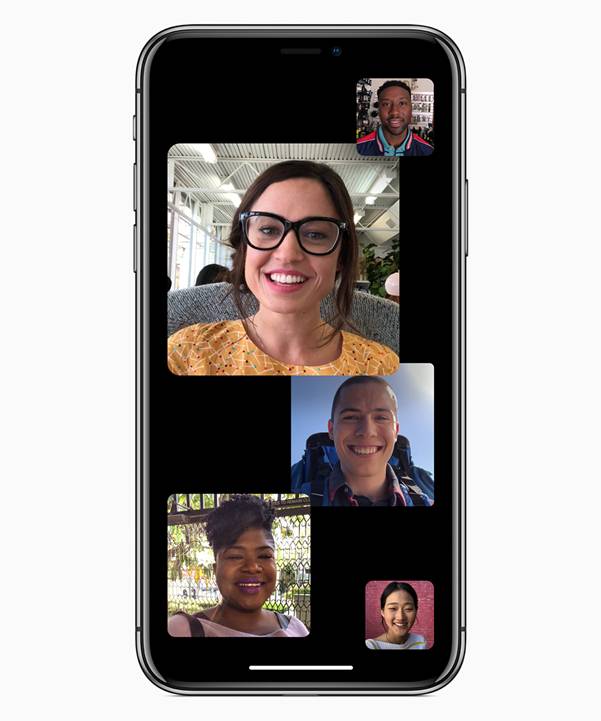 Image Source: Apple.com
iOS enables 32 people to talk in a group call simultaneously. This is quite a handful.
Battery Upgrade:
There is more battery information now in the usage chart settings that displays the usage details for last 24 hours or 10 days.
Screen Time: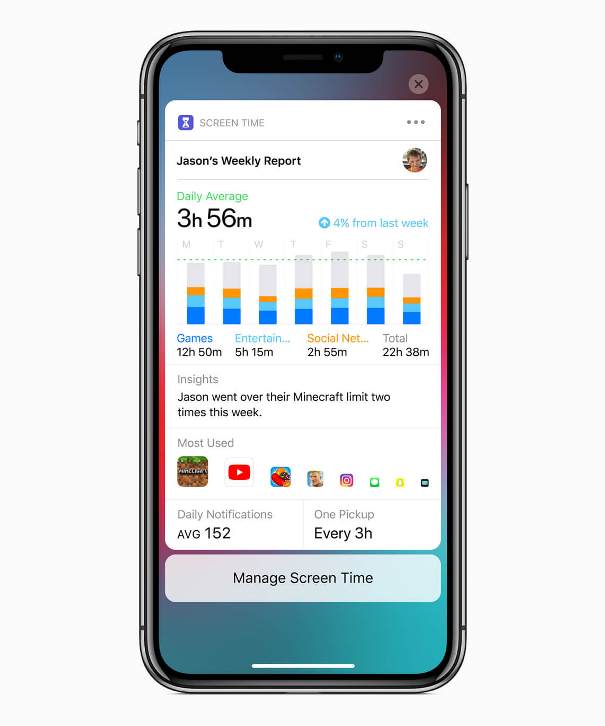 Image Source: Apple.com
Screen Time helps manage the overall time you spent on screen. It includes downtime, app limits, always allowed and content and privacy restrictions etc. Tapping on individual breakdown will show how much time was actually spent on individual apps. You also get an hourglass icon to limit the time spent on each individual app. There is an app limits section that allows parents to manage what notifications must be shown on screen, Downtime further locks down the screen and restricts kids from viewing all the notifications that they must not see.
Memoji: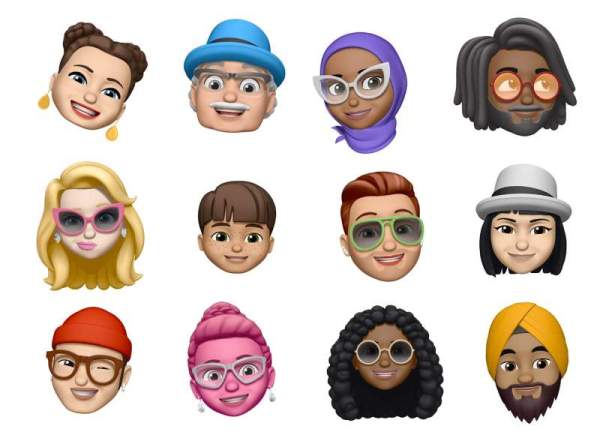 Image Source: Apple.com
With all new memoji's and Animoji's, iOS enjoys many more animated faces than ever. Memoji makes use of the FaceID camera to track your facial expressions (It now comes with tongue detection feature, interesting!). Once the memoji is customized according to you, you can send a 30-second clip along with an audio message via iMessage. This memoji can be superimposed on top of your real face in a FaceTime call.
Camera:
Camera gets enabled automatically when pointed towards a person and separates it from the one in virtual. Point your iPhone camera over the 3D objects or just any real-world objects and they will come alive on your mobile screen. Although this looks simple and interesting, this feature has got lot more dynamics within it.
Notifications and Messages: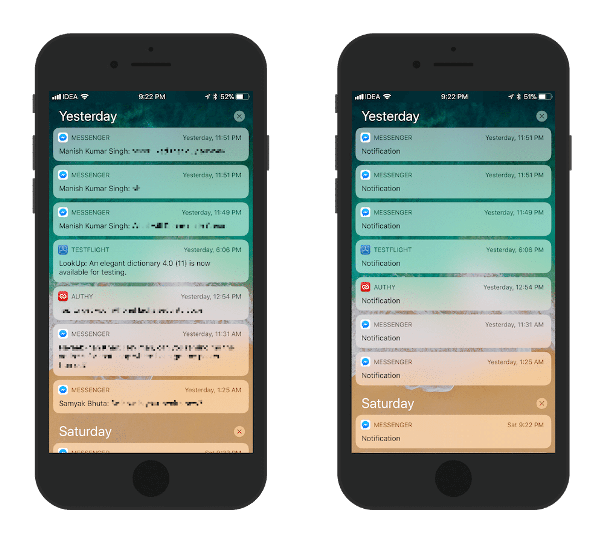 Image source: iphonehacks.com
Notifications and messages can even be managed from a locked screen now. Instead of showing a long trail, notifications are grouped together by type keeping the screen clean. Multiple text messages can now appear together. You can open or dismiss them as in iOS 11 but there is an additional "manage" option that lets you take control over your notifications.
SMS Auto-fill:
SMS auto-fill feature allows to recognize the code in text messages and auto-fill them into the app.
Do Not Disturb Notification:
"Do Not Disturb" option can be set in case you do not wish to attend a meeting in particular and it will automatically be turned off as soon as you leave that place. This feature further helps you to have a good-night sleep when you don't want notifications to disturb you in the night. Instead of lock screen filled with notifications, it adjusts the brightness and contrast of the phone and simply shows time and date.
SIRI Shortcuts: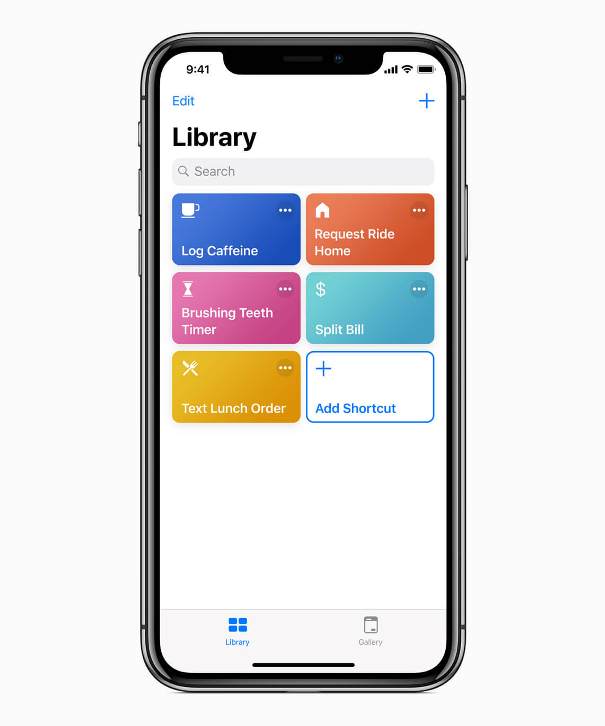 Image Source: Apple.com
SIRI has some amazing crotchets to show in iOS 12. It now allows suggesting convenient shortcuts by pairing third-party apps with daily routines. It additionally allows running shortcuts with voice commands – "Let's go for a walk to Central Park tomorrow at 5 A.M", get weather updates, breaking news, search for nearby food locations, looks up for passwords, searches your photo memories and many more things.
Safari:
Safari prevents external sources from placing widgets, share buttons and comments on web pages to track the whereabouts of the user without his permission. It further prevents advertisers from collecting unique characters like passwords and storing auto-fill information, one-time passcodes etc.
CarPlay:
CarPlay that enables car radio and headsets, now has a support for third-party navigation apps – joining music, messaging, calling and automaker apps.
Shared Augmented Reality Experience:
Image Source: Apple.com
A major software update ARKit 2 enables developers to create AR-enabled apps for experts around the world for the largest AR platform. Detecting objects, persistent AR tied to a specific location and tracking images is easier now. Messages, safari, Files, News, Mail all deliver powerful graphics and animation features.
All new For You:
Keeping your favorite moments in one place by combining Memories and iCloud Shared Albums. It is now easy to share photos with common friends, common groups, common places, and common categories. Sharing photos from your photo gallery to people who are making use of a similar version of OS is easy. With multiple search options, searching has become easier.
More Updates: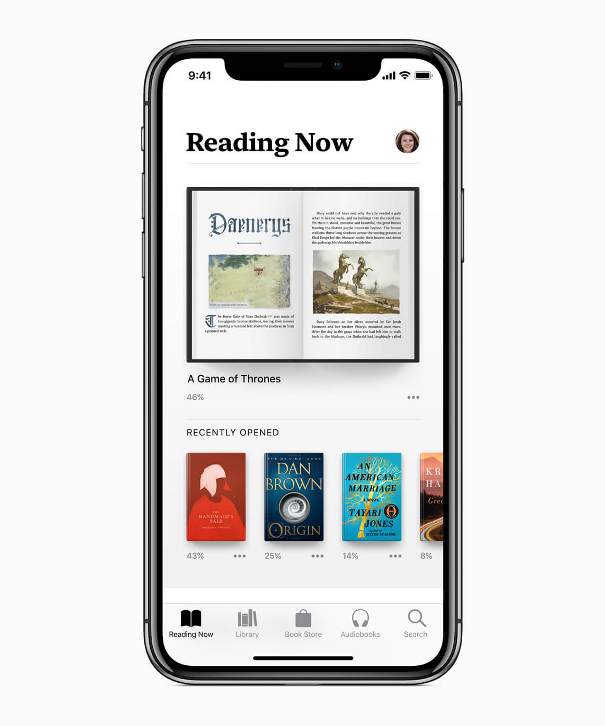 Image Source: Apple.com
There have been updates in Apple Books (come with a new design), Stocks, News and Voice Memos.
What's More:
Get latest stock updates on iPad
Add voice memos on iPad (and some more gestures) and add icloud support to synchronize recordings and edits across all the devices. These will adopt the iPhone X's Control Center placement now.
SIRI translation is available across 40 language pairs now and it further brings more knowledge about all the latest topics including sports, entertainment, food etc.
Wallets on iPhone and Apple Watches now support student ID cards that enable students to use it within the campus.
QuickType Password Input for Third Parties – The new Password Manager API in iOS 12 enables apps like 1Password for one tap of auto filling of login information in Safari
A full web browsing experience in Apple's watchOS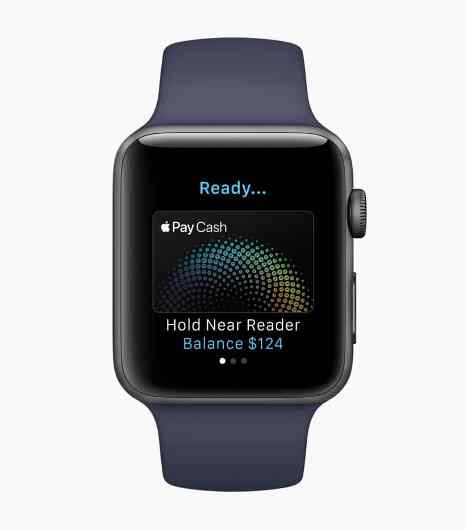 Image source: iphonehacks.com
Bind Off
Apple has been making better by these small updates, but this time around Apple got a new plan for iOS 12 and a lot of people are really going to like it but I think everybody will actually appreciate it and this is exactly what Apple did with iOS 10, a refinement update. Although this is not so much focused on bringing out new features but rather on fixing up what they broke in the first place. They are delivering the experience that they should have in iOS 11, via iOS 12.