Cleo helps you create a budget, track expenses and set realistic financial goals, know more about the cost to create an app like Cleo here!
Cleo or meetcleo is an AI-based chatbot that makes managing finances easy that was launched in 2016 by some venture capitalists. This chatbot or digital assistant can be linked to the bank account, manage the budget and recommend how much you can afford to save. Cleo is trusted by 3+ million users now and it helps you make money like a boss with all the powerful tools and cutting-edge technologies. Cleo can help you have the required sum of money to spend on takeout, it can help you scratch that essential sum of money to get to payday. It can help you save – invest to buy your dream house and much more. Cleo makes use of bank-level SSL encryption to protect your data and your deposits. It also got featured in Techcrunch, US Weekly, Marie Claire and Forbes. Let's follow through the upcoming series of FAQs to know more about Cleo.
What Does Cleo App Feature?
General Features:
Track the spending: Users can link their bank accounts, and Cleo can then show their current balance, their previous transactions' and income/expenditure to set their budget.
Set a budget: Users can tell Cleo how much they have to spend each week or use its insights on their income and expenditure to set a budget.
Save money: Cleo works on an algorithm that tracks user's spending and automatically sets a sum of money aside based on his previous month's purchase history.
Set Goals: Users can create and set multiple goals to reach out to their savings targets.
Cleo+: If you choose to subscribe to Cleo+ you might get a salary advance of up to 100 pounds and additional cashback. Cleo+ costs 5.99 pounds with a 2% interest in the savings account.
Chat: As with every chatbot, it will entertain you, compliment or criticize you for all your expenditures and savings. It can help you with playing games and quizzes to build financial awareness and enter prize draws to win cash.
Set Custom Categories: Cleo can help you set money aside for your long term goals, help you better visualize your spendings and income.
Basic Features:
Check the Balance
Sign-up/sign-in
Keep a track of the transactions
Manage the budget
Add Push notifications
Insert an AI-functionality
Add a 2-factor authentication (for security)
Advanced Features:
Setting budget limits
Reports based on spending habits
Advice to spend better (to be able to act on income and expenditure)
Voice-activated chatbot
Imparting the financial vocabulary
Personalization with multi-language support and time-zones
What Can You Do With Cleo: Extension To Above Features
Cleo chatbot provides fast responses, 24/7 availability, personalized service, meeting customer's goals, improving their financial well being.
It can help you fetch personalized budget and spending breakdowns, provide essential budgeting tips and help with bills.
Ask it if you can afford something and Cleo with coming up with very appropriate answers.
Cleo has essential hacks to help you save your money, auto-save features and a bit of Artificial Intelligence to make it attractive.
Cleo comes with necessary stimulus checks, survival kits, scores to help you stay focussed on your financial goals.
It keeps the system lightweight by adding fun sometimes by adding on the personality modes.
Cleo helps prepare a budget, helps keep a track of user's spending, and move towards a simpler financial reality.
How Much Does It Cost To Create An App Like Cleo?
The cost to create an app like Cleo depends upon the features to be included, generally, it ranges from $15,000 – $35,000 for a basic app and can go up to $80,000 – 1, 30, 000 for a high-end Fintech app.
The Free Version of Cleo costs $5.99/month – which gives access to Cleo's budgeting tool and digital wallet, plus a weekly quiz giving a chance to earn some cash rewards.
Is the Cleo App Trustworthy?
Cleo makes use of bank-level encryption and security practices. It is a read-only service so it does not allow any credit or debit transactions. It is a simple AI-enabled financial advisor.
Which is Better Cleo or Plum?
Cleo is good to keep users engaged. It provides necessary insights on creatively saving money. Plum necessarily does not provide such ideas.
Does The Cleo App Lend Money?
Cleo Plus does that. It comes at a cost of $5.99/month and includes Cleo Clover which is an overdraft service. If a user can qualify, Cleo allows borrowing up to $100 for overdrafts.
How Long Does Cleo Withdrawal Take?
Cleo withdrawal takes up to 4 business days to clear off all the money transactions into the bank account. The team is trying to speed that up.
What Banks Does Cleo Work With?
In the UK they support the following financial service providers: First Direct, HSBC, American Express, Barclays, Natwest, Capital One, Halifax, Lloyds Bank, Metro Bank, Nationwide, Royal Bank of Scotland, Santander, TSB Bank, Bank of Scotland, Monzo and Starling.
How Does The Cleo Budget App Make Money?
Cleo works on an AI-based program to manage finances by monitoring people's spending and saving habits. It requires access to the bank account. You will be required to pay $5.99/month for a premium subscription which includes features like salary advances.
What Happens If You Don't Pay Cleo Back?
The lender can add a late payment fee and other charges to your loan in case you are not able to repay the loan in time. The lender can even charge an interest amount from the tie it is due. This can be up to 60% as an annual interest rate.
Does Cleo Money App Check Credit?
Cleo makes a soft credit check which does not affect credit score and it is typically only done when you have applied for a loan with lenders like a bank.
What is a Cleo Wallet?
Cleo wallet is an in-built repository where cashback from quizzes, rewards and other transferable amounts is stored.
Does The Cleo Banking App Give You Money?
Cleo's digital wallet lets users stash money in the account. It does not pay an APY and does not offer FDIC insurance. The Cleo app prompts setting up recurring, automatic deposits into the wallet and also lets users move money into this account on demand.
What Is The Potential Technology Stack to Create a Fintech App Like Cleo?
Programming languages: Python, React Native, PHP, Flutter, C, Swift, or Kotlin.
Cloud Services: Google Cloud, Microsoft Azure, and IBM
Customer Support and Account Verification: Equifax, Yodlee, and Intuit
Front-end development: Angular.js, Bootstrap, and Materialize
Database Management: Cassandra, MySQL, Postgres, and MongoDB
Push Notifications: Apple push notifications and Twillo
2-factor authentication: Twilio Authy, Duosecurity, and Retrace
Conclusive: What is Required to Create a Financial Advisor App like Cleo?
Apps like Cleo need to have Conversational UX, Omnichannel Experience, Personal Finance Assistance, Lead Generation and Cross-Selling Activities, Automated Loan Assistance, Data Privacy and Security, Bot Analytics & Reporting, Seamless CRM Integration, Rich Messaging, Multi-language Conversation. As a mobile app development service company that drives digital transformation for financial and banking organizations (plus many more industry verticals), development teams at Konstant has requisite capabilities to support, engage and delight their customers. We have the basic skills and knowledge along with the required tech stack to create bots that respond to your target customers' profile and specific business processes. We bring in the cutting edge technologies and a deep understanding of the financial industry to create conversational bots for any device and platform, feed it with multi-languages, time-zones and much more. Acquaint us with your specific requirement and we're sure to suggest a suitable business plan to adjust it.
About Author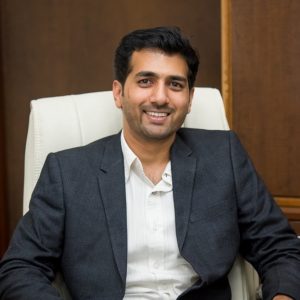 Vipin Jain is the Co-Founder and CEO at Konstant Infosolutions and is in charge of marketing, project management, administration and R&D at the company. With his marketing background, Vipin Jain has developed and honed the company's vision, corporate structure & initiatives and its goals, and brought the company into the current era of success.