Know about Apps like Airbnb business model and app cost. From planning travel at your convenience – promotes homes less concentrated than hotels and unheard places!
The world is shrinking day in and day out. We keep communicating with people and travelling to lands far away from our place. Faster speed, richer references, and improved choices keep adding to this adventure.
This is possible with the perfect blend of technology and ideas in the realm of e-hospitality. And this exchange is reaching every facet of trend and tradition, making the way we interact with these services ever smarter and smoother with apps like Airbnb.
With Airbnb, you can book hosts from across the world. As a traveler, you have access to properties and destinations from over 190 countries. This service allows you with eminent features both as a host and a guest – all by registering up a quick user profile on the app.
The app allows you to dynamically compare among different rent options and select and book the one that deep-filters out as per your liking and preferences. And all this in a lavishly smooth environment and with handy consoles – making it a leading online marketplace for rentedstays and hospitality.
What is Airbnb Business Model?
Airbnb is an affordable travelling accommodation option. It facilitates access to distinctive spaces and local culture. According to Airbnb business plan, travelers are enabled to build connections with local hosts anywhere in the world, operating as a transaction facilitator who are looking for a comfortable accommodation at reasonable price. It also provides host protection insurance and a system to rate and review its services.
Fee is charged from those who visit the site, like hosts and the travelers. It is somewhat similar to Postmates revenue model. They earn via commission from hosts and by charging transaction fee from travelers. As soon as any user chooses to host a property and make a payment, AirBnB charges 10% of the payment amount as commission. Airbnb revenue model consists of the travelers who make their bookings for staying and proceed with payments; they are then charged 3% of the fee for transaction which adds to the Airbnb revenue.
Apps like Airbnb facilitates booking of private living space for travelers or guests. Travelers have access to rent out private homes. Airbnb as well enables owners to list their space and earn rental money. User reviews and
How Much is the Cost of Developing an App Like Airbnb?
There's this very basic approach to calculating the cost of building just any app. Time! And pulling it off to ballparks with an average cost of development. So, in this case, we need to first find out how much time the app would take to develop based on different efforts and resources employed.
In this cost analysis, we are going to take the average development rate as $30 based on worldwide standards. This would be multiplied by the average hours punched in for different functions to get the approximate cost of the app.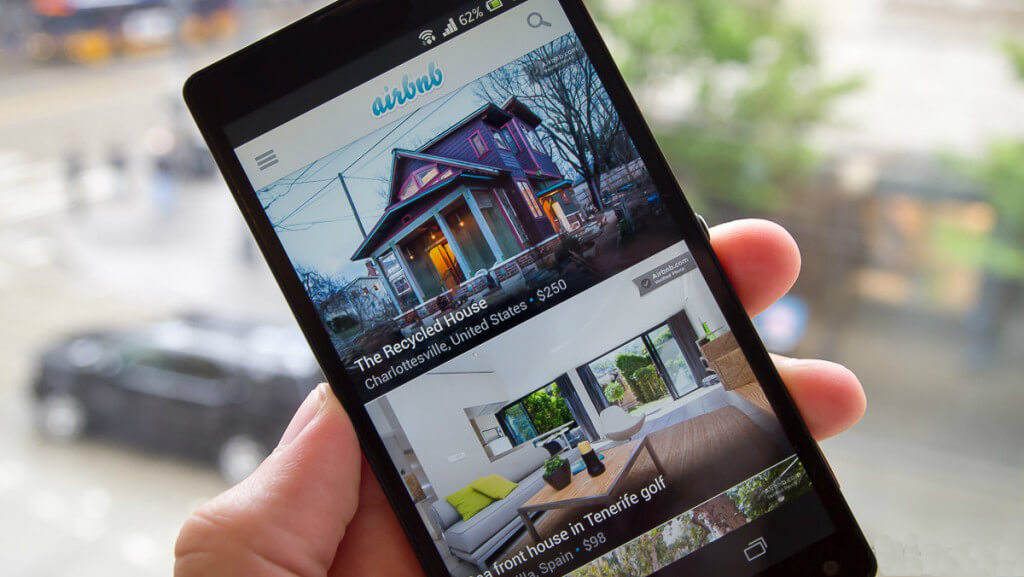 The hourly efforts for business logic, UI and testing are clubbed into one cumulative development effort for each module/feature.
We would divide the app into different components that comprise of different efforts, app resources, and modules that collectively sum up into the Airbnb app.
1. Initial Steps
This includes all the necessary initial efforts that are needed to be put in to give it a kick-start. These will take about 60-70 hours to complete.
Estimation
20 hours for project setup
20-25 hours for API implementation
10 hours for database model
10-15 hours for implementing services
Sums up to a total of $1800-$2100

2. Registration
You need to get the user registered to be able to use the app with a unique identity. It would be seeking the agreement of the user with the terms and policies besides getting the details confirmed.
Estimation
12 hours for implementation
$360
3. User Profile
Allowing users (both hosts and guests) to create their personal profiles filling in these details:
Full name
Gender
Birth Date
Email Address
Place
Phone No.
Personal Bio
Estimation
Implementation of this feature takes 16-20 hours
$480-$600
4. Filters
This module includes different access points supported by various listing/search filters for both types of users.
If you have registered as a host you get to add information – house type, room type, accommodation details, price, and photos.
As a guest, you can search for the place to visit, check-in and check-out dates, no. of guests. Followed by property/room type, price range, accommodation size, neighborhoods type, amenities and host language.
Estimation
This module will take about 24 hours to develop
$720
5. Variants of rooms to stay
After applying filters, relevant results are displayed. As a guest, you can see detailed information of each variant.
Description
Photos
Map with the location
Accommodations
Owner's Profile
Amenities & services
Rating
Reviews
Price
Terms
Estimation
This part would take approximately 180 hours to be processed and implemented
$5400
6. Invite Friends
This feature allows a user to invite friends to join.
Estimation
It takes 22-28 hours to develop
$660-$840
7. Add to favorites
This is a typical bookmarking feature that allows the user toadd a certain chosen variant/result to favorites – to keep it saved to be viewed and referred later.
Estimation
This feature takes 10 hours to develop
$300
8. Translate feature
Using this feature user can translate the description of rooms into their language. The entered text is sent to Google Translator and translated into the chosen language.
Estimation
This takes all of 4 hours to implement
$120
9. Guide
Every location you search on the app is shown with its neighborhood and locality on the map. The guide provides you information on the nearby places that are worth visiting.
Estimation
This takes 10 hours to develop
$300
10. Maps
Maps allow the user to dynamically search a location and spot a place to stay. This also shows the neighborhoods, routes and amenities in the proximity to help the user take a better decision interactively looking at the mapped results.
Estimation
It takes 16 hours to implement maps
$480
11. Messaging
This is a very important feature in the app as it allows users to connect with each other and discuss all the points in detail. This chat utility adds to the value of the app tremendously by allowing users to chat in real-time without leaving the app.
Estimation
To develop messaging 30-40 hours are required
$900-$1200
12. Property listing
As a host, you can list your property by defining the free space you have to put on rent. You can fill in related details and create your Ad to list your apartment/room/house in a certain category.
Estimation
This feature takes 80-100 hours to develop
$2400-$3000
13. Settings
The settings menu allows you to configure and control different functions like:
Push Notifications
SMS Notifications
Wish-list
Currency for Payments
Paid-up method
Estimation
This takes 16-20 hours of development
$480-$600
14. Backend
The server-side part of the app is virtually the most time-consuming and tedious one. Data processing, calculation, decision matrix, action triggers – all belong to the backend functionality. The entire functional support system working at the backend is built here.
Estimation
The backend development of app like this requires around 550-600 hours
$16500-$18000
So, what's the total cost of building the app?
Now, as we have dissected and explored all the features and modules of the app, we can reach a ballpark figure for building an app like Airbnb. Tallying all the numbers we get in each development effort mentioned above, we reach a total cost of $30980 – $34060. Which is approximately $31000 – $34000 considering $30 per hour as the global average rate for counting the cost. As mentioned earlier this includes hourly efforts for business logic, UI and testing along with development for each module/feature.
Having said that, we would like to mention that these are just the rough estimates of efforts and cost and this may vary to a certain limit depending on the mobile app development company and the experience you choose to go with. Also, the country you choose to get your app developed from plays a key role in deciding these rates. However, these are the averages derived considering different business situations and all the technology factors, so you can rely on them to get an estimate to build apps like Airbnb.
To get more details on this or get a custom quote for building an app like Airbnb contact us at [email protected]