The idea of utilizing cloud computing is not a question of why but to how much extent and when!
IT spending were $3.5 trillion by the end of 2017. These were 2.4 % higher than 2016 (According to bmc). This is a huge business and the way IT people and companies think about it needs to be reconsidered. Going this way IT professionals have to either invest in capital expenses or operating expenses in order to procure new software, equipments and capabilities. But as most of the companies are moving from hardware to cloud models, IT and Finance departments need a reconciliation.
Most of the cloud providers have now released their earning for Q2, cloud infrastructure services (IaaS, PaaS and hosted private cloud services and these are comfortably over $16 billion. Here is what the experts have to say about the capabilities and what it means for the future of IT.
A cloud allows its users to make use of all the data, applications and information that is scattered online to me utilized without actually having the need for virtual servers, hardware, and other peripheral devices. Companies that allow this to allow its users to make use of this technology in a more shared way, more in the form of service than as a product.
Cloud computing sits on the partway where it can either be described according to the deployment model or the service that the cloud is offering. It has miscellanea of models to display right from basics to IaaS, PaaS, and hybrid, public and private cloud.
Cloud can be classified in four ways based on the deployment model:
(1) Public (2) Private (3) Hybrid and Community Cloud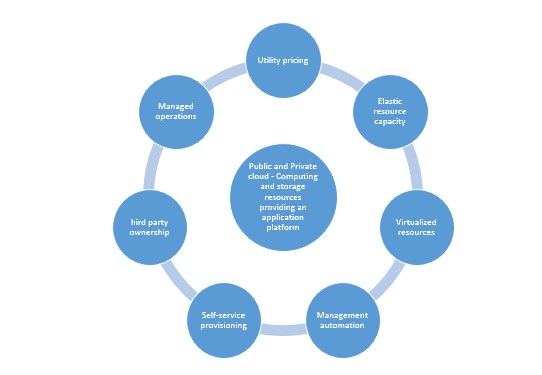 Alternatively, cloud computing can be classified in three ways based on service offerings:
IaaS (Infrastructure-as-a-Service)
PaaS (Platform-as-a-Service)
SaaS (Software-as-a-Service)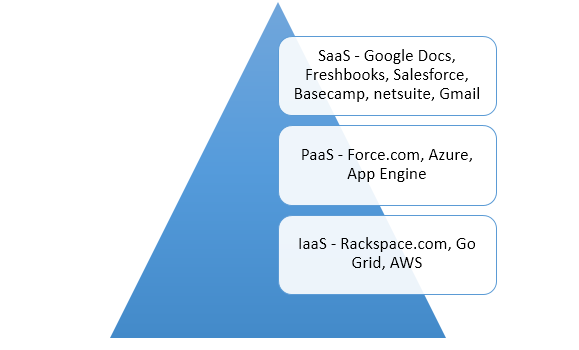 More IaaS, PaaS, SaaS providers to streamline your operations
| | | |
| --- | --- | --- |
| SaaS | PaaS | IaaS |
| Salesforce | AWS-Elastic Beanstalk | AWS |
| Microsoft | Salesforce | Digital Ocean |
| Adobe Creative Cloud | Software AG – Long Jump | Microsoft Azure |
| Box | Microsoft Azure | Rackspace open cloud |
| AWS | IBM- Bluemix | Google Compute Engine |
| Google G Suite | RedHat – Openshift | HP Enterprise Converged Infrastructure |
| Slack | VMWare – Pivotal CF | Green Cloud Technologies |
| Zendesk | Google – App Engine | CloudStack |
| ADP | App Fog | Linode |
| Oracle | Engine Yard | IBM SmartCloud Enterprise |
More options to classify and make use of cloud computing can be based upon storage, database, information, process, integration, security, application, testing as a service and management.
Most of the companies make use of programs that are located on a remote machine (remote location), that may be owned by another company. This can have multiple benefits including increased performance and computing power, saving a lot of money on hardware cost. Computers that run such applications, store the data, and make use of a server system – are called a cloud servers.
What will be the latest furors in cloud computing in 2019? Is opting for Hybrid based Cloud Computing Solutions apt for businesses?
Most of the IT businesses want their resources to be available offline and compute to a cloud in order to strike a balance. But moving everything on the cloud seems to be a daunting task. In a lure to have a middle ground, IT firms seek a hybrid solution to have everything from increased flexibility to increased efficiency that could meet all the disparate needs as and when required. This brings an additional advantage of being less risky and be able to transform their computational abilities with the process flow.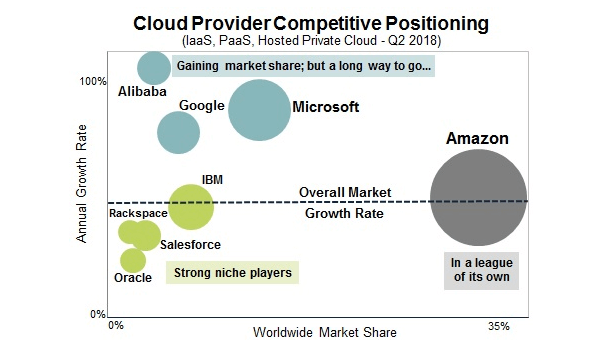 Source: Synergy Resource Group
Increasing IT Awareness – According to a recent survey by leading IT researchers, any proper business would require six different clouds in order to relish all cloud computing powers, which can essentially be a blend of public or private clouds or multivendor cloud systems such as Google, AWS or IBM. With the increasing awareness and adoption, Chief Information Officers must start gathering information about each variation of cloud services and be prepared for capitalizing on the decisions.
Upward Trend – The simplicity of the cloud is going to take IaaS, PaaS and SaaS services forward way beyond the expectations. These are going to lead a way such that they will become the default web server environment and a game changer for both local and multi-national companies.
Table: Global Public Cloud Revenue Forecast 2018 (USD in Billions)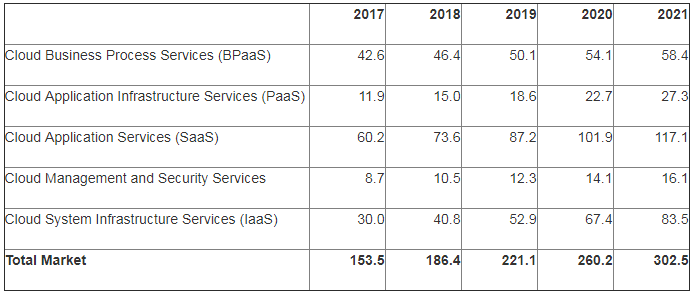 Image source: www.gartner.com
BPaaS = business process as a service;
IaaS = infrastructure as a service;
PaaS = platform as a service;
SaaS = software as a service
Note: Listed totals may not add up due to rounding.  According to Gartner (Estimates till April 2018)
SaaS is expected to reach 45 percent of the total application software spending by 2021 according to Gartner. PaaS is expected to reach almost $10 billion by 2021. Although these growth rates of public cloud have stabilized with the onset of Q2 of 2018 and reflect the increasingly mainstream status and maturity that public cloud services will grow within a wider IT spending mix. This forecast essentially excludes cloud advertising (Garner Reports 2017-2018)
SaaS – Expected to increase by 18% by 2020 (according to Bain and Company)
IaaS – Expected to reach $72.4 billion by 2020 (According to Gartner)
Paas – Expected to increase from 32% to 56% by 2019 (According to KPMG)
This data depicts the rate at which cloud computing is going to grow making itself fastest of all development and storage platforms.
Something about Quantum Computing – 5-quantum bit (qubit) which is now better known as IBM Q Experience. This attracted 70,000 users worldwide at the time of invention and now this figure has quadrupled. All the major tech giants like Google, Intel, and Microsoft are propelled towards delivering the best services. This essentially includes predicting accurately about weather via AI, seamless data encryption, solving complex computational, automatic updates, carbon footprints, enhanced collaboration, and control on the documents, 24 x 7 availability as well as medical problems and all within and beyond the capacity of supercomputers.
Security – Security is one of the major concerns as the technology evolves. GDPR compliance has highlighted this issue and business of all sizes have to abide by the regulations. Most of the concerns and vulnerabilities in IT pertain to the security within the network. Reliance on cloud networks to look after the data usage and sharing will not only decrease the workload (public as well as hybrid cloud platforms) and simultaneously businesses will have to face fewer challenges in case of security than usual.
Predicting Future of Cloud Computing
Both hardware and software will be separate
A need to think about software from various angles (the modular approach in software development) – Applications will not only be stored in the cloud but will essentially consist of various modules that will be located on different servers of different cloud services.

Note – The fee for using cloud services is not canceled and if individual components are placed on different storages they will eventually save the cost of software.

Introduction to low-power processors that will stimulate the decline in prices for service of cloud providers
Security of data will be of highest priority
Want to be rich? Cloud will do this for you! – Standardization of software, compatibility of web applications, bringing a change to production cycle! Acrobat reader will no longer be required to open a PDF file, MS Word will be a rescue to handle all such applications.
A Cut from the Story
Cloud computing is in itself is a huge technological breakthrough and will speed up development efficiently.
In comparison to legacy hosting services, cloud computing essentially offers greater flexibility in delivering IT services. These can be consumed in form of monthly or yearly subscription and let companies quickly ramp up the capacity by matching business needs.
What's more, do you know that cloud computing can make you refresh your legacy infrastructure execute perfectly without even incurring operating expenses (CapEx vs. OpEx) costs? Businesses can make their software work without buying new virtual machines (servers). This eventually reduces hardware costs, support number of users simultaneously by moving applications to provider's infrastructure and do away with the cost of data center expansion.
Providers of cloud computing often offer both infrastructures as well as managed services that allow companies to offload that task to providers and keep their IT staff free to work on other projects. Companies can utilize cloud computing solutions in many different ways and these can eventually help in being more proactive and responsive to market conditions, winning over normal IT costs.
Experts in our arena spend most of the time in keeping the proverbial "lights on". See how we can help you find and fix application problems fast and achieve Complete Control of Your Cloud Environment with Konstant Management Platform.