Want to develop an Uber Tow Truck app of your own? Here's all you would like to know about the Uber towing app costing part.
Uber is expanding not just in its reach and scope but also in the range of offerings in the segment of on-demand transportation and allied services. Latest on the list is Uber Tow Truck app that lets you connect with the Tow Trucking services for vehicle emergency and heaving requirements.
So, with that, it is not tough to guess where the trends are moving and how big opportunities they have to offer to businesses in the domain of on-demand transportation services. So, if you are too looking to grab the fine opportunity and come up with your version of Towing App, here's how much it will take to get it developed.
Before we catch up with the numbers, let's first find out what all primary features it should be having.
Main Features  Should be Considered Before Building an Uber Tow Truck App:
Live Geo Tracking: This is one of the foremost features that go in an Uber-like on-demand tow truck app. Just like it works for the Uber taxi app, the user is able to see and track where the nearest tow truck is in real-time. This vitally helps in knowing the ETA and planning events that precede and follow.
Change/cancel Booking: There are times when you need to change your booking as you just have to renounce it because of the sudden change in plans. In such situations, this feature comes handy as it allows the user to cancel or change the booking as and when needed.
Talk to your driver: Just when you have placed the order you can connect with the driver to converse on details and get assured of the timely arrival or order details in case you need it. This can be done both with the help of chat or by making a call to the driver's service phone.
Review System: Gauge the credibility and dependability factors of the driver by looking at the ratings and reviews given by other users on various service and performance parameters. This way you can be assured of getting the service best matching your needs.
Work History: This feature is meant to allow you to read through the details of jobs attended and users served in the past on the driver's profile page. With this, you can get assured if a provider has enough relevant experience and is capable and equipped to serve your needs well.
Other important features: An Uber Tow Truck app clone needs to have all the features that comprehensively serves the user to have ranging digitized and wholesome functionality-driven experience with the service. This includes a service scheduler, selecting sub-services, toggle driver availability, and all communication and interface-based features that serve both driver and user to connect better with each other and the service effectively. Besides, it should have all the basic features for accessibility and security that you see in Uber taxi services app.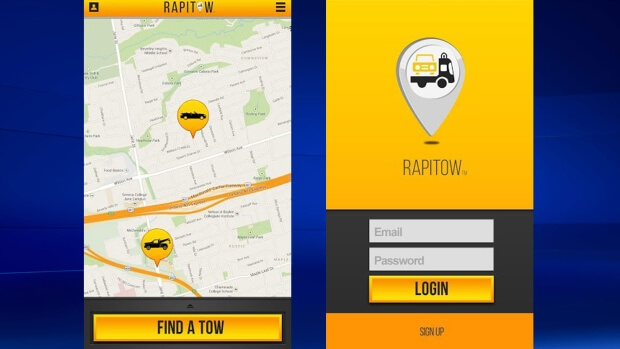 Image source: ctvnews.ca
Here we are segmenting the solution into three parts
Admin Dashboard to control everything (features of tow truck app)
Customers-side application
Providers-side application
Now, if we look at a basic native on-demand Tow Truck service or roadside assistance app as a solution we can put it into different modules and sections:
Consolidated features of Uber tow truck app
Social Integration
User Profile
GPS Tracking
Availability status
Navigation and Routing
Service and Equipment Management
Payment Integration
Booking/Service History
Reward system
Pricing management
Fleet management
User management
Reporting and analytics
If you further refine it and divide these features into customer-side and driver-side apps and add more extended and support features to it, it should be depicted like this:
Customer-side/user app
Fare Estimation & Calculation
Setup Customer Profile & Bank Detail
ETA – Estimate Time for Truck Arrival
Verification Via SMS & Email
Review & Ratings
Security features
Cancel/change Booking
Customer Support Chat
Surge Pricing
Pay Wallet
Real-Time Truck Status
Cash & Card Payments
Provider-side/driver app:
Document Uploading
Auto Offline
Interactive Map
Navigation
Verification
User/Vehicle Type
Earnings Detail
Communication with Customer
Driver Support Chat
So, taking a more realistic idea of it, the modules in the solution would be including services and facilities like Easy Onboarding, Adding Multiple Vehicles, Service list, Location sharing, Cost/fare calculation, Real-time notifications, Reviews and Ratings, SOS panic button. Without which the real-world implication and utility of the solution would be shallow and unlikely.
Let's see how much an iPhone app (for customer and provider) with a web admin console/dashboard with these modules/features and allied attributes would cost – if you go with standard design elements, communication traits, security value and support resources.
All these are the vital features to be added in order to build an inclusive Uber Towing service app to serve you comprehensively across different standard functional and utility perspectives. These coming together can allow your users to have enough value and benefits that are meant to be served and delivered with such apps.
Now, if we look into the cost of building a Tow Truck Solution with such features, it can be best depicted by calculating the efforts and multiplying it with the average standard rate taking global references.
Hourly Efforts
Web App/ Business Console
Web app for on-demand tow-truck app service includes a complete system to manage, track, execute and validate the entire process and the services within it. Building a complete solution includes adding/editing details for drivers, vehicles, service type, billing format, payment options, tracking matrix, map preferences, performance graphs, information archives, documentation, and reporting.
All these features built on a web platform including efforts for wireframing, designing, development testing and deployment can reach anywhere from 700-800 hours.
Customer-side/user app:
Core Functionality (User login system, service booking facility, payment integration): 160 hours
Fare Estimation & Calculation: 32 hours
Customer Profile & Bank Detail Setup: 48 hours
ETA – Estimate Time for Truck Arrival: 40 hours
Verification Via SMS & Email: 8 hours
Review & Ratings: 16 hours
SOS Panic Button: 16 hours
Cancel/change Booking: 24 hours
Current Truck location: 24 hours
Total Efforts: 368 hours
Provider-side/driver app:
Core Functionality (Driver registration, fleet tracking, user management, booking, reporting): 160 hours
SMS Verification: 8 hours
Auto Offline: 16 hours
Profile activity/trip history: 40 hours
Interactive Map & Navigation System: 24 hours
Service Type: 24 hours
Billing and Payment Details: 30 hours
Total Efforts: 302 hours
*Here we are taking only the preliminary and vital features and services into consideration.
So, the total effort of building an Uber-like towing service app with web app backend built on node.js+ socket.io and mobile app for both user and provider built on iOS can take around 1400-1500 hours to build and deploy.
It will take approximately $2000 to set up a scalable server, install Admin Dashboard, set up a web application for users, change logo and splash screen, recompile and launch iOS and Android native apps for your providers and customers.
This figure has been reached upon after considering a solution based on quality offerings and high proficiency level from a mobile app development company that has good expertise and relevant experience offering app development services in the domain.
If you would like to have more information about building an Uber Tow Truck app of your own, you can contact us on [email protected]