If you are in the transportation industry looking to build a taxi booking app like Uber. Here you know the cost of building an uber clone app.
If you are following the transportation industry narrowly or maybe working in it, you must be aware of how Uber has grown into a revolutionary transport system all in front of us. Bringing a compelling business model and advanced mobile technology together – every feature, every gesture of its offerings, make it an inspiration to many in the domain of commutation utility. And why not, the world is mesmerized by the flawless app communication it puts forth, seamlessly connecting users with its transportation services. And most of them dream to look up to that savor of achievement it has set open. But what stop them are the apprehensions and doubts about the cost of building a taxi app like Uber. Are you one of those?
So, we are here to bring an end to all these blocks and hassles to clear your way towards a smooth levelheaded judgment towards having an Uber app of yours.
Understanding how uber app works
Uber in a transport utility app dedicated to a cab-hiring business model. You can essentially split up the entire idea or process of the service into 5 core functions:
Request
Cab transportation service is requested instantly or on schedule via the app. Nearest driver receives the request details
Matching
Based on the details driver may either accept or reject the ride. If rejected, the request is sent to another driver in the proximity
Ride
The user tracks the route cab is travelling through and knows the estimated time of arrival
Payment
Payment (generally cashless) is processed once the ride is completed based on the time-specific tariff. The fare could be tracked in real-time as the ride starts
Rating
For driver and passenger both. An important functional component which emphasizes on ride quality and enhances service reliability
Essential features Uber App holds
1. GPS maps and routes drawing
2. Registration
3. Matching system
4. Notifications and communication
5. Payment System
6. Vehicle and user details
7. Rating System
Feature-wise efforts
In order to build a taxi app like Uber, you need to have all above-mentioned features in place. Let's dig into these components to know what all it takes in terms of efforts and skills and how much it costs to build an app like Uber.
1. GPS maps and routes drawing
An app like Uber is more about GPS. You see it working all on maps – to track where the cabs are, your location, and again their movements – all of which is facilitated through a real-time routing. So, the first things you require here is maps and positioning, supporting all the calculation for the ride, being linked with the routing server. Just like Google Maps for Android.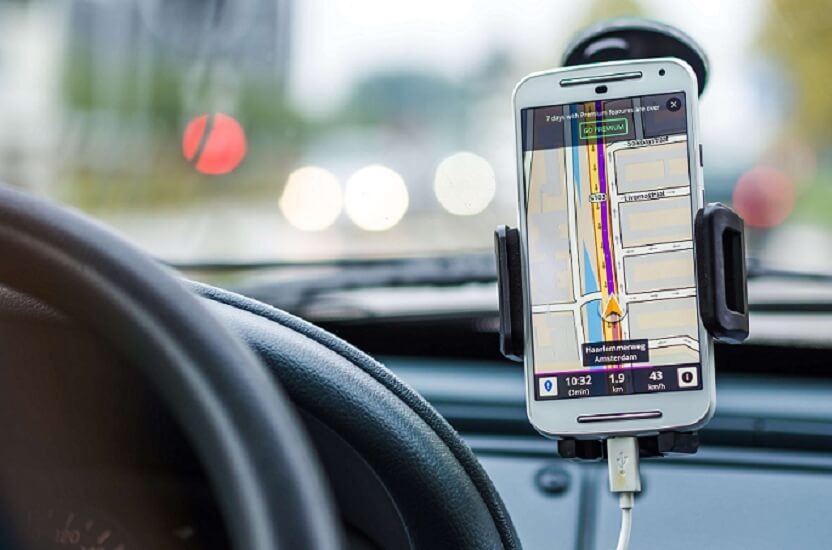 Efforts: Geo-location, real-time tracking, route aggregation, trip calculation through routes 120+ hours
2. Registration
Just think about 3-4 apps you have seen in this genre. They all offer different types of registration options to let you connect with the app through a profile (both for users and drivers). For drivers, the process further gets a bit denser with verification factors like scanned credentials and other listing obligations coming into the scene.
Efforts: Sign-ins (email, social media, phone), authorization 30+ hours
3. Matching system
The matching system connects a particular user with a certain driver (identifiable due to registration). Technically, a user profile requests service from a particular location and this is matched by a driver profile in the proximity. This allows you to identify a car by number, drive's name and a connected phone number which is unique to each provider. This further allows the driver to either accept or decline the ride-request in a particular time-frame.
Some of the services even allow you to choose a driver from the available options, which further makes the feature more detailed, which demands more effort and time.
Efforts: View listing, request matching, proximity validation, profile identification 60+ hours
4. Notifications and communication
Well, this is vital for everything your app is and deals in. From intimating user about the cab arrival and sending them service updates to sending promotional offers from time to time – notifications are everywhere.
The most common types are SMS or Push notifications. And in order to customize them to user delight, you need to implement smart texting features working closely with your telecommunication provider. You can choose among services like Plivo, Nexmo, Sinch and Twilio (the one used by Uber) to get this facility on board.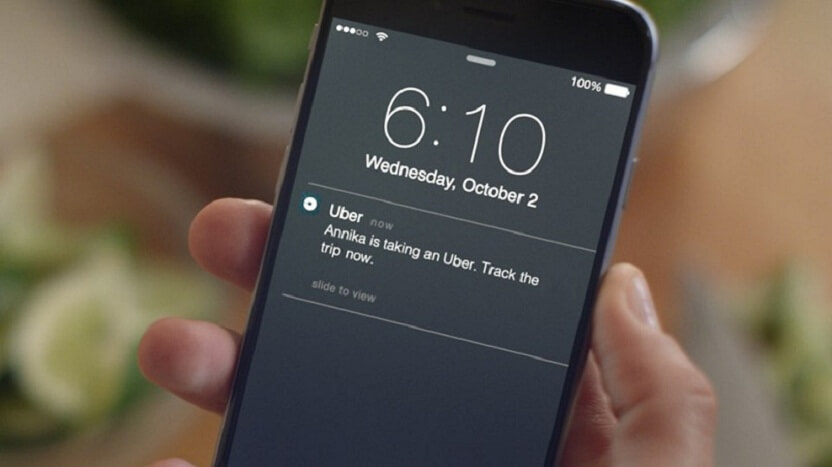 Efforts: SMS and Push Notifications 30+hours
5. Payment System
One of the most crucial parts of your app – Payment system needs to be pinned with faster, safer and validated methods, whether cash-based or cashless or both. Usually, you would like to have cashless as a priority, as it goes well with booking services like this – which allows you to put into offering user wallet combined with credit points and coupon system.
As for Uber, you have Paypal, American Express points, as well as Apple Pay and Google Wallet, with different credit and debit card options to go with. To apply payment features you can select from a host of options like Braintree, WorldPay, Stripe and Payza. These services should cost you integration fees along with monthly charges.
One thing not to miss – consider in-app tip feature on your list of must-haves when working for US market.
Efforts: Payment Gateway Integration, Add/scan card, Get Price 100+ hours
6. Vehicle and User details
In a service like this, you look for most of safety and assurance. Before you select to go with an option (applies to both drivers and passengers), you would like to have details about the whos and whats of that ride. The more you get that the more convinced and relaxed you are.
Besides properly placed vehicle details, that calls for driver and passenger details with photo. This could be further enriched by assigning loyalty/familiarity grades to profiles. Like what you see with Sidecar. You can even make it more ride-friendly by allowing users to communicate additional details like stopovers and route preferences while booking the service.
Efforts: Profile (editable) with personal details, transaction history, wallet details 40+ hours
7. Rating System
To be able to add more relevance to your service value, you need to implement a rating system for both driver and passenger. This should allow both the parties to rate each other once the ride gets over. This has a far-reaching effect on enhancing ride experience through a two-way quality control. One that allows passengers to rate the driver with which a low rating can even lead to discontinuation of association with the company. Another one is where a driver can rate passenger with respect to behavior and adherence to rules – which prompts fellow drivers to choose not to accept their request in future.
With this feature, a strong community of drivers and passengers can be built which helps the company expand in its value propositions besides exercising great control over quality.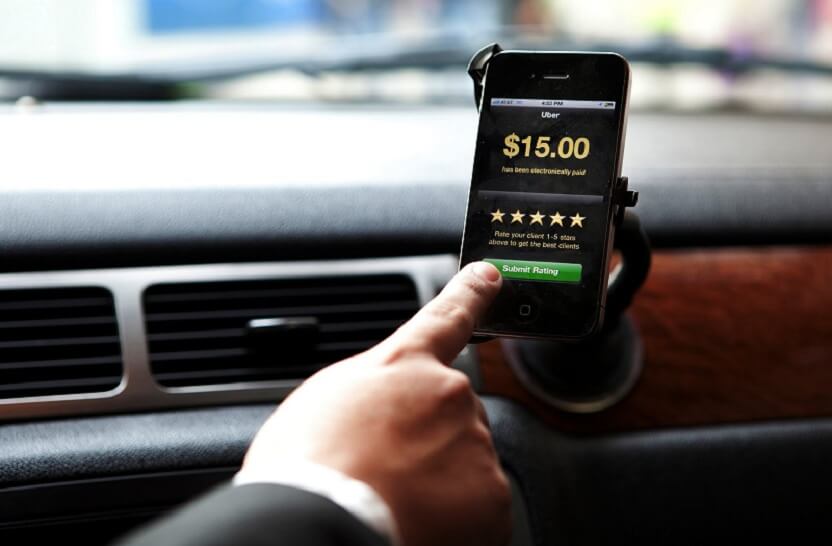 Efforts: Review and rating 20+ Hours
Final Cost
So the question remains, how much does it cost to build an app like Uber with all above mentioned features in place? Well, as per a general notion and considering all the details of it, taxi app development for one platform should take about 400-500 hours. Add 150 hours of design (App wireframe, UI design, UX design) to it which makes it 550-650 hours in total. To calculate the cost, multiply this time-range with the resource fees. Which could be anywhere from $20 to $30.
The API will cost you $10k and an app for one platform from around $11k to $20k depending upon your choice of service and the iterations and variations it is being tried upon with. Adding features other than these, like weather updates, emergency help or just any additional utility, should add on to this cost.
Looking for taxi app developers to build an Uber Clone App?
Get a free custom quote from experts at Konstant Infosolutions. Reach them now at [email protected].