As per the leading technology research firm Gartner, by 2017 the demand for enterprise mobile apps will be growing as much as five times against what development firms would be able to deliver. To cope up with the shifting trends, developers would require committing to a few methods and approaches to help them fine-tune their development capacity to meet the rising requirements.
The ways people and services connect with each other has completely transformed with time. With a persistent growth in the field of technology and shifting resource utilization levels, the way businesses are being perceived and operated is not the same anymore as it was a couple of years ago. And mobility, to that effect, has made a great impact on the way users are being reached and served.
Making the most of it, businesses are increasingly looking to opt for enterprise mobile apps to redefine and reinforce their credibility and ability to serve the modern user needs. Which is well supported by the reports from Gartner, Inc. anticipating the mobile app development services demand to grow five times faster than the capacity of providers to serve, by the year 2017.
With this expanding app user volume and escalating technology range, most of the developers are already struggling to trace possibilities with enterprise apps – to utilize the best of performance level benefits within and outside the organization – due to inept processes unable to meet the fast-growing user demands.
Here, what they should do overcoming any limitation and difficulty in the way of meeting enterprise app development demands is best described by experts in these 4 discerning points:
1) Prioritize app development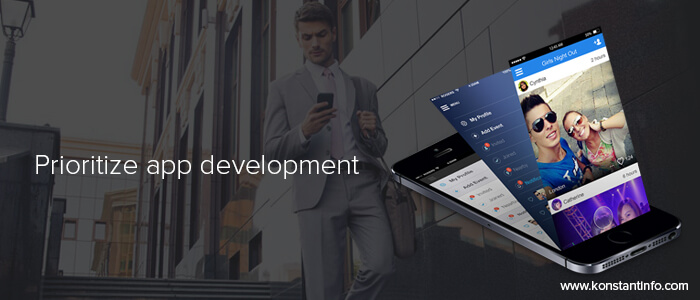 Mobile app development teams are facing rising app demands to put them into a state of congestion to serve users. The results are impeding irregularities and patches in their approach that are increasingly crippling their ability to make them serve the growing demands for apps. To come over this, teams should be prioritizing app development plans defining phases and assigning roles to effectively address different factors related to development. Which should be followed by preparing a project pipeline, evaluating needs and formulating tasks to meet stipulated timelines and serve businesses in a prioritized and rightful manner – effectively taking up prioritized app development.
2) Adopt a bimodal IT approach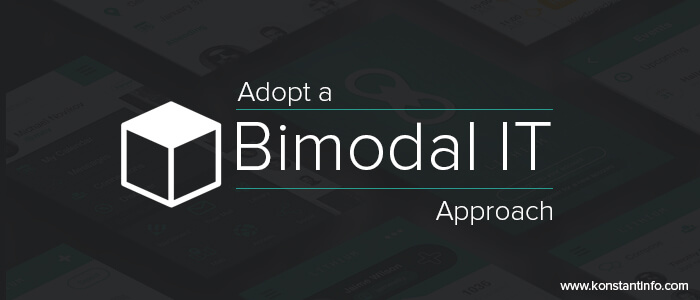 As per Gartner, adopting a bimodal approach allows developers to come off traditional IT development practices and allow them more in terms of efficiency and agility in approaching solutions. Doing this they need to split their process of development into two modes. With the first one aiming at creating a stable infrastructure and APIs for smooth back and forth app retrieval and delivery at the back-end. Another one emphasizing on the agile methodology to make sure project is built and delivered applying agile approaches to quickly and efficiently build front-end app features. Combining both you get a highly-productive and resourceful bimodal IT approach.
3) Use Rapid Mobile App Development (RMAD) tools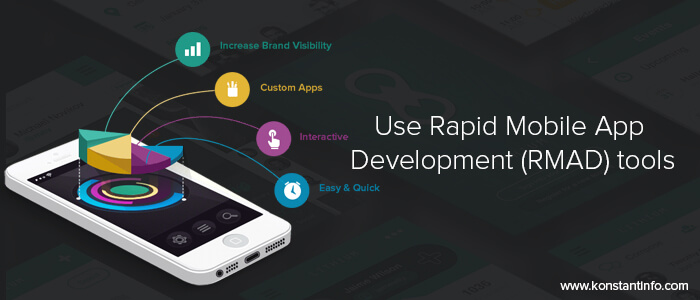 Rapid Mobile App Development (RMAD) tools allow you with highly effective ways for developing mobile applications rapidly. Using RMAD tools one can easily and speedily refer to different app development resources and effortlessly craft solutions using handy features like drag-and-drop codeless tools, code generation and orchestration, forms construction, model-driven development, virtualization, among others. Even those who know least of programming and have limited coding skills can rapidly assemble and integrate designs to help them reach great prototypes which they can further iterate into effective app designs.
4) Adopt a mixed-sourcing approach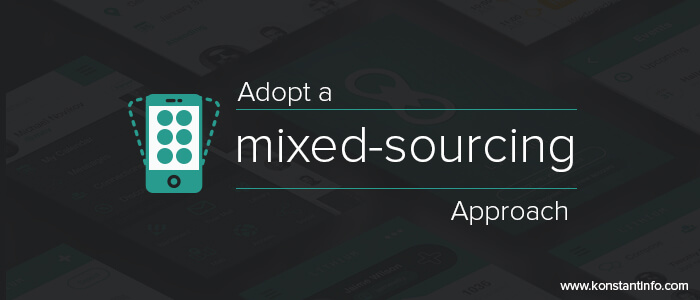 When you are looking to develop an enterprise mobile app you want it to be built under your close supervision in a highly controlled manner. But all that requires you to have enough in-house provisions and facilities to get it developed. However, as a matter of fact, mobile app development is an ever-evolving phenomenon and is referred and furnished with newer approaches and techniques quite frequently and regularly. Which makes it important for businesses to go with expert help and consult with third-party professionals – effectively combining it with their in-house capacity to adopt a lucrative mixed-sourcing approach for app development.
As summarized by Gartner – These points would prove helpful for developers to address the rising app demands effectively overcoming the pressure of high enterprise leanings towards mobile apps. All they need to do is stick with their perspective of offering the solutions and follow the method that combines all these factors together in a way that best suits their innate approach in offering app development services to enterprises and everything else should work well in their favor.
About Author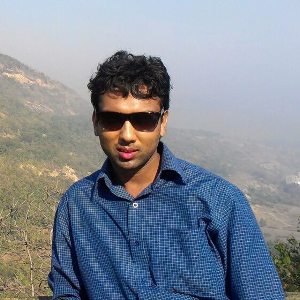 A marketing graduate, a deemed strategist, a sure geek - Tushar is a fine blender of the art and science of writing. When it comes to tune up content with commerce, he knows the trick. For him, if words don't make you think and beat, they are not worth your time. A crazy foodie, an unfailing jogger – that's him off the desk!