This space unleashes the secret behind the surging popularity of world's no. 1 musical sensation TikTok (how it works, how it is built and factors that determine the cost)
What is the TikTok app?
This is a music video social media platform which has heaved upward in popularity recently (2018-19). It is free to use, giving youngsters a medium to acknowledge their freedom of speech and expression, which has been long and arduous. So, just how sustainable is TikTok's popularity? Developed in China, the app combines lip-synching, has built-in video-effects and social media. The company that developed TikTok bought the popular Musical.ly app in 2017. Users can watch clips of others or create clips, edit them and add special effects.
But in some odd cases, the songs and videos might contain mature language and there can be no way out to filter such content. According to ABC news, there are messaging features in apps that are popular with kids (like Music.ly) potentially, allowing strangers to contact your children directly. To do away with the possibility of predators being around TikTok recently uploaded few videos for both children and parents to be careful while using the app:
It shows users how to report towards inappropriate content and behavior.
Limit the screen time on the app.
It controls who can comment on the videos.
It allows restriction mode.
It controls who can message your child.
It shows how to be respectful on the app.
Kids like TikTok for many more reasons:
The uploaded videos are short (upto 15 seconds in length)
The videos encourage the users and creators to be creative.
They showcase singing and acting talent which is assumed to be as a lot of fun.
Many parents encourage their children by being a part of their performance.
The comment box always reminds the users to say something nice.
According to ProductHunt.com, the TikTok app enjoys more downloads than Snapchat, Spotify and Gmail, combined on the App Store.
TikTok Must-Haves
TikTok is all about strappy videos that go viral. It is low cost and less sophisticated. Average users can make the video and curate it minimally and set it out there. But still, they have done pretty well and has been downloaded 950 million times. They can earn in millions if they are able to figure out how to do better-targeted advertising. They can start a subscription-based content access model and include Hashtag marketing in their marketing practices (They include the name of the brand along with the hashtag in their video. If the video goes viral, so does the brand name!)
The reason the app is so popular is that it mixes self-deprecating humor with the latest pop music. There are only two privacy settings on the app:
Private: Only the creator can watch their videos.
Public: Anyone on the app can watch the videos.
By default, all accounts are public. Unless the privacy settings are changed. Although this app has been through sporadic controversies, it is still popular because it mixes self-deprecating humor with the latest pop music. Prevailing trends in the tech world seems promising which is why end-users' expectations have increased.
How to make a music video app like Tiktok?
TikTok app requires to secure a large amount of user data (worldwide) and thus requires cloud storage – Google cloud storage and Amazon S3 etc. Price always depends upon data storage, the network, and the operations.
Some features from artificial intelligence (AI) will be required to ensure correct filtering and personalization of data. AI algorithm is often used to understand user behavior
A robust database like Cassandra or Mailchimp Integration and Datastax for data management
GWT is essential for better programming productivity
Video and audio transcoding
Content delivery networks
The operating system that is universally acceptable
So, how do apps like TikTok have become high earners in the race?
TikTok app is a perfect recipe for entertainment for those who really like to show off their singing and acting talent and can make others laugh with their playacting prowess. This app offers trending videos, songs, lip-synced performances like Dubsmash. Users add various filters and effects, go creative, share videos and even interact with other users on the app. Most astounding usage statistics include:
TikTok has been downloaded 800 million times worldwide and about 80 million times in the United States
TikTok has reclaimed no. 1 position on App Stores across India
TikTok ranked third in the world as of November 2018, Counting both Apple App Store and Google Play download stats and it has been in the global top four since at least June 2018
TikTok has 1,000,000 Estimated Daily Page Views
TikTok is prevalent in more than 154 countries and in more than 75 languages across the world.
Appraising TikTok as the fastest growing musical app
Features and functionalities required in making a music video app like TikTok app must include a simple and interactive user interface. It must have filters and special AR effects to enable creative videos. Additionally adding exceptional effects, real-time analytics, video-streaming architecture, push notifications, and integration with other social media platform are some other features that increase the prospect of fan following and generate high appeal among millennials. It enables uploading short videos; this in-turn leaves users to come back and satiate their cravings for sharing more and gain traction amongst their community of friends. Besides this, app development firms India make inducive apps that incorporate high-speed image capture and massive music library with daily editor's picks attract new users every day. The complexity of the design, a platform of application, requirements of the resources, the number of hours multiplied by the cost per hours are some other factors that help in determining the exact cost of the application. Cost to Develop an App like TikTok varies according to the location, availability of developers (in-house or outsourced). Interested in creating a musical app, let us know. We have a quick-fix for all technology and platform requirements. Request a free quote now!
About Author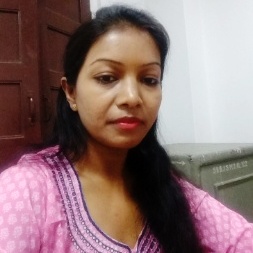 Neeti got her master's degree in software engineering in 2009 and has been working since for software companies of all sizes as a technical writer. What started as a high school passion has now been converted into a serious profession. She has a special knack of learning from all verticals and imbibing the extracts into her writing. She enjoys learning technical aspects of writing from her tasks where her experience and understanding are most impactful.