Manufacturing Companies ropes in Enterprise Mobility Solutions to revive their operational cost!
With all the transactions going cashless, paperless future is not a distant dream. Almost every operation in business is automated. More than 70% of enterprises count mobility as a top priority to stay ahead of the competition. This simply means that companies are more than willing to invest in enterprise mobility solutions to be on the arc of the curve.
What is the need for enterprise mobility in manufacturing companies?
While Global Expansion Corporate Strategy is the answer to the emerging need of mobility solutions in manufacturing companies, it is always important for a business (big or small) to match up with the expectations of customers and stakeholders. Keeping the same line and length strategic decisions and innovative measurements are required to over-power the expectations of clients, be cost-effective, functional and agile. As an example, Here MotoCorp, a well-known (world's largest) 2-wheeler manufacturer, started selling auto spare parts to its partners. As the demand for spare parts swelled, they immediately launched a mobile app (Hero Genuine Parts Touch (HGP Touch)) to tackle the demand-supply gap. Now customers can order 20,000 and more spare parts online.  Another such company, TVS Motor, made use of enterprise mobility solutions to recall those vehicles that had manufacturing defects. This helps them reduce cost and increase productivity in the long run.
Adoption of mobility solutions by manufacturing industry has helped improvise their capabilities which can be depicted in form of an improvement in business processes.
Manufacturing industries have been counting upon enterprise mobility solutions as the reduction in cost is accompanied by an equal improvement in output and productivity. All this and more directly results in increasing sales, attain overall competitiveness and a subsequent rise in profit levels.
Mobility solutions have paved way for efficient customer service in less time. This will not only ensure efficient utilization of information provided by customers.
These empower employees to have instant access to data, discuss challenges with authorities and report instantly for spot decisions.
Employees get the flexibility to work at their convenience with all the data saved on cloud and are accessible as and when required.
What mobility solutions we provide to the manufacturing industries?
Amongst the gamut of services that are quintessential for running the business operations smoothly, adding some prevalent and latest tools and technologies here and there not only accelerates the business processes but as well helps clients realize the objectives at different stages of manufacturing operations.
Our solutions in mobility include consultancy services to analyze and evaluate the existing infrastructure.
We build customized applications that are specific to different manufacturing industry needs.
We help businesses leverage their power of mobile by making them follow a successful mobile strategy with the onset of digital transformation to be ahead of the competitors.
Our mobility solutions comprise of scenarios to boost productivity, eliminate latency and reduce the response time.
Enterprise mobility solutions also enhance the efficiency of the operations in other processes.
How do enterprise mobility solutions add value to the manufacturing companies to contour business operations?
Mobility Solutions help transform businesses and impact overall business workflow. These enable interaction with customers and employees to promote better governance.
These help in better tracking and monitoring – Mobility solutions come adorned with RFID technology these days which enable tracking in real time with fewer chances of human errors. This help engage customers efficiently.
It helps increase productivity by optimizing supply network securely.
If everything is automated, digitization and smart business practices, there is a definite boost in quality and efficiency of work.
It helps deliver the end product (product or service) in substantially less timeframe.
Automating the process lowers down the overall cost as substantial time is saved.
With fewer chances of errors and employment of machines improves the overall quality.
Use Cases of Enterprise Mobility Solutions for Manufacturing Industry
Mobile CRM Solutions: Mobile CRM solutions generate opportunities for the sales team to manage the leads and greater opportunities to generate revenue.
Automating Shop Floor: Processes like rounds inspection, quality inspection, approvals, and rejections can be automated for manufacturing units by providing mobility solutions like plant manager, store operator, and maintenance inspector.
Accessing information remotely on the shop floor becomes easy with a smart manufacturing process that focuses on role-based production, quality, and materials management system. More solutions that can be deployed in manufacturing processes are asset tracking system, supply procurement, and quality control systems.
Education Industry, real estate industries, financial institutions and manufacturing industries are important application areas of emerging enterprise mobility trends.
Enterprise Mobile App Cost
Enterprise mobility apps development cost ranges within $100,000 to $500,000. According to a survey by Clutch on various app development companies, the median price of developing an enterprise mobility app goes as high as $171,450 per app (median price).
Limning Dustup
Why is there a need to have mobility solutions in manufacturing domain?
With the widespread use of mobile devices and mobile applications in manufacturing companies mobility solutions help in increasing the quality of their processes, save the cost, effort and time. Augmented reality (AR), Virtual reality (VR) are likely to have a huge impact on enterprise mobility strategies according to industry experts.
Indian app developers also face some challenges that accompany the above-said advantages of Enterprise Mobility Solutions.
While the success of Apple Watch has attracted the most attention when it comes to enterprise wearables in the workplace, the market is beginning to split into battles for the wrist, the eyes, and ears. Not to mention the wearables for the body, smart garments and implantables (gasp!) now, apparently are a word. The future belongs to specialists. Let's discuss!
About Author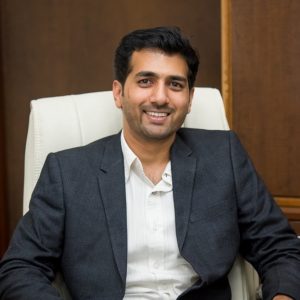 Vipin Jain is the Co-Founder and CEO at Konstant Infosolutions and is in charge of marketing, project management, administration and R&D at the company. With his marketing background, Vipin Jain has developed and honed the company's vision, corporate structure & initiatives and its goals, and brought the company into the current era of success.