Among the dazzling array of midfield/forward/defense options, best fantasy football apps act as fixtures to champions' league titles!
It's difficult to determine which Fantasy football apps will score a free kick setting up a knockout stage meeting. Best fantasy football apps are sure to add some firepower by reuniting friends (like-minded people) via daily fantasy sports.
After spending springs and long summers in reading all sorts of listings, memorizing player strengths, following tweets and staying awake late in the night to stay updated with every bit of news, how should you put all that knowledge into action? These listings come handy when you would want to throw your league mates the curveball that could set you all up well on draft day.
About Fantasy Sports League
A fantasy football sports league is a game where participants or people who bet upon the players act as owners and build their own team that competes against other fantasy owners. This is based on the statistics generated by the real individual players or teams of a professional sport who is as well involved in daily fantasy sports.  In this case, the most common variant converts statistical performance into points (redeem the points into money) that are compiled and totaled according to a roster selected by a manager that makes up a fantasy team.  This points system are typically simple enough to be manually calculated by a "league commissioner". Slightly more complex variants make use of computer modeling of actual games based on statistical input that is generated by professional sports.
Fantasy Sports: Example
As an example, the English Premier League is made up of 20 clubs with over 530 players. They participate in games that start in the first week of August until the middle of May. Like every real team, each fantasy team has a Goal Keeper with a number of players in Defence, mid-fielders, forward and substitute positions.
A Fantasy Sports Team Manager will constitute a team of 20 players from the real premier league team. When there is a contest or championship league, fantasy managers will pick their players, form a team (from those who are playing that day/night). If 9 clubs out of 20 (Everton, Newcastle, Arsenal, Liverpool, Chelsea, Manchester City, Southampton, Norwich, Swancea) were playing that night, then fantasy team managers can create their fantasy team of players from those teams using the draft method of the rules of the fantasy football league system. This operates on a system of promotion and relegation with the [Countrywise] Football Leagues. All the member clubs act as shareholders in premier leagues.Which Fantasy Football Apps Are Edge-Past, Advancing Your League This Season?
Examples of BEST FANTASY FOOTBALL APPS:
Best teams and player picks:
NFL Fantasy Football (Free) – (iPhone and Android)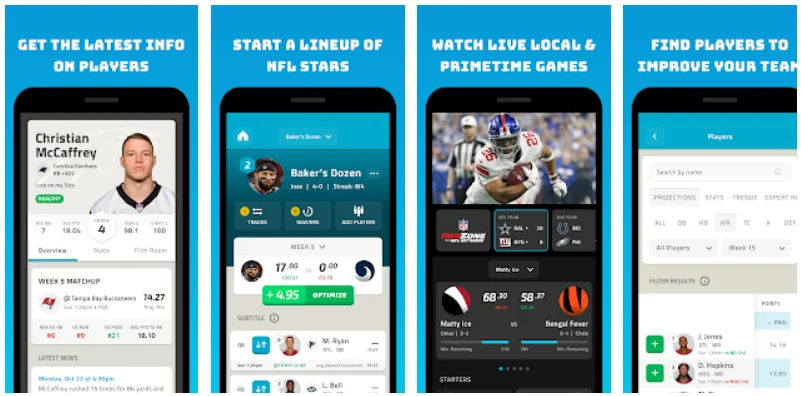 Source: Play Store
Fantasy football, inspired by pop-culture, initially popped up as a niche hobby inspired by sitcoms, who wished to play football indoors and were interested in making easy money. NFL made fantasy football popular by acting as an online tool that did away with clunky bookkeeping, making it easier to keep tabs on players and statistics across an entire fantasy league. With an increasing number of mobile apps entering the fray, and with the onset of fantasy draft season, NFL is all set to kick off its upcoming season (a year after). Play 100% free NFL fantasy football league in minutes and be eligible to win perks like no one else. Test different strategies, practice drafting and see where fans take their players.
ESPN Fantasy Sports (Free) – (iPhone and Android)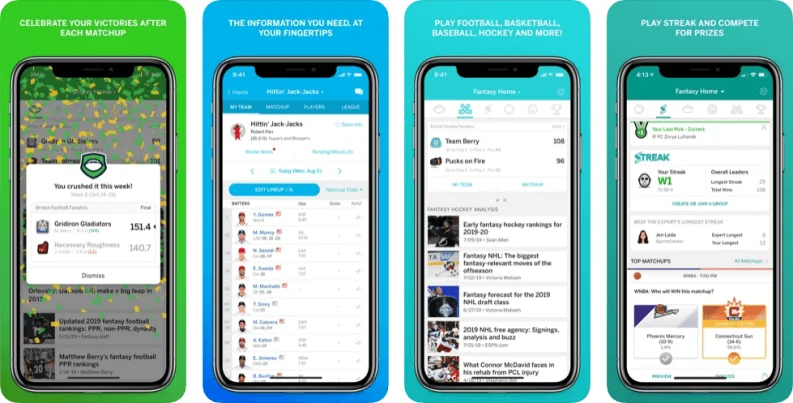 Source: App Store
This application ranks just beside yahoo in popularity and is amongst the most popular apps being watched out for football fanatics. It looks good and users had been enjoying their experience on it. It can work even better if paired with an app like Draft Dominator or Rotowire draft Kit.
CBS Sports Fantasy (Free) – (iPhone and Android)
CBS Sports Fantasy League model accurately predicts and features a perfect combination of luck and effort. Quarterback drafted on average, throwing at yards and touchdowns. It predicts rankings, projections, roster trends, depth charts, player news, stats, and newsletter about sports like football, baseball, basketball, and hockey.
RotoWire Draft Kit ($5) – (iPhone)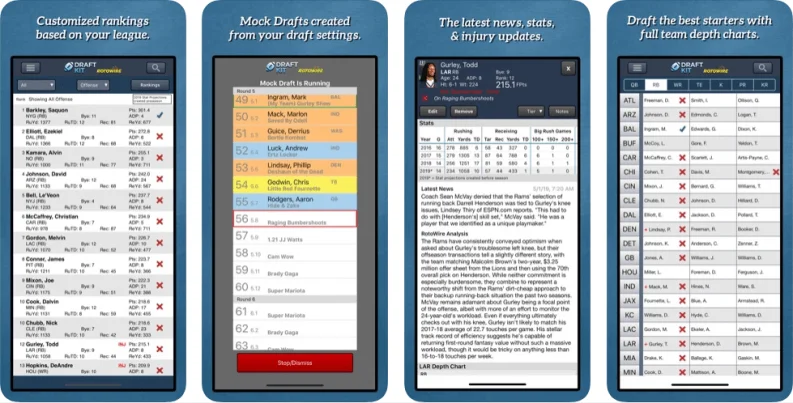 Source: App Store
It carries are the essential ingredients to make you a champion in your fantasy league. It comes along with a dynamic cheat sheet that automatically adjusts according to your league settings, predictions, and individual player assessments.
DraftKings (Free) – (iPhone and Android)
Draftkings have worked hard on their model and had them listed much higher than expert consensus Fantasy Football rankings and anyone who listened to their advice was well-positioned for a league title. Sportsline's projection model dislodged human experts (when it came to ranking players in fantasy football), during last season when there were big differences in ranking.
numberFire Fantasy Football Draft Kit ($5) – (iPhone)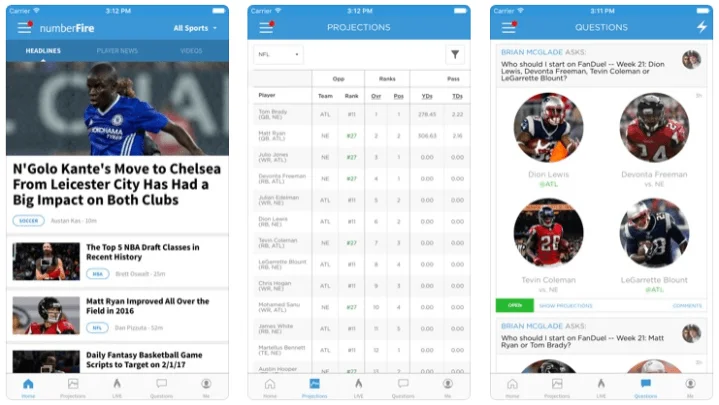 Source: App Store
This app is first in creating customized rankings and auction values for the fantasy draft with numberFire's cheat sheets. It has its in-house ranking mechanism called FireFactor that considers a player's projected fantasy points as compared to the value of a replacement player for the same position. Users get complete control of creating and managing the team lists. It has player's profiles integrated with real-time news and updates on player's availability.
Yahoo Fantasy Sports ($5) – (iPhone and Android)
Source: App Store
Yahoo has been leading the pack of fantasy sports services ever since, by having hosted more users and leagues than any of its competitors. Although Yahoo's official application serves as a league app primarily, users have access to various stat updates, expert analysis, and mock drafts. Besides football, this app covers hockey, baseball, and basketball. It also allows users to switch in-between leagues, view all breaking news and read and comment on community forums. Users can check their messages and scope out potential competition. The roster can be managed in addition to pickups and trading.
Footballguys Draft Dominator ($5) – (iPhone and Android)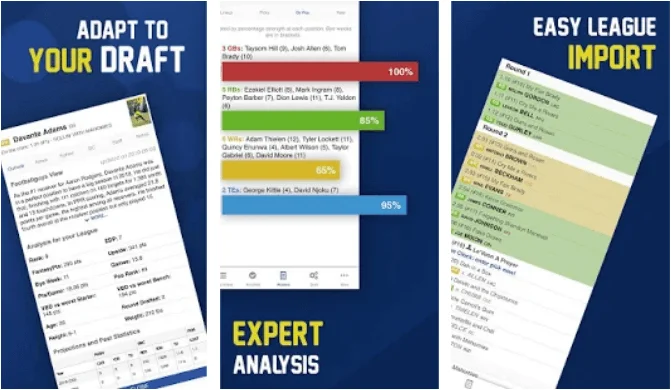 Source: Play Store
This application has all the information that a fantasy football app must have, including player updates, cheat-sheets, raking updates, podcasts, projections, forums and much more. Information can be filtered according to the requirement. It does not host fantasy leagues and is just a mock drafting resource to assist users to plan for real fantasy.
Last-Ditch Attempt
Fantasy football participants (who bet on actual sportsmen) are able to draft, trade, cut or drop, and sign actual players, like a real sports owner, in the same way as in real sports. They create their own imaginary teams of real players of professional sports. Checking the global statistics, the top three most prevalent fantasy sports platforms are maintained and operated by Yahoo Sports, Draft Kings, and ESPN.
Best Fantasy football draft apps like NFL fantasy football app act as draft simulators, cheat sheet creator (based on ECR (Expert Consensus Rankings) and ADP (Average Draft Position)), drafts assistant (for MVP/HOF users), gives expert advice (check who the experts would draft at every pick), helps make the most suitable decision, acts as a draft analyzer (get a draft grade and analyses strengths and weaknesses of game in detail. Best fantasy football app must let in some important features like: API integration, Live match score, CRM integration, tracking location by GPS, Real-time analytics, Payment system, Push notification, Custom mail reminder system etc. The writing is already on the wall. Hire app developers to build fantasy sports app that include insights for daily and weekly game, scoring based game, draft based game and league based game.