You should see a lot of changes coming to the healthcare domain in 2018. Here are the most significant of these trends and forecasts provided by the industry experts.
Technology has come a far distance to impact different industries and make them own better reflexes to perform at higher capacity and greater accuracy. It has served different industry practices and resources to commit to better ways and traits of planning and execution. And Healthcare is one such industry that has been benefited immensely with this technology disruption. Not just you have faster and prompt reporting but also evolved diagnosis of health assisted by ultra-modern tech-led infrastructure and machines. Besides, it has not just helped the processes getting a hike of advanced resources but also aided to the training and development extensively.
Moving forward, medical units and health professionals are looking to get more of these and continuously looking to skim the most out of latest technologies. And 2018 seems to be a year that would witness big transformations in this field. Here are the most prominent of these trends and forecasts:
Cloud-based and mHealth services on forefront
As per expert estimations, in 2018 cloud-based medical services would grow in value to around 33.59 billion U.S. dollars. With this the already existing trend of using health apps is going to get bigger and would include advanced possibilities at its disposal. This would include enhanced approaches and practices for medical adherence, goal tracking, health education, detecting health hazards, conducting health checkup sessions, and doing medication analysis. By allowing medical professionals and doctors to conduct and perform these activities better by accessing health information and resources and executing such tasks anytime anywhere, cloud-based and mHealth services will set a new performance benchmark in the industry.
Telemedicine services will be in rise
The global medicine market is showing all signs of growing bigger here further. An estimated figure given by expert is over $40 billion by the year 2021. And this would be primarily involving growth in telemedicine services. Which will allow clinical healthcare services to grow greatly in terms of accessibility and facilitation. With the enhancement and growth in the space, users would be able to have comfortable reach to resources and services remotely, using interactive apps on their smartphones. This will lower the time barriers and remove bottlenecks and even slash down the cost of services by removing roadblocks in the process.
Internet of Things will be in the front row
We are already receiving great level of value surpluses in the form of IoT. 2018 will see an ever-advanced proposition of IoT-driven health apps. Moving forward, you will see this technology making it even more valuable in the way you access and consume health information. You will see even more sophisticated and competent gadgets to allow you better functional, analytical and operational benefits. This should include finer details and easier methods in reference to health analysis and information. Your gadgets would be able to let you know if your fitness routine is good enough to reach certain weight measure in a more illustrative and detailed manner. Newer IoT possibilities would also be making administrative and management tasks easier as wearing a band would allow you to scan and read patient records and manage task sheets in a more controlled and resourceful manner.
Higher references of Artificial Intelligence
Artificial Intelligence would be bringing you higher set of technological rewards in the year 2018. AI would be helping you to connect with and consume medical services without having to wait for your turn or standing in a queue for a long time. You would be able to interact with a more intelligent and context-aware systems to help you with information and resources that take highly personalized references while serving you. With the help of advanced healthcare application development, the systems would be connecting and referring to superior and more accurate Big Data solutions which would allow you to have better answers and solutions to your medical query. Google Deepmind, IBM Watson, and IBM Medical Sieve are some of the projects that would mark the new age of health services with AI.
Blockchain to make it better and smarter
After making it big with the fintech domain, Blockchain is going to make the impact in the healthcare industry. Blockchain will now be taking the charge of securing ever growing set of medical records and information from being misused, forged or lost by allowing it advanced encryption and protection that the technology is known to offer. This will help medical practitioners maintain and process medical data and refer to it without fearing any fraud or abuse. You would see the health-tech processes to be built on and referring to a highly powerful encryption framework – to help healthcare professionals to work in a highly safeguarded environment to maintain high level of privacy and safety from any form of mishap in and around creating, processing and maintaining healthcare data.
Conclusion
With all such technologies coming together to promote and facilitate smarter solutions through advanced healthcare app development, we can expect to see finest of innovation hitting the domain this year, which would allow users to get benefited from highly resourceful solutions and prompt results in their pursuit of new-age healthcare services.
About Author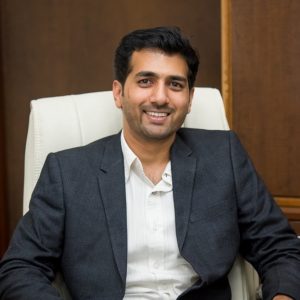 Vipin Jain is the Co-Founder and CEO at Konstant Infosolutions and is in charge of marketing, project management, administration and R&D at the company. With his marketing background, Vipin Jain has developed and honed the company's vision, corporate structure & initiatives and its goals, and brought the company into the current era of success.