Want to create a navigation app like Waze? Here's a small guide that will help you do that with enough strength and confidence.
With growing city dwellings, expanding roots of human settlements, with the intricate urbanization happening all over, the way we find our ways through routes and off-the-routes is getting tougher. And this is the reason the navigation apps are growing in their prominence and scope to help us read, predict and pierce through routes and directions better.
To that reference, as per the Gartner statistics, travel and navigation apps are growing faster than any other category of apps. And if you are thinking to go with this segment and invest in a navigation app, you are probably making the right choice.
With this being your priority you should be referring to market leaders like Waze to get your navigation app idea to shape better.
What is the Waze App
Well, Waze is mostly known as the best navigation app after Google Maps. And the interesting thing to know here is that Waze was acquired by Google in 2013 when it already had 40 million active users.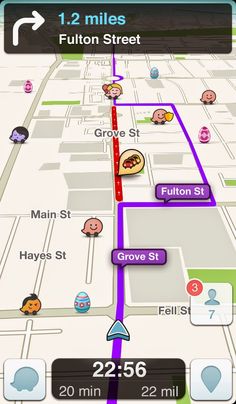 Waze has almost everything in terms of features and functionalities that you require out of a navigation app. Most noticeably, the app comes with a unique crowd-sourced component. This means any driver who is using the app has access to report any accident, hazards or blockages in the route they are travelling. They are also allowed to add a photo to their notes.
Talking about the communication interface, it is quite user-friendly and intuitively designed with handy and effortless reception. Maps are sourced with dynamic indicators and pointers to allow users to identify and track the optimum routes and avoid dense traffic and clogged roads. And all this runs in real-time.
Waze Navigation App Top Features
Waze navigation app offers a highly intuitive design to seamlessly connect with users. The app features fine details and a neatly designed structure. While the minimalistic approach in building design elements make it really easy for users to communicate with the app.
Waze app allows you to get real-time updates on traffic. These updates are combined with crowdsourced information which further enriches the quality and intensity of the updates through which you can find the easiest ways to transit and optimally reach your destination.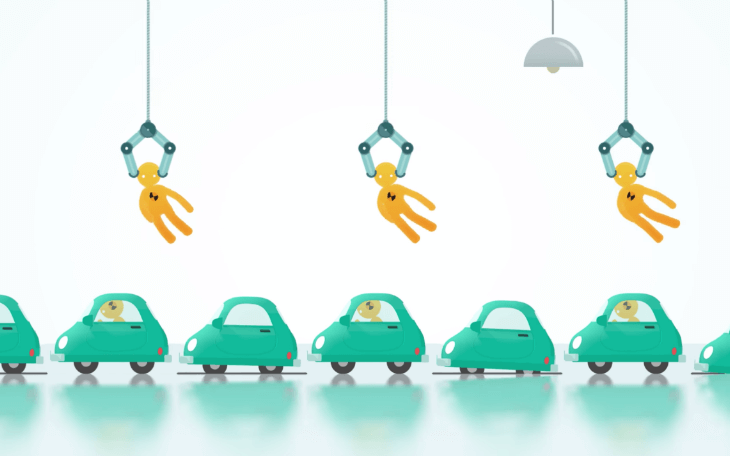 Recently in 2016, Waze ventured into the carpooling segment allowing share rides with fellow commuters and named the service Waze Rider. This service reads the routes frequencies and draws congruency among users to allow them the best matching results for shared commutation.
Another feature that makes it a great service is Planned Drive. With this feature, you can enter your preferable drive time and date and it suggests you the best time to go for a trip. These drives can be added to calendars, which can be further shared on emails and Facebook if so required.
One of the major add-ons offered by Waze is that it allows police alerts tracking. Which makes sense when you live in the metro and have to follow enough traffic rules and regulations. As the app is integrated with Facebook and Foursquare, so you can keep close with your friends' travel updates and check-ins. Another noticeable add-on feature includes Amber alert, which sends alerts when a driver passes down an abducted area. Quite helpful when you own a fleet of vehicles or have a transport unit!
How Does Waze Make Money?
When you are aiming to develop an app like Waze you primarily mean to do some business that earns you real money. Yeah?! And that you cannot do without monetizing your app. If we talk about the Waze app, they are primarily dependent on earnings through location-based advertising. And the first season itself went really prolific for them as they made about $1 million by the end of the year in which they launched the service.
They get advertisements from various small businesses putting their trade details/address/information on the map and allow them different pricing options on a monthly basis. These locations are visible with ads to the users who are searching for the place or looking to drive through it.
Now, this gets even better when the system depicts the starting location and the destination and shows relevant ads of the businesses that fall in that route.
How Much Does it Cost to Build a Navigation App like Waze?
Now, the question remains how much does it cost to develop the Waze navigation app. Well, to get to the estimates, we first need to determine and analyze the elementary requirements and basic expenses. So, the first of the requisites is to decide whether you would go with a native app (and for how many platforms) or will it be cross-platform app development. Here, the suggestion is to go with native app development as it allows you to achieve better quality and in the long run proves beneficial with scope to easily scale up and with better choices in terms of security.
You can start with an MVP, which most of the start-ups do to get into that zone and experience the scope of its range and capacity as a product. Go with all the essential functionalities and include all the complementing features that allow it to offer a complete navigation service without going with all those bells and whistles and without going overboard with strident features) achieving the core of the idea and achieving what Waze app does essentially. With all that, it should cost you about $30k at least.
Takeaway
So, considering all that, you just need to build a native MVP app on one platform (preferably iOS) with essential features like Login and Profiles (for individual users and businesses), GPS and Geolocation, turn-by-turn Directional Instructions and all that wrapped in a decent User Interface and engaging User Experience. With all that in one kind app that bears and represents your own theme, you can expect the price to go anywhere between $30-$40k.
And of course, if you look to take it further you would have to add more features to it – scaling up your idea with enhanced functionalities, you would have to keep investing. But that should only happen once you are done with the first phase of action putting preliminary pieces of your idea in place.
That's how you can have your own Waze with you. Here, if you would like to have more details on Waze navigation app development you can reach us at [email protected].
About Author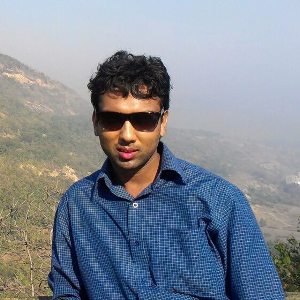 A marketing graduate, a deemed strategist, a sure geek - Tushar is a fine blender of the art and science of writing. When it comes to tune up content with commerce, he knows the trick. For him, if words don't make you think and beat, they are not worth your time. A crazy foodie, an unfailing jogger – that's him off the desk!