There are quite a lot of options available for online payment platform to choose from, which sometimes become a little confusing from the point of view of selecting and choosing.
For those who plan to have an e-commerce website, it becomes very important to provide their customers with one of the best online payment gateways. There are quite a lot of options available for online payment to choose from, which is good in a way, but this on the other hand sometimes make it a little difficult in selecting and choosing the right platform. As each of the payment processing options has their own terms and conditions, and transaction fees. And there are different features and security options to suit different transaction needs and business situations.
To offer the best payment gateway to the customers along with the security and safety, should be on the priority list of the entrepreneur providing goods and services online. It not only benefits the online buyers, but also the first party that is conducting the business. However, PayPal is considered to be one of the best online payment gateways, but there are many recent launches, that give it a strong competition. So, before you select any payment gateway to be integrated in your e-commerce website, here is a juxtaposition of the top players – PayPal vs Authorize.net vs Google Wallet.
What is PayPal?
Established in 1998, PayPal is the American international e-commerce business that is regarded as the safest and fastest way to make payments and get paid online. PayPal helps the customers to make payments without sharing their personal banking information online, and provides them with the facility to pay through their debit cards, credit cards, and net banking. It also charges a nominal transaction fee, which depends on the mode and currency of payment.
PayPal provides payment processing facility to a number of commercial users, auction websites, and online merchants. PayPal claims at supporting nearly 100 currencies and having approximately 200 markets and 218 million active accounts on the global front. Since 2002, PayPal has become the wholly-owned subsidiary of eBay. Recently, it has been announced by eBay that PayPal will be trading as a separate public company.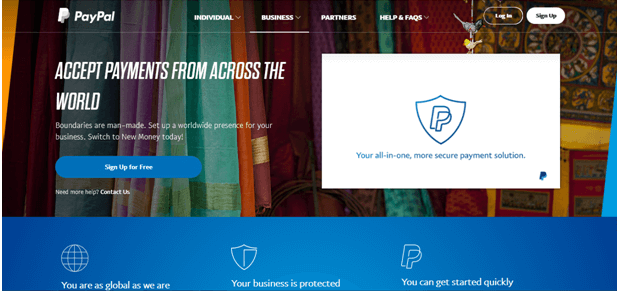 How PayPal works
Just click the paypal button, log in and buy it.
sign up for free.
Link your credit card or debit card.
Activate your card for overceas payment.
Shop with papal and you will get reward point
Major Features
Pay for online purchases without having to directly use your credit or debit card
100 different currencies supported
Convert and withdraw PayPal funds over 200 countries
Allows sellers to create and manage invoices right from the app
Anyone with an email account can be requested for payments
180-Day Buyer Protection
One Account for India and Abroad
Skip the Logins
Worry-free Shopping
Pros and Cons of PayPal
PayPal can be set-up easily. One might also have his/her account already made with PayPal, if any kind of payment has been made on eBay. There is no fee to set up an account on eBay. Moreover, there is also no requirement of creating any account on eBay, one can pay through their credit card and debit card instead of making payment through PayPal wallet.
Apart from this, there are also people who do not feel that PayPal is professional enough, and is less established. Besides, PayPal also charges more transaction fees in comparison to other payment gateways. However, the most horrific stories that have been learned about PayPal is it turning into a frozen account, which is considered to be the biggest fear associated with PayPal. When the account gets frozen, the funds in the account cannot be accessed.
Why use PayPal for your business?
Sell with confidence
Your business is protected
Resolve disputes easily
What is Authorize.net?
Founded before PayPal, in 1996, Authorize.net is a payment gateway service source that accepts payment via electronic checks and credit card through an IP connection or their website. Interestingly, Authorize.net claims to have a base of more than 440,000 merchants in Canada, and the USA (including the likes of Magento, Flagship, SurveyMonkey and Prestashop), which makes it the largest online payment gateway. It is a subsidiary unit, wholly-owned by Visa.
Authrize.net is a proven and verified payment gateway well-accepted by multiple business models. Being protected by the Payment Card Industry Data Security Standard (PCI DSS), Authorize.net is a secured and safe way for money transactions.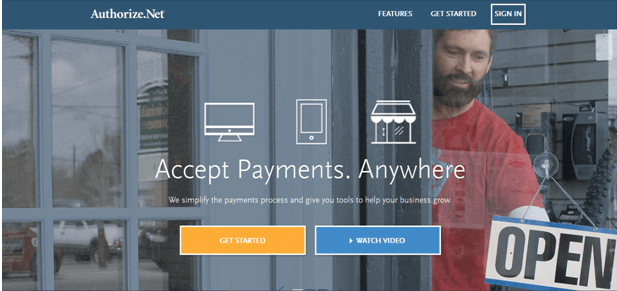 Major Features
Highly secure full-fledged merchant interface
Offers Mobile Point-of-sale app for free
Comes with free fraud prevention tools
Easy to manage recurring or subscription-based transactions
Customer information manager
Payment types
Flexible automatic payment options
Automatic monthly credit card updates
Invoice online for faster payments
Simple checkout
Supported Payment Types
Visa
MasterCard
Discover
American Express
JCB
PayPal
Visa Checkout
Apple Pay
Chase Pay
E-check
Pros and Cons of Authorize.net
Authroize.net relatively has nominal prices as it has low transaction and monthly fees. The user's smartphone is enough for accepting the payments, there is no requirement of any reader or any other device. Moreover, this online merchant interface serves both as an online payment gateway and mobile payment capability.
The cons related to Authorize.net is that the mobile app of this payment gateway lacks in the stock of goods and services. Besides, if you want the access to this gateway, you need to have a merchant account made for it.
What is Google Wallet?
Developed by Google, Google Wallet is an online mobile payment system that enables the users to store credit card, debit card, gift card, promotional cards, and loyalty cards. Google Wallet can also help them in redeeming the sales promotions via mobile phones. To determine the security and safety of the money, Google Wallet uses NFC (Near Field Communication) by simply tapping on the terminal, which is PayPass-enabled, provided while checking out the Google Wallet. Google Wallet is available on some specific iOS and Android devices.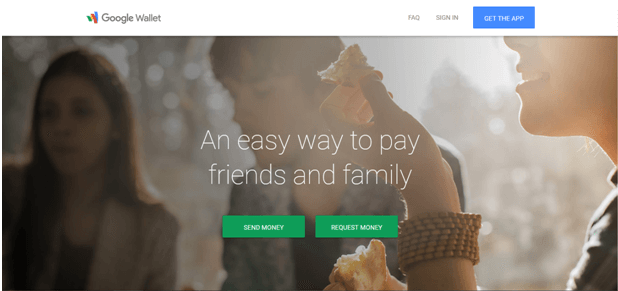 Major Features
No fees or minimum balance requirements
Allows you to add money automatically using recurring bank transfers
Backed by 24/7 fraud monitoring and the Google Wallet Fraud Protection Guarantee
User can Setup Low Balance Alerts
Pros and Cons of Google Wallet
The fundamental advantage that Google Wallet carries is that it reduces the need of carrying a wallet everywhere. It is fast, free, easy to use, and a secure payment gateway. On the other hand, the cons that are associated with Google Wallet are that it cannot be used in every store; moreover, it is also not available in all the devices. The PIN number can also be stolen and hacked, and also the virtual money makes one spend more than required.
Head-to-head comparison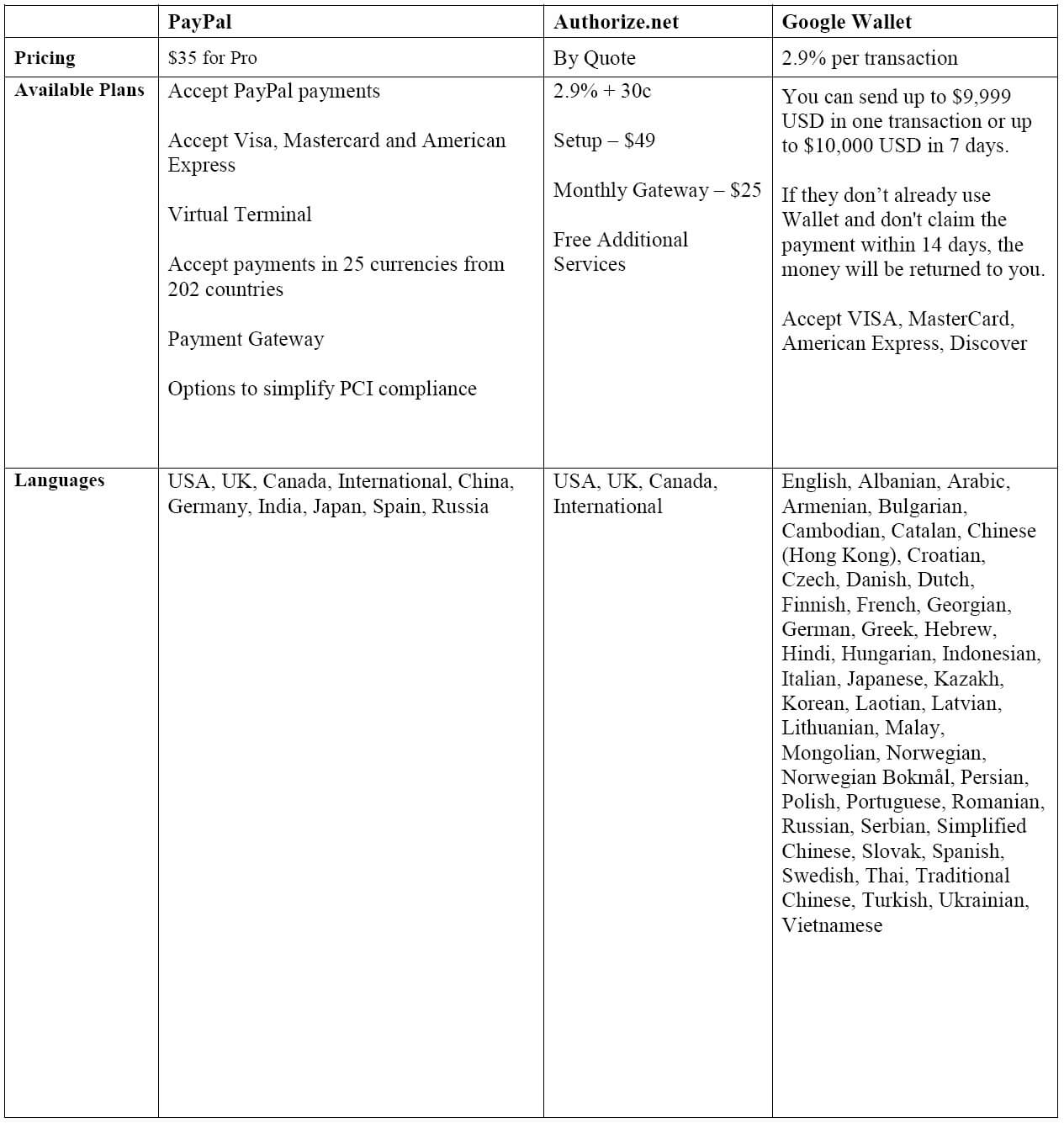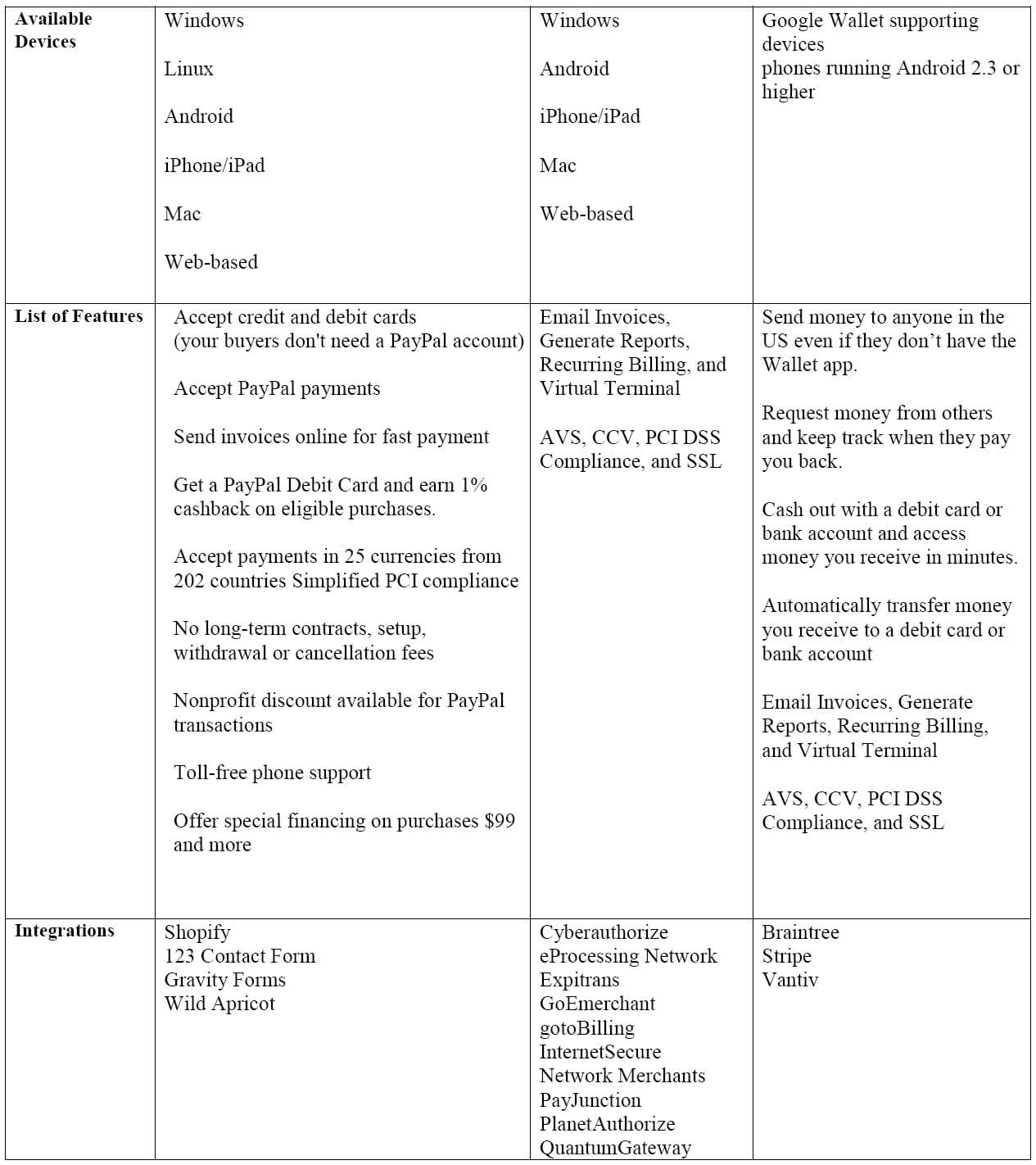 PayPal vs Authorize.Net vs Google Wallet: Which Is Best for Your Business?
These are three highly popular payment processing gateways, which carry their own advantages and disadvantages. There are various more such gateways, but comparing them is not justifiable as a specific set of users like a specific payment gateway. Some will prefer Google Wallet, some will prefer PayPal, some will prefer Authorize.net, and some will go for some other online payment gateway. It is a matter of personal choice. The concluding point is that you must choose that gateway which can meet your needs and requirements.
Konstant Infosolutions also provides services based on these online payment gateways that can cater to the payment needs and requirements of the user. Besides this, we have an expert team of developers and designers who are excellently resourceful in developing an elegant yet powerful e-commerce websites based on Magento development, Shopify development, Zen cart development, Ubercart development, etc.