With the rapid growth of mobile device market, ranging from smartphones, e-readers to tablets, development of enterprise apps is also increasing at a burgeoning rate.
"Change always comes bearing gifts". Indeed, it does. Mobility Technology or rather Enterprise Mobility is bringing the much-needed change in the business world at an accelerated pace, and thereby providing flexibility to employees & business benefits to the companies.
Since mobile devices are effortless to carry around, they are highly preferred as a digital platform in contrast to the conventional desktop computers. The ease of performing tasks remotely from any place in the world has motivated firms to equip their employees with corporate devices so that they can work using specialized business oriented apps available at enterprise app stores. It has been noted that the enterprise mobile apps escalated the productivity of employees.

What Does the Stats Say?
The growing demand and popularity of mobile devices did not come as a surprise to market strategists. It was predicted a long ago, be it through the detailed analysis of the IT world or sci-fi movies. As a matter of fact, everyone was aware of the upcoming technological boom. Here are a few interesting facts about the mobile industry:
■ Mobile working population in the world had already crossed the 1.3 billion mark in 2015
■ Global market for enterprise mobility is expected to become $140 billion big by 2020
■ Apple is ruling the mobile device market as the most supported OS
What Enterprise Mobility Offers?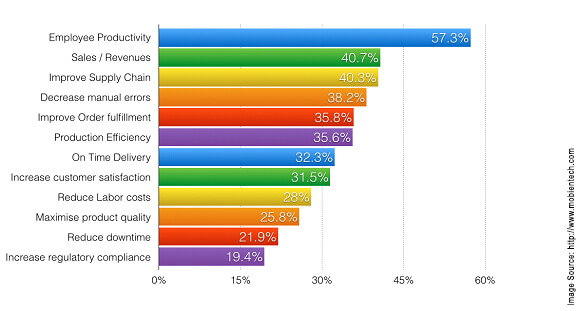 ■ Performance
■ Profitability
■ Productivity
■ Reduced paperwork
■ Access to latest product knowledge
■ Quicker job competition for the employees
■ Increased job satisfaction for the employees
Types of Mobility Technologies
■ Identity & Access Management
■ Mobile Device Management
■ Mobile Application Management
■ Mobile Application Development
The implementation of these technologies requires specialized IT skills in system administration, virtualization, data security, software development, business analysis, potential recruitment, specialized training, outsourcing of specialized skill sets, and PC helpdesk support.
Mobility, without a doubt, enhances the productivity of employees, creates new channels of revenue and enhances product awareness. However, talent management should be given a high priority when introducing mobility technology in your business. Employees expect seamless user experience at work, making it imperative for the company to deploy mobility services in the firm. Mobility is a competitive advantage for the companies and is rising in industrial IoT too.
Challenges That IT Sector Usually Faces
Introducing mobility technologies is not a cakewalk at all. There are a few obstacles and challenges that are frequently faced by the companies in order to excel in the race of this fast-moving world. A few of them have been discussed below:

Building a coordinated strategy: To integrate new technologies with the legacy systems.
Infrastructural needs: In order to implement mobility technologies in a firm, the IT dept requires a well-equipped infrastructure to give rise to efficient research and development.
Costs: Costs incurred in the development of mobility technologies are managed by the IT department. in order to monitor all the expenses borne by the company.
Performance: Smooth user interface and great user experience are again an utmost priority. In this age of technological advancement, new platforms and devices are developing at an accelerated rate, therefore, it becomes essential for companies to expand their reach to different devices and variable platforms to increase the productivity of employees.
Integrity: Maintaining the integrity of data and documents is the matter of paramount importance. However, since the task is strenuous, it involves the risk of leaving a firm in jeopardy if things go wrong.
Security: Web based threats are a major security concern for a company. As it is said, "Prevention is better than cure". A similar prevention strategy is employed by IT departments to keep employees from downloading anything other than enterprise mobile apps.
Need of qualified staff: Since new emerging platforms are dynamic and unstable, it's important to have competent skills to effectively deal with them. The need of recruiting skilled and experienced professionals comes as a major challenge, since hitherto present staff is often not well acquainted with rapidly developing technologies.
Outsourcing: As discussed above, the scarcity of trained professionals leads a firm to outsource mobility management activities. The outsourcing happens as a result of non-interest of present staff to learn new skills to manage mobility.
Enterprise Mobility Management Mobile Security
Enterprise mobility management allows the company to manage mobility activities in the firm and deal with the accommodation of latest technologies while keeping security threats at bay. Many major brands in the market such as Vodafone, Kony, VMware etc. provides mobility management services to the business firms to help them assist their enterprise mobility in addition to maintaining the integrity and security of their data. The services provided by such companies are mentioned herewith:
■ Mobile Security
– BYOD Container – allows the users to segregate their personal and professional work efficiently.
■ Mobile Device Manager
– Secure Web Browsing
– Passwords
– Managed apps
■ Mobile Threat Manager
– Data in-transit protection
What to Do in Order to Prosper?
■ Assess available solutions to the core
■ Understand new ways to develop and manage resources
■ Select, prioritize, design, develop, and implement the entire range of mobility devices, apps, solutions, and services
Small and medium enterprises along with various social media management tools, project management tools, and cloud based app platforms are taking up the idea of mobility and employing BYOD strategies into their businesses but proper backup plans and security measures are needed to maintain the integrity of business information regardless of where it is, be it on-the-go or office. Understanding of security issues is of prime importance prior to availing Mobile Device Management (MDM) solution from third party service providers.
Similar Post: