See how to build Uber for trucking, to bring more value for startups and ventures who want to lift their trucking businesses.
Transportation industry is on a continual rise with ever-expanding routes and hyper-connected destinations across the world. The fast-growing communication infrastructure and the excellently escalating industry profiles are all contributive to the significance and range of trucking as a service. And therefore, we have a great deal of authority and exposure going along trucking, which is finding its way through to the technology prominence – making it extensively command and redefine how the trucking and carriage domain works.
And these are well supported by advanced mobility resources and engrossed technology choices – that make you avail great benefits through apps like Uber for trucking. These kinds of apps enforce revival and reinvention of the concepts on which the whole system of transportation works as it aims at inventively transforming the services into automated functional processes and communication vents, thereby making it ever standardized, agile and resourceful for users to derive value from them.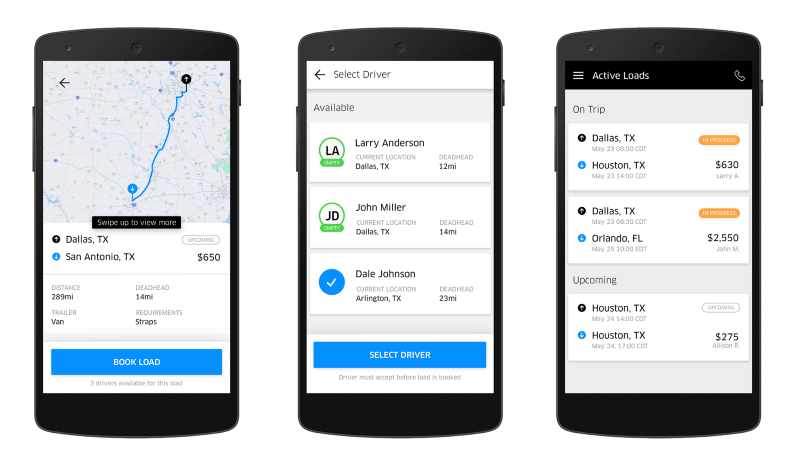 Image source: medium.com
The Uber for trucking industry
Here are lots of trucking companies that already using mobile app to smoothly connect shippers with carriers:
Uber Freight (USA)
uShip (USA)
Cargomatic (USA)
Convoy (USA)
Transfix (USA)
GoShare (USA)
Bungii (USA)
Buddytruk (USA)
Lugg (USA)
Dolly (USA)
Trucker Path (USA)
FreightBro (India)
BlackBuck (India)
Rivigo (India)
CargoX (Brazil)
Sontra (Brazil)
Huochebang (China)
Yunmanman (China)
Ontruck (Spain)
Everoad (France)
3 Ways an on-demand Uber trucking app can help the trucking transport businesses lower their hassles and build significant value:
1. Empowerment through digitization
Everything you do in a trucking service business can be automated and structured to work in a digitally controlled and streamlined manner – connecting the entire process together in one robust communication system that acts as a fine service interface between business and users.
Here, with this Uber-like transportation app, you can not only get served with a compact and lean channel of interaction with the service, but also get to see more of digital features and connectivity options allowing you to seamlessly and complyingly connect with the service and the augmented digitized benefits. Here, you can expect the on-demand trucking service to be booked by looking at different proximity and provisioning options and by being paid for the service through online payment or in-app wallet facility. Here, it can also offer you rewards and benefits based on the user loyalty that is tracked and computed through your user profile.
As a user, you get the benefits with selecting from service and feature options that best fit your transportation and carriage needs. And, all that can allow you to closely track and continuously see through the process happening in real-time, so that you are assured and updated about the service and delivery as it happen.
2. Gaining an edge with mobility
Transportation services are all about movement and agility. Now, with time as businesses have grown to serve broader perspectives and methods of connectivity, carriage, and provisioning, with expanding geographical scope and growing dependency on advanced supply chain facility, need for mobility has grown big. An on-demand transportation app like Uber for trucks allows you to appoint the core purpose of transportation utility and value most effectively by allowing businesses and users to put up with fine scheme of mobility.
Now, this is mostly because of the fact that going by on-demand transportation app development, businesses and users are able to track and locate their consignments, mobilize their workforce and measure real-time ETAs. And this gets better with the ability to access all these details dynamically from anytime anywhere. Also, when you have interactive mobility-driven features empowering the transportation service communication vitally, it becomes all the more value-defining and inventive to efficiently serve the new-age spread-out transportation service matrix effectively. With which you gain a performance hike and a better penetration as a business, and on the other hand, a great ability and power to access services as a user.
3. Committing to advanced connectivity needs
Going with on-demand transportation app you can put up with great practices and option to connect with users. These would allow you to effectively pass on your word and keep you users communicated, updated and engaged with your services.
The foremost thing that can be vouched upon through a mobile app for transportation services is keeping users updated and tagged through push notifications and news. You can allow your users to talk to your support executives anytime by integrating live chat option within your app. Further, you get greatly benefited by taking their feedback on the services and converting those to feedforward to upgrade, enhance, and refine your services based on those reviews and suggestions.
The most important thing here that makes a big difference between the traditional transportation service on mobile app-based solution is, you never go off putting up with your users. You are always connected with them through your app as they have a platform or facility where they can reach any information, ask any query or book any service being anywhere, anytime, just with the help of a few taps on their mobile device that they always carry with them.
End Note
These three points clearly state how an app like Uber for Trucking can change the way you perform and deliver as a business, finely stating the benefits of a product that progressively attends the advance user needs in the domain. Covering these points, comprehensively addressing your business purpose, you can have great command to make things turn and drive in your favor, on demand!
About Author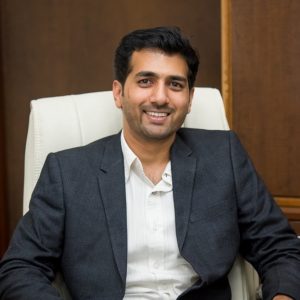 Vipin Jain is the Co-Founder and CEO at Konstant Infosolutions and is in charge of marketing, project management, administration and R&D at the company. With his marketing background, Vipin Jain has developed and honed the company's vision, corporate structure & initiatives and its goals, and brought the company into the current era of success.