Here is the info that you need to know about dependable mobile app monetization models that help mobile apps make money.
When you plan to build a mobile app for your unique idea or a business goal, you may have different objectives and purposes in mind. Of the most crucial ones that you take on priority are building your audience base, creating your brand, adding another communication channel to reach out users, building a platform to promote your business or idea, scaling up your business model or looking to curb the prevailing or anticipated competition.
While you look to achieve different objectives through mobile app development, you are predominantly looking to build yourself a lucrative revenue stream. Which is also most probably your end business goal. Even when a business is running an app only to create its audience base and resonate their brand with them it is paving its way to better-up its numbers – which eventually translates into money.
Which brings you to the fact that if you are planning to build your app you need to know how to aim and reach your pecuniary spot. And that requires you to know about business models that allows your mobile app to make money.
Mobile App Monetization Strategies
Here are the best app monetization strategies that actually work. This post will help you to decide that which revenue model is best for your mobile app.
1. Paid Model
The app is not free for download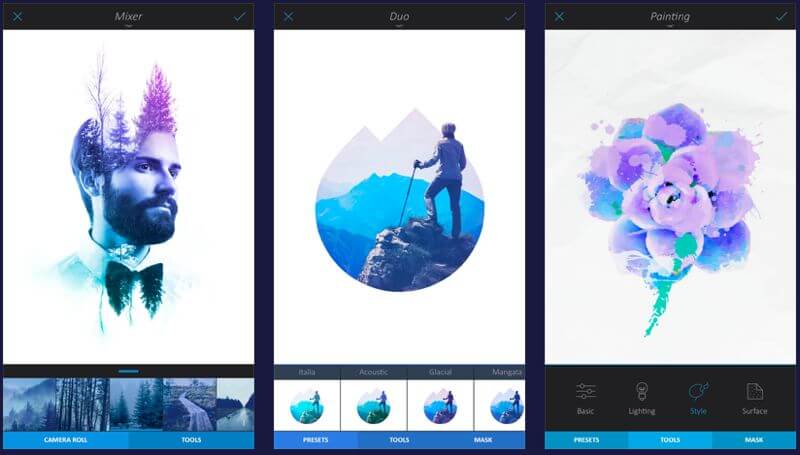 If you are going with the paid model that means you have attached a price tag to your app. This is purely the pay-and-get model for monetizing your app which directly asks for money for accessing/using the app. To fit into this band perfectly, you need to position your app to be perceived well by your users and it needs to be well presented and communicated on the App Store page – with appealing screenshots, attractive intro, well-captured details and everything related to the app in place. Here you also depend on good reviews and ratings from users in order to grab more favorable response. In all the paid app monetization model is all based on your marketing ability and highly depends on how well you are able to grab your users' fantasies and how you compare against your competitors up early.
A good example is Enlight App (Apple Design Award Winner of 2017) that has positioned itself as top drawing app that allows users to turn their photos into attractive artistic creations. Delivering highest level of photo editing quality and powerful features has made it garner great response in the paid apps category on iTunes even when it has competition with free apps like Yolo.
Pros
You get to earn revenue upfront with every download.
Most of the users expect paid apps to be cream of the crop in terms of innovation and quality.
Cons
Asking your users for paying in the first attempt in not easy in today's crowded app space.
Today paid models are wearing away as revenue generation systems as people need their time and space to compare you with other options before making a decision.
2. In-app Purchases
When you sell a physical or virtual product within your app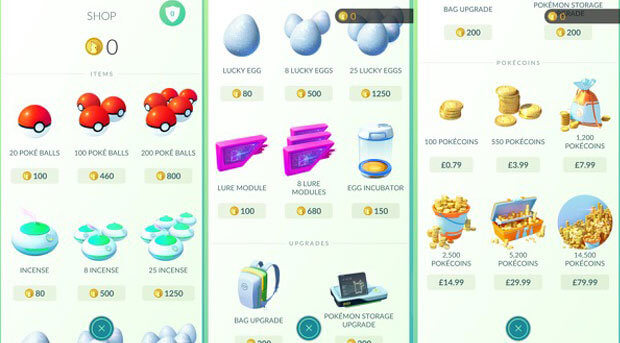 In-app purchases simply mean that you ask your users to purchase your offering from within your app. In this model, you allow them to download your app for free and use it as much they like for no paid obligations (in most cases). But your app contains spots and events that include products (both physical and virtual) placed, displayed and proposed to be sold. In-app purchases can vary from a product like book (that is a fuller version to a piece of a report) you are displaying on your educational app or it could be those extra coins or chips you get to buy in a game.
A good in-app purchase model like Pokemon Go never interferes with the user's time and never jams their way to consume value from an app. It should be complementing the app well and should be smoothly communicating with the user and allowing them an easy way to pay and check-out and allowing them an equally easy way to deny the offer.
Pros
Going with in-app purchases you can penetrate easily and earn profits without much risk.
This is the best app monetization strategy if you are working in the ecommerce vertical.
Cons
You have to pay a commission to App Store for selling virtual products.
Apps need to be highly transparent and open with in-app purchase policies.
3. Freemium (Free + Premium)
Free access to an extent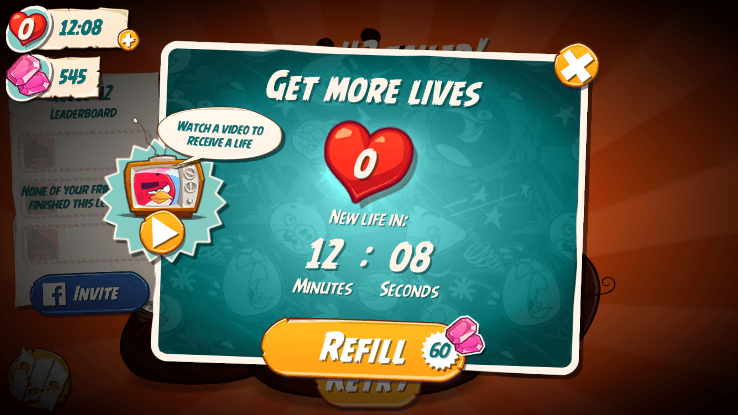 In the freemium model, you mix the free and the paid features and allow users to access the service only to a limit, with gated features. In a way, going with the Freemium approach you are allowing users to go only with the basic features or limited services of your app for free. To execute this effectively you need to give your users a rich preview and a comprehensive insight of the features to pitch and vend the premium offering effectively. Here the idea is to engage the user until they are willing to pay for the extended or enhanced version of the app.
As a quite relevant example, the popular game Angry Birds went on to work on the same strategy and allowed its users to get acquainted with the game and then gradually build their interest and made users buy the paid portion – monetizing their app the Freemium way.
Pros
You are going to tap more of loyal users going with this model as they try before they buy.
Regarded as highly flexible model that can be implemented to any type of vertical.
Cons
If you don't offer enough free features, app churn will be high.
You have to provide your users with enough time and options to decide if they should buy the premium offerings.
4. In-App Advertising
Free. But with Ads.
This is probably the most pervasive app revenue model that is simply based on the idea of pulling in revenues by allowing advertisements within the app. Which means, your users will be seeing advertisements while using the app making you earn money from this. These can be presented in mainly two different ways; in the form of an ad that can be seen after certain intervals of using the app. Or with an ad placed within the app in the form of a sticky header strip or a carrousel boxed advert that is visible statically. Which are sourced by mobile advertisers like AdMob.
Facebook uses this model quite impressively and goes with the generic model that doesn't require any efforts or obligations from users while using ads as the mode of monetization. And the social network mammoth uses its data to sell highly targeted ads and has increased its mobile ad revenue to a great extent over the last couple of years.
Pros
With this model mobile apps are in a prime position to collect a lot of data on their users.
As people are more inclined towards free apps you are more likely to gain users with this model.
Cons
Users can get annoyed with ads interrupting their flow and can give up using it.
Ads can compromise user experience and can disgust the appearance of app.
5. Paywalls
Apps with Subscriptions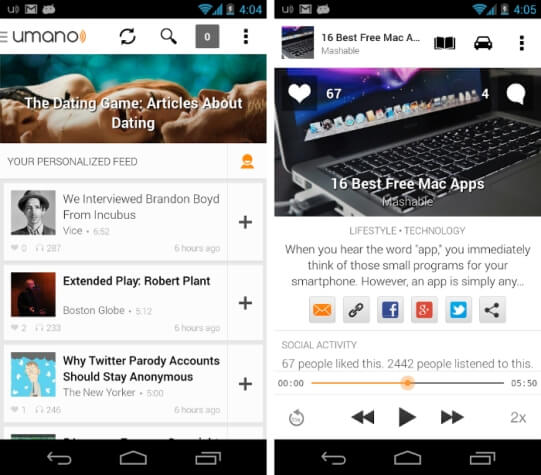 This one is more like a Freemium model that focuses on content. Paywalls allow users to access a piece of content for free to an extent and prompts for signup and asks for payment to be able to get a full access to the content. This one best suits the services that are planning to offer live data feed (in the form of subscriptions to magazines and newspapers). This is an effective medium to trigger monetization for your app but it can take some time and you need to keep quality consistently on the higher side.
If you are able to deliver well-researched original content with high-quality reception, you can convert your leads into loyal customers with Paywalls. A good example of this is Umano (a podcast app) that allows users to listen to a limited number of stories on a time-trial basis and as users are done with the free-trial they are asked to continue paying a certain fixed amount for unlimited access to the content.
Pros
The model results in a continual flow of revenue since subscriptions usually auto-renew and subscribers are more likely to be loyal and engaged with the app.
The content gating motivates developers and marketers to ensure they curate and create high-quality content that is worth paying for.
Cons
Doesn't work with all the verticals as it goes with platforms that depend mostly on content.
It can be at times hard to determine when and where to place a Paywall.
6. Sponsorship
Incentivized advertisement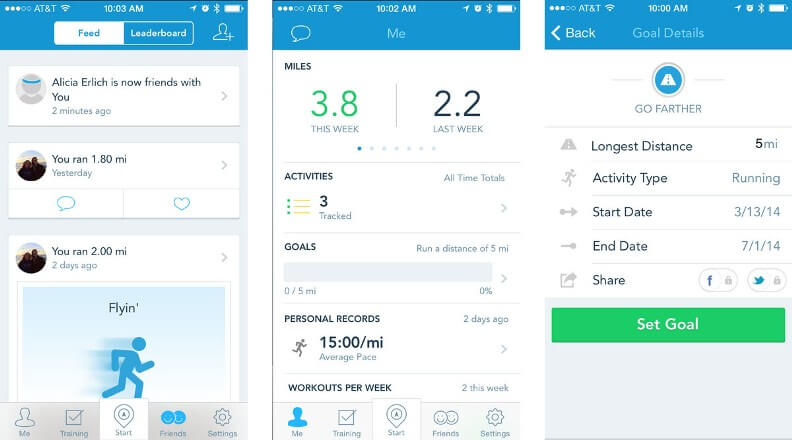 This one is comparatively a newer business model to enter the mobile world. In this model brands and companies pay to be a part of a model. Going with this model your app allows users to redeem awards, recognitions and revenues by participating in certain activities or surveys being promoted by different advertisers on your app. In this model, you partner with advertisers to offer certain incentives and rewards on achieving or completing some in-app action. The companies that are involved in promotions and are placing ads on your app add to your revenue stream and help you monetize your app.
The health and fitness app RunKeeper uses incentivized advertisements looking to engage and motivate its users to keep them connected and served with their app better. With this RunKeeper is able to incentivize the app without making banner ads appear on their app.
Pros
Works three-way as app developers and marketers earn revenue, advertisers get more ad space, and users benefit from promotional offers.
This model can be helpful in enhancing your app's conversion funnels.
Cons
As a mobile marketer, you need to be careful with the way you incentivize your app as it could lead to failures if not approached well.
This model is not as tried and tested as other models so you should be looking into all perspectives while opting to go with it.
How to identify which model suits your app the best:
When you are trying to opt for a model to best suit your business try to answer these questions.
What problem your app is focusing on to solve?
What type of users is your app aiming to serve?
How much do you think your app user can pay?
Which app monetization strategy your competitors are following?
What are the latest trends in mobile app monetization?
While you answer these questions keep in mind that you align these with your underlying purpose of owning the app. Are you looking to have more number of users for your app or you want to flinch your revenue stream? How strong or unique your app idea is and how effectively it connects with your users? Is it allowing your users or your advertisers enough value to ask them for money in return and if yes which is the communication technique or presentation method to put in to get maximum response. Bring all these answers together and align them to fit in to your perspective and scenario of mobile app development.
In the process always remember that app monetization strategies and approaches should be defined before you even start investing your efforts on your app idea. You can always come up with alteration and upgradation plans for your monetization idea as you progress with your plan and make it suit the current needs and preferences. You can choose to go with any of the above-mentioned mobile app monetization models to appoint a revenue stream for your app. If you think no one scheme wholly delivers you can use a combination of resources and plans and tailor them further to suit your needs.
Wrapping up
These 6 app monetization models are the most followed and trusted ones among businesses as depicted by recent trends and latest app marketing data from popular research forums and sources. As a business owner, you can plan to have one of these or a tactical combination of the models and get that perfect technique placed to help you pave a way to earn revenues for your mobile app venture.
To be able to accomplish the most lucrative revenue generation channel you need to look into different related aspects of app development looking into resources, practices and traits that ideally relate to your situation. You can also pick on those derivative or connected app marketing ideas that help you validate and achieve best of results with app monetization strategy. This should certainly help you accomplish what you are looking to have in terms of making money with your mobile app.