Is your operating system patched to Apple iOS 12.1? Don't bet. Know!
iOS 12.1 will ramp up mobile usage, increase phone pick up times (and what app draws you in first), and notify the apps that send you the most notifications. Besides this, it will enable blocking apps temporarily and set self-imposed time limits via reminders.  Here are some expressions which can be considered to make a concise and clear decision before going for an upgrade to iOS 12.1 that can make it more powerful, personalized and intelligent:
Create a backup > Install iOS 12 > Check compatibility > Know your passcode > Have your Apple ID ready? And finally (Check if more space is required to install the update)
What's new in iOS 12.1 (for iPhone, iPad, or iPod touch)?
Group FaceTime
ESIM Support
70 New Emoji's
Fixes some bugs with iOS 11.4.1
iPad Pro 2018 launch
Nuzzling Apple iOS 12.1 Features
12.1 introduces Group FaceTime, has added 70 new emoji's, and includes support for dual SIM with eSIM for iPhone XS, iPhone XS MAX and iPhone XR. This update also includes bug fixes and improvements.
Group FaceTime
Adds support for video and audio calls with up to 32 participants simultaneously.
Encrypted end-to-end so your conversations remain private
Start Group FaceTime right from a group messages conversation or join an active call at any time
Along with GroupFacetime, Apple has also brought Depth Control in the real-time preview.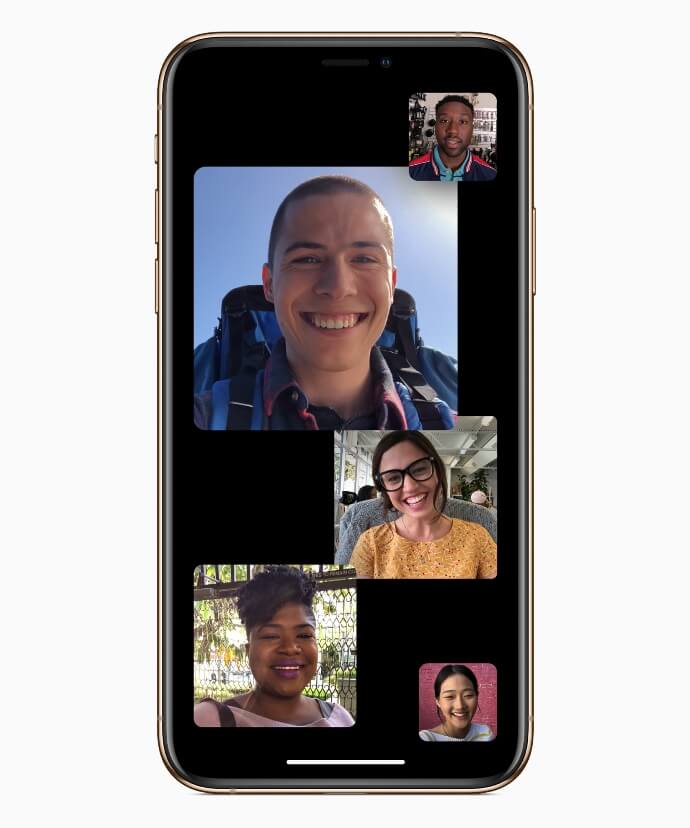 Image source: www.apple.com
Additional Features that comes along with GroupFaceTime includes:
Detecting active speakers automatically
FaceTime displays the most important speakers on call via on-device intelligence, this automatically highlights the current speaker by featuring them. With this, the size of person's image increases in size (and this depends upon how active they are in conversation, based on how long the speech goes, the volume of call and any motions that are there.) With this, the participants that are not very active will appear at the bottom of the screen until they speak up and come on the forefront. A tap on the person's image also brings them in the center or on the top.
Notifying ringless – While more than one person is called, FaceTime displays a notification that allows them to instantly join a call without any disruption.
Integration of messages – With its integration in the Messages app, it is easy to start a group conversation right from the iMessage chat. If some of the participants are already on an active call their name gets displayed in the conversation list.
All kinds of conversations one to one or multi-person are encrypted and only viewable by other participants in the group.
Emoji
Over 70 new emoji, including new characters with red hair, gray hair and curly hair, new emoji for bald people, more emotive smiley faces and additional emoji representing animals, sports and food.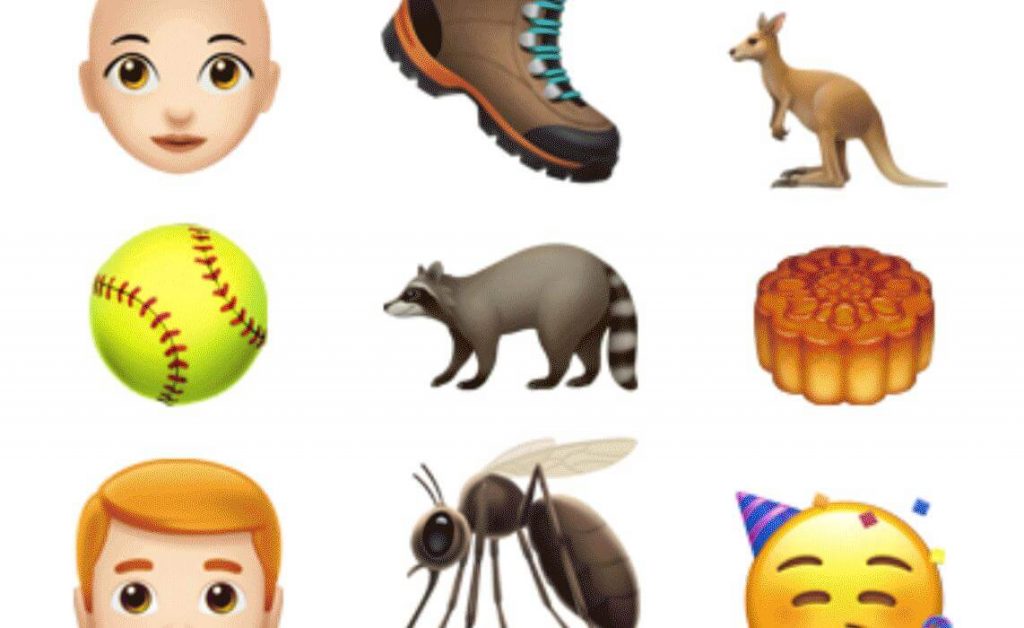 Image source: www.apple.com
Support for Dual SIM
Introduces dual SIM with eSIM which allows two numbers in one device for iPhone XS, iPhone XS MAX, and iPhone XR.
Background Blur
iOS 12.1 enables adjusting the blur in real time while snapping a photo. Apple features bokeh effects (background blur) feature in portrait mode on the iPhone XS and iPhone XS Max
TrueDepth camera with iPad Pro
iPad Pro will be accompanied with the bezel-reduced TrueDepth camera for Face ID and Memoji.
Other Improvements And Fixes
Secret Features With iOS 12.1 That Might Surprise You:
3D Touch
A brand new feature of 3D Touch improves overall iPhone experience coming along with new Camera and Note shortcuts. These allow scanning QR code even while doing the same on the note icon thus bringing up a new shortcut to scan documents.
AirPods
Airpods can be converted into hearing aids by making some corrections in the settings. go to Settings > Control Center > Customize and select 'Hearing'. This feature also allows magnifying people's voices.
Apple Music
Apple Music tracks out the lyrics and songs for you. If you want a song, simply type a line of lyrics you're looking for and the specific track comes forth.
Battery
iOS brings 'No Cell Coverage' feature along with iPhone if you happen to move in city outskirts or happen to drain your phone battery. Battery settings can be adjusted to help alert the apps that are power hungry, especially in dead zones.
iPhone XS, XS Max, and XR retain enough battery like even in no coverage areas or when phone powers off. But in this case, as well as digital transit cards and student ID cards work with it. This support is limited to China and Japan currently but is soon expected to change.
Camera
iOS 12 brings support for stickers and filters for all iPhones.
Face ID
iOS 12 is two-faced in a way that it has support for more than one face at a time. This feature can be enabled by making some changes to Settings > Face ID & Passcode > Set Up an alternate appearance
If you fail to access the phone after several unsuccessful face id attempts, you can do away with your passcode and instead simply swipe up from the bottom of the screen and try face id all over again.
Gestures (iPhone X)
iPhone X is capable of closing the apps by swiping them away in multitasking view instead of tapping small cross on the top right corner of the screen (in earlier versions)
iPad
As an iPhone user swipes down from top to bottom to open a control center, swiping upwards will take you to Home Screen.
Keyboard
Apple keyboard can now be used as a Trackpad by simply tapping and holding the space bar.
Notifications
A do not disturb (DND) shortcut that comes with iOS 12 which can be accessed directly from the lockscreen. Notification can be swiped to turn on 'Deliver Quietly'. With this mode on, there will be no pop-ups for the apps but its notifications can be still in the notification center.
DND tricks can be triggered at times specified by the user. These can even be triggered based upon your location, as if while leaving for office or while heading back home etc. DND can also be turned on by hard pressing 3D Touch in Control Center.
Safari
Having experimented with Favicons in Safari browser, Apple has tried a bit to save your phone space by cutting down on the text. Some changes in settings will get icons for your favorite bookmarks in the tab bar. Navigate to Settings > Safari > Show Icons
Messages
Quick and Faster Codes: Scanning, copying and pasting messages is easy as iOS 12 makes it possible for one-time login codes.
Some actions that make it fast: As soon as a bubble icon of a contact is clicked, FaceTime Audio and Video call options appear. Navigating to a new page is not required this time.
Animoji's are now longer and more flexible. These can now be dragged, dropped on top of photos and messages (these can now last for 30 seconds)
Sending animated labels is now easy, along with Animoji's and Memoji's, animated words, hashtags, phrases – which can be added to photos and videos that are shared.
Siri
Siri has started suggesting contextual app shortcuts on lock screen and search pane. These are helpful in messaging ahead in case you run short of time but this feature is not yet available for iPhone 6 and iPhones.
Siri gets a voice makeover – Along with British and American accents, Siri now comes with Irish and South African male and female voices to choose from. To get this: Go to settings > Siri Search > Siri Voice
Multiple device support for Siri with iOS 12 – Ask it to "Set alarm for 5:00 AM tomorrow" or "Play alert on my iPad from your iPhone or Set alarm on my iPhone or iPad" and it will locate it.
Siri now works in low power mode. This feature was disabled in iOS 11.
Memos
Memos in iOS 12 can now trim audio into small audio files in addition to the new user interface.
Screenshots
Taking screenshots accidently was easy with iOS 11, as it simply required pressing volume buttons up and down, while the phone stayed in your pocket. iOS 12 essentially requires turning the screen on for this key combo to work, a logical upgrade that was much awaited.
Screenshots and existing photos can be marked up now with a choice of pen colors. For this Go to photos > select edit > more options (three dots) > markup and you are done.
Challenges with 12.1- Is it compatible with new devices?
Many iPhones and iPads will not be compatible with iOS 12 – The iPhones those are missing from the list are iPhone 5S, iPhone 6 Plus, iPhone 6, iPad Mini 2, iPad Mini 3, iPad Mini 4, iPad Air and 6th generation iPod Touch. Apple is missing out on a lot this way.
Apple explicitly does not spell it out but this time it is a performance that it is missing. Devices are not compatible with A8 chipset or earlier and thus Group FaceTime video calls which are processor intensive cannot actually be executed on it.
It's just an issue with A8X chipset on iPad Air 2 and notably, A9 powered iPhone SE works just fine.
iPhone 5S, iPhone 6 and iPhone 6 Plus owners will get GroupFaceTime support, but calling on FaceTime without seeing the faces will probably be a stretch (although this will be better than nothing but this will not be as good than the original estimation). GroupFaceTime is geographically limited at launch. Apple has always supported its devices. But a recent exclusion of some of the devices from GroupFaceTime feature seems to be a hint that Apple wants their owners to upgrade a bit before being included again in the league. Apple is going to reveal more details in its upcoming iPad event.
What is less known about Apple iOS 12.1?
Apple recently launched iPad Pro and MAC in New York City along with iOS 12 and iOS 12.1 some days back. This tweaks in some space for iPad Pro 2018, Android Pie and Google Pixel 3. All this information will help you in knowing about ios 12.1 and ios 12, there is more in the making!
iOS 12 will increase the efficiency of old iPhones putting iOS 11 behind.
The notification area is much cleaner now with grouped notifications now in iOS 12.
Memoji's can be customized with four new Animoji masks – Ghost, Koala, Tiger, and T-Rex
Security codes become playful now with great two-factor authentication (eliminates the need of entering six-digit security code manually that felt like a task earlier).
More than one face on Face ID feature (Face ID and Passcode) – Your partners can have access to your iPhone/iPad with Face ID
If you lose your keys, just ask, "Siri where did I leave my keys?" -> This will ring the tile tracker. This can also order coffee from where you frequently order.
Simply try saying, "Where should I plan to travel next week" and Siri will show an elongated list of places worth visiting in your vicinity.
Or say "Head towards home" and this will auto-start the thermostat, inform your roommate, switch on lights, and let you know the fastest route back home.
Screen time will help limit phone usage (especially for kids)
USDZ file is supported by Pixar and Adobe for AR developers. This is particularly shared across files, messages, mail and Safari browser.
Siri can silent unnecessary notifications based on app usage now.
CarPlay gets updated like Google News and waze.
A metro pass or student ID in Wallet app comes along with NFC payment apps in Apple this time which work even in depleted battery condition.
It's now easy to close multitasking apps in iOS 12.
ARKit 2 will allow shared experience for AR multiplayer games. Lego, Fender, Adobe, and Pixar all work with Apple.
Changes camera app with smart DHR reserved for A12 chip-equipped iPhone XS and iPhone XR phones, but iOS 12 will make this camera app work for old devices as well.
Discerning my own judgement! Should you upgrade to iOS 12.1?
Every new upgrade gives more stability, privacy and security to data. iOS 12.1 is considered to be a stable upgrade and no special features are required to make current or previous devices make use of this OS version. But apps that used to earlier run on Apple iOS 12 and earlier might not be able to run on newly launched devices like iPhone XR, iPhone XS Max, iPhone XS due to some design issues. For a more detailed listing on features, refer here. IOS 12.1 has a kind of sparkle that makes us believe in Apple's magic yet again.