Want tips on maximizing your travel dollars? Choose from ride-hailing to car-pooling to car rentals, many more wallet-friendly options make traveling well without breaking the bank!
The car rentals segment contains vehicle rentals for private use that have been booked via a website or a mobile app. The booking volume includes all booked travels made by users from the selected region, independent of the departure and arrival. This segment takes into account time-based rental deals with upfront fixed costs from professional car rental services such as Enterprise, SIXT, Hertz, Hotwire and Budget, etc. This does not include carpools, chauffeur services, taxis or car-sharing offers with usage-based or quote based pricing models.
Car rental companies like Virtuo have their mission to make the process of renting a car as easy as hailing an Uber cab. In very simple terms, this implies that users sign up via a mobile app that also provides information on available vehicles on rent, taking payment and unlocking the vehicle. This approach has done away with all the lengthy queuing and form-filling that is often associated with car-rental (without any hidden costs).
What Is In-Scope and What Is Out-Of-Scope to create a Hertz Rental Car App
In-scope
Vehicle rentals for private use that have been booked via the internet/website or a mobile app
Services such as Sixt, Hertz, Enterprise, Budget, Hotwire, etc.
Prerequisite is an online checkout process
Out-of-scope
Offline and bookings or reservations via telephone
Carpools, chauffeur services, taxis, or car-sharing offers with usage-based or quote-based pricing models
Best Car Rental Apps in Market 2020
"Enterprise" is one of the best car rental app for avoiding the additional fee. It is super-convenient covering almost 6,000 locations across the US.
"National" is one of the Best for Customer Service – A huge variety of vehicles to rent.
"Alamo" is one of the best for unlimited mileage and second drivers – A favorite with millennials.
"Hertz" is one of the best car rental company covering major airport locations – We love the range of cars that the company offers.
"Avis" is a car rental app known for best discounts – Good for companies whose employees need to snag a car for a bit.
"Budget" is a company that rents cars better known best for paying upfront – Has some of the cheapest car rentals in the industry.
"Dollar" is a city car rental app best for rewards program – if you're just focused on getting the most for your money, this is the rental company for you.
"Thrifty" is best online check-in system better called by various names like long term car rental or monthly car rental or weekly car rental or daily car rental and weekend car rental – This company is all about the bottom line for its customers.
There are companies such as Zipcar offering rental vehicles for short trips, on a pay-by-the-minute basis and also peer-to-peer car-sharing sites.
Virtuo the kind of company that offers rental cars to business travelers and tourists
By-the-minute car rental service Car2go
Ace
Payless
Getaround & Turo in the USA
Drivy in France
DriveNow and Car2Go (operates globally) – Europe
Car Next Door – Australia
CarUnity and Tamya –  Germany
Carenty – Russia
Skyscanner
Zipcar
Turo and many more.
Rent-A-Car as an Extension of E-commerce
Various e-Commerce platforms/supermarkets/shopping malls have together forged the operating model for various services such as food delivery, transportation, lodging, etc.  The emerging sharing economy has provided favorable conditions for startups to establish themselves as strong players in the market. Borrowing has as well made it effortless for connecting people who need assets. Peer-to-peer car rental has the potential in establishing a strong foothold in the online rental industry with the availability of the internet and many more reasons to connect directly with customers.
Business operating Model for Car Rental Apps
There is a simple idea behind the Peer to peer car rental platform – to connect the users who rent-a-car with the car-owning-firms in a particular area. A car renting portal is used for renting cars for a day, for a week, for a month or for a predefined period (for a short vacation). Car owners can list their cars on the website to earn money. A car sits idle for approximately 22 hours a day. But renting the same car to save the idle time and simultaneously make some extra money, seems to be a reasonable option. Asserting this, car rental platforms as well offer insurance coverage on all rentals, as well as 24/7 roadside assistance. Peer to peer (P2P) car rental platforms make money primarily by charging a nominal commission from every trip that is booked, differing across platforms. Banner advertisements and on-site car promotion can be other common sources to generate revenue.
Essential Features to Be Included in a P2P Car Rental Platform
Implementing a car-rental platform can be as complex as implementing a ride-hailing app. Major features to be included:
Renting a Car
Home page must have a search functionality
Finding out the location (or address of the destination)
Pick-up date and time
Date of return with time
Car Search Results
It is advisable to use the approach of map-view to show rental results to know the exact location of the car. In addition to this, the vertical panel, next to the map view can be used to feature the details such as year and rent, etc. The search page must have the following filters:
Price
Pickup/delivery
of passengers
Whether available for instant booking
Mileage limit
Vehicle type
Make & features
As the users hover over the list of the results, the corresponding map results must get highlighted. An e-commerce solution can be useful in this case.
Booking a Rental
A user has to be registered with the rental app platform to book a cab on rent. Implementing social media or Google login can be easy in this case. The overall checkout process should be simple and short. But this page must have these essential features:
Detailed personal information (name, age, contact)
State & driver's license details
Payment options (credit card/ debit card/ PayPal etc.) 
Listing A Car
The top navigation bar must have a definite 'List Car' option. This would require a lot many details like:
Location (zip code), car make, year, license plate, trim, style, etc.
Car features, specifications (in a checkbox selection). Making users enter the details in a multi-line text box is not advisable. Excessive use of scroll bars (horizontal and vertical) must be avoided.
Instructions from car owners to the users (who rent-a-car). This should essentially include letting users know about relevant steps and fields.
An optional field can be provided to users to click their selfies and share it on social media to attract more renters (similar to Props2 platform)
An option to insure every ride, every car on rent and every rider by charging a nominal fee from car renters can be an option.
A section to levy a penalty on the customers who misuse the car on rent and privacy policy, terms of use and instructions (pictorial – via infographic) must be an essential feature.
Besides these, these additional features should as well be considered while you create a car rental app:
Simple registration and login
Add options to flip multiple languages
Options to shuffle amongst multiple currencies
SOS Button/ 24 hours 7 days a week helpline.
Reviews and ratings
Schedule options
Customer care support etc.
Must-Have Sections in a P2P Car Rental App
The section to depict how the app works should always be there to let car owners and car renters know the best way to utilize the app to their benefit. If this section is in text format, it should be concise and point-wise. This section can as well feature a video.
A user has to sign up and log in before using the app. The user profile must feature complete details including first and last names, address of correspondence, contact numbers, email id's, adequate social identity card details, a personal photograph, an option to rest and change password, choice of car, dedicated log to track trip history and clear trip history options.
The Car Page
A detailed page to list the car specifications would help renters choose the one as per their needs. The car details that can be put on the car page of peer-to-peer car rental app:
Car features & specifications
Multiple photographs of car's interior & exterior
Car's per hour, per day & week renting cost
Option to share car page with friends on social media or via email
Car owner details
Precautions renters need to take while using the car
Location & availability chart with the pick-up location information
Option to book the car
Mileage cap
How much renting the car will cost for the selected trip
Referral Program
A referral program can greatly help to get visitors during the initial stage of booking an app. However, it must be ensured that the referral program is well-planned to work and motivate users to recommend they're known.
A comprehensive help section, neatly divided into categories and subcategories can be a helpful resource for registered users (car renters) as well as car owners. They can always go back and look for answers or raise queries. This section can be made more interactive with chatbots that serve customers in real-time or can be updated with videos, how-to steps, and infographics.
A dedicated blog page can bring important events, services and features of the car rental app services, highlighting their achievements, statistics, and milestones regularly. This even gives the enterprise car rental app getting featured in Google Results.
Website & Mobile Car Rental App
Businesses should create a car booking mobile app for car rental business if they already have a website, as customers are more frequent with mobile apps while on move. They can use a mobile app for renting a car at their convenient location and time. A responsive progressive web app comes handy in case you do not wish to invest in a P2P car rental business app.
Amazing Differences in Car Rental Business App
Many a time people get fleeced into booking cab ride for more than usual price giving into hiked prices, demand-supply gap, rigid car-booking options, and variable prices. A car rental app could be amazingly useful to the extent that you never knew you needed one. Despite the varied experiences, very few businesses get on their toes to find out the credibility and viability of the available options in the market, the biggest car rental company available in the market or whether investing in a car rental company is a good option?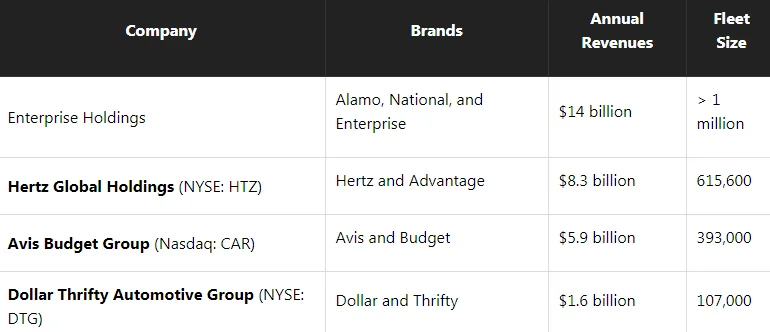 Image Source: The Motely Fool; Morning Star;
With fleet sizes in the six-seven-eight figure range, it should be no surprise that rental car companies are the largest purchasers of cars and trucks in the United States. In addition to buying a lot of cars, companies like Hertz sell a lot as well. So, should we consider rental car companies as a good investment? With just one exception the answer to this in the last few years is a 'no'. While each of these companies can pride themselves in brand recognition and the like, for most travellers, rental cars are a commodity that is interchangeable in most leisure travellers' eyes depending on price.
On a theoretical level, this interferes with the ability to develop a moat around their products and/or services but on a practical level, it impedes margins and profitability. Car rental service apps like Avis and Hertz have been profited in only one and two of the last five years, respectively. (as of 2019)
Cost to create a car rental app like Hertz, Hotwire and Enterprise
Car rental apps have spread its wings under the guise of variably priced services like delivery and ride-hailing recently. Such businesses have been constantly evaluating their packages and pricing strategies to arrive at a new system under which price will depend on time, location and day. This can always imply that users end up paying more. As the companies highlight a new cheaper possible per-minute rate of 35 cents, significantly lower than the current $0.45 rate, it is easier to guess when that lower rate will be available (in time, locations and days). The per-minute car rental rate is up to 49 cents when cars are in demand or high-use location. It is always noticed that the blocks of time from half an hour to four hours are all increasing in price. The current flat rates are now floor rates, with the possibility you'll be paying as much as a third more than before. As an example, if a two-hour block currently costs $29, it will soon start costing somewhere between $30 and $39. Again, the users need to keep a check on app updates, for the latest offers, availability, and demand in the market.
Day-length packages are cheaper, but these no longer include miles. So while a 24-hour pass used to be $79, now it usually comes to be around $70 – but at 19 cents per mile. Price usually goes up from there.
It is often conceivable that you'll pay less for a two or three-day rental if you're not actually going anywhere distant, but just need a car for the weekend. As a means to propel drivers, a newly instituted zone-based change and refund system punish drivers for leaving the city center and rewards those at the periphery for driving back towards heavy usage areas. There's a $5 charge if you leave the central zone, and $5 refund — or the price of the trip, if less — if they bring a car in from the outer one.
If renters are going out the full $5 fee always applied. If they're coming in, it will be very difficult to nail that $5 ride. If they go over they end up paying the money anyway. It's just one of those clever little traps businesses set up. Below is a table (updated till September 2019), describing the package types provided by car rental companies in the USA.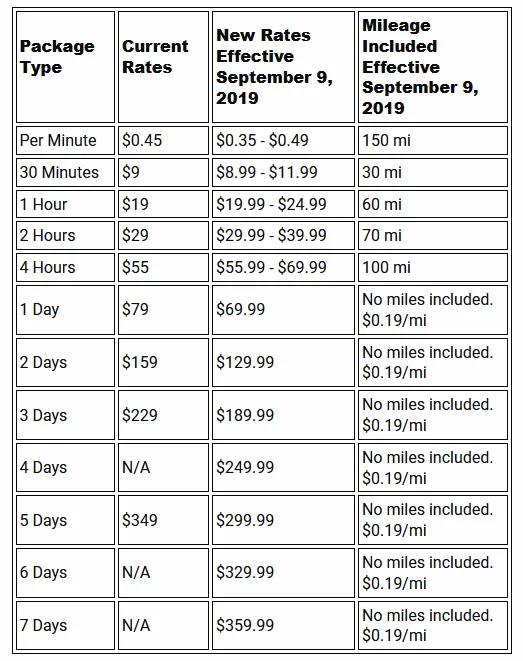 Source: techcrunch.com
The cost to create an Android car rental app can range across $6,800 to $68,000. The cost to create a rental car app in iOS can range from $6,500 to $65,000.
Note: Various resources might quote a different price range for creating a car rental app, but the underlying factors like: [features to be included in the app, the availability of skilled developers, required app development technologies, platform (iOS or Android), required mobile app development architecture (MVP/MVVP, MVC), programming methodology (Agile, Scrum etc.), adherence to NDA, procedural SDLC, security + privacy + environmental factors – all included in the package], must be considered before committing the mobile application.
Possibleness: Create a Car Rental App Like Hertz
Car rental is heir-apparent of ride-hailing platforms; having bugged out from the idea of stretching geographically, in a rather complicated process. Markets, even within national boundaries has their dynamics, and in that respect, scaling up often goes together with a focus on the local. Certain usage statistics that go well in favour of the mobility – car rental market segment:
User penetration is 3.4% in 2019 and is expected to hit 3.8% by 2023.
In the Car Rentals segment, the number of users is expected to amount to 291.5m by 2023.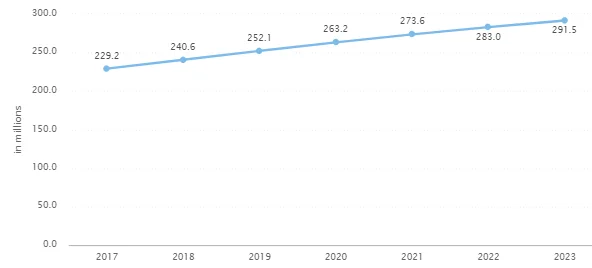 Revenue in the Car Rentals segment amounts to US$59,518m in 2019. Revenue is expected to show an annual growth rate (CAGR 2019-2023) of 3.2%, resulting in a market volume of US$67,463m by 2023.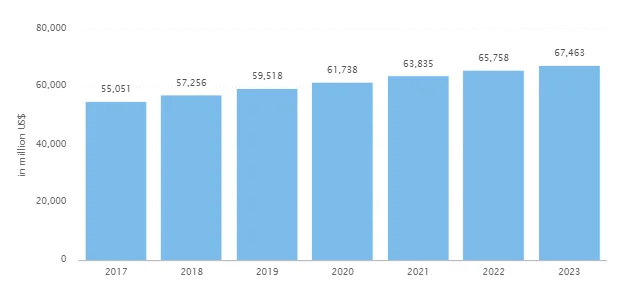 The average revenue per user (ARPU) in the Car Rentals segment amounts to US$236.07 in 2019.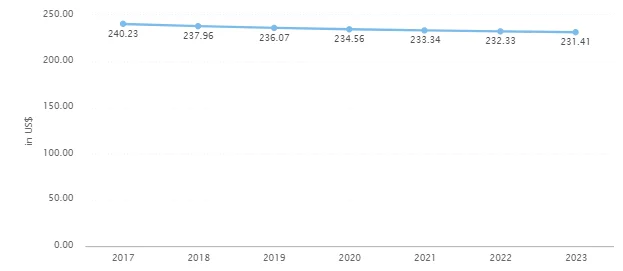 In global comparison, most revenue is generated in the United States (US$21,783m in 2019).
With a market volume of US$21,783m in 2019, most revenue is generated in the United States.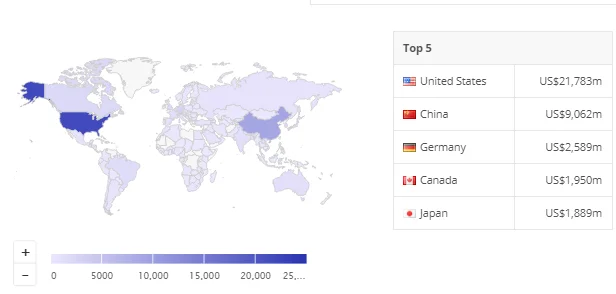 Image Source: statista.com
When it comes to keeping travel bills down, savvy scheduling is the key in the view of several posters. Feel free to have a quick discussion with our architects and app consultants to find out the best app development strategy along with monetization and tools for your app development and marketing needs.