Your Weekend Feast: Gear up to create a copiously savory food recipe app that can flip millions in a jiffy!
Cooking is one of the best gifts one can give to their loved ones. It is a form of expression, and is symbolic of love when words are inadequate. With piling stress and hectic work schedule, it often becomes difficult to spare time to cook. An app with a virtual assistant, which can provide written as well as verbal instructions just like Google Home or Amazon Echo Dot, comes handy and simultaneously saves a lot of cost, time and effort. Know all the details here!
An Intromission to Food Recipe App
If you're pressured on time often but are simultaneously looking for innovating your recipes, adding that extra caboodle of flavors, wish to have a hands-on multiple cuisines, more quickly and efficiently and additionally do not want to lose your favorite TV show or shopping at nearby mall, here is a chance to slip into world of scrumptious cuisines and taste the sweetness, sourness, tanginess of world-beating distinct foods.
No more writing down of shopping list before shopping spree! Simply click a button and get virtual assistants to help you out with all your chores! No need to carry the cookbook while selecting ingredients from the shopping mall! Have the app, access all the ingredients and recipes on the go and base your menu according to the season or special occasion. From ingredients to recipes and easy ways to cook almost every kind of cuisine, the app has it all.
We are detailing out various ways to relish flavors for experts like Chefs, entrepreneurs, and food connoisseurs who wish to build an app like Zomato, an app like BigOven, Riaffy and Kitchen stories etc. Some of these might be enticed with a certain idea and wish to create an app for food recipes or cooking instructions, an app for more health conscious people, food for all taste buds etc.
What We Get After Comparing Top Food Recipe Apps?
People with little or no idea of cooking get an easy help guide, or in cases, they have less or no time to cook, get perfect healthy food ideas and have the advice of nutrition experts' right in the app. Heading out for office or have to plan a dinner for guests but have just a few ingredients on slab, keeping freezer stocked with just a few basics, and you're still craving for everyone's nod on your cooking on the food that looks like been cooked for hours, a trick flavoring and just the right food recipe app is all that you require. Here is a short comparison of three most-loved food recipe apps around the world:
1. Big Oven
From providing nutritional facts to discovering over 5 lac recipes, with Big Oven you can plan your meals, get detailed nutritional facts, search using dietary filers and even get a free trial without advertisement. Get cooking ideas, search for recipes, upload your own recipes, create a shared grocery list for your household, mark the items and swipe them off as you shop, get notifications on recipes and questions when you receive comments, get recipes from leftovers, become a member according to plans. Free in-app purchases.
2. Food Network In the Kitchen
This is one app for all the passionate food lovers – chefs and recipe developers and passionate eaters who have extended their efforts to make your weekend dinners easy with their simple cooking projects, friendly family snacks so that you can spend more time enjoying and spending time with your close ones.
3.Yummly
Yummly has over 2 lac dishes from all cuisines, easy-to-navigate and find categories, hand-picked quick and easy to make recipes and step-by-step cooking along with filtering out recipes based on allergic preferences or a certain use of ingredients, personalized recommendations – all and much more guarantees an overall healthy and tasty experience.
Questions to Answer Before Developing a Food Recipe App
Is a similar app available in the market?
What are the advantages and disadvantages of food sharing app?
Is it worth spending money on food recipe app?
Does your food sharing app have any extra features that will exceed users' expectations?
If all of these questions are answered, this can eventually help developers and food recipe app users to take future decisions about creating a successful food recipe app on their own.
Cost of Food Recipe App
It is better to consider all pros and cons rather than sticking to a single strategy for a particular product while determining its cost to market and users. It is important to know about the target audience for whom the cooking app is to be built. Some of the best food apps offer advanced features like location-based services that help users locate nearby restaurants and such similar services like planning a meal. This approach comes handy when a mobile app for meal planning is to be built (menu planner app). The home screen of the app must be engaging enough to entice users to navigate through various categories, search and stay there. The key to success of such recipe sharing app is users' likes, uploads, recipe downloads and extensive searches of best grocery filtered by prices, location and other parameters like:
Content Quality
Target Audience
Functionality
PR and Marketing
List of Features
Must-Have Features in a Real Food Recipe App
Food architects and developers have to be alert while developing a food recipe app. Here is a list of must-have features that they must follow while they create an app for food sharing:
The app must be easy to use
Lots of images, videos of recipes
Handy tooltips
Recipes must be divided into various categories – No fire cooking, baking, frying, desserts, snacks, main-course, starters, drinks etc.
The UI must be workable on multiple platforms and devices
The recipes must be shareable across various social media
There must be special tools like nutrition tables, kitchen timers, and handy shopping list etc.
The food recipe sharing app must allow users to create customized recipes
The food sharing app must act as a personal cookbook to the users
The food app must act as a personal navigator to specific culinary styles or ingredient trading establishments as pre-defined conditions
Best recipe app must allow sharing of photos, images, recipes with friends and family members
The food recipe app must allow calculating and tracking individual calorie intake
There must be an option to mark chosen recipes as favorites and refer back to later or to keep track of ones that user wants to make again
The detailed search option must allow the user to filter the recipes based on cuisine, dish type, dietary and allergy information, season, and more
Most Effectual Food Recipe Sharing Apps in World
Some of the popular examples of best recipe apps:
The South African Food Recipe App
The Kitchen Calculator Converter
The BraaiNation app
RShopping List
MealBoard
Clean and Green
Allthecooks
Thyme
FoodKeeper
BigOven
Jamie Oliver's Recipes
com
Yummly
Allrecipes Dinner Spinner
SideChef
Pepperplate
Paprika Recipe Manager
Kitchen Stories
Forks Over Knives
An Intuitive Assumption
The hectic schedule and everyday concerns force people to plan most of their purchases while they are in shopping malls or grocery stores. If mobile app development agencies provide convenience to users to issue a list of relevant products located there and store all the purchases and prices for future use, it can help people out a lot in planning their recipe purchases. Best mobile app developers have distinguished three main functionalities of culinary applications: Cooking assistance, shopping assistance, planning assistance. Best food recipe sharing app can be developed if these features are complemented with some auxiliary functions along with tastes of potential customers. Any doubts or suggestions – drop us a line and we will be on our toes to resolve the food recipe app query!
About Author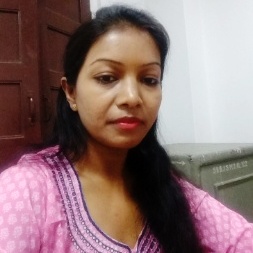 Neeti got her master's degree in software engineering in 2009 and has been working since for software companies of all sizes as a technical writer. What started as a high school passion has now been converted into a serious profession. She has a special knack of learning from all verticals and imbibing the extracts into her writing. She enjoys learning technical aspects of writing from her tasks where her experience and understanding are most impactful.