Prep yourself to build a food delivery app like Zomato, UberEATS, Grubhub that is more of planning and less of cooking, remember home cooked meals before throwing in the towels and heading for restaurant!
Restaurant tables can be the next bailiwick for smartphones and social media. Attributes like cost and prospects are coordination compounds that revolve around restaurant app development. Find out how we justify this claim! Customers are always after a swift and smooth experience without being particularly concerned about the technology upon which the app is being built. Same goes for food delivery apps like Swiggy, Zomato, Ubereats, and Grubhub. A simple restaurant finder and food delivery app costs around $3500 to $9,500 in India. A research shows that this cost of development of app like Eat24 can go up to $20,000, depending upon the scope of the project. Proficient App development agencies have to be hired to consider the right approach those results in Restaurant App Development.
Features in Best Food Delivery App
An app like Grubhub has the facility of paying via various payment options like PayPal, Google Pay, cash cards, net banking, cash on delivery etc.
They are available all 24 hours, 7 days a week
Re-ordering food is easy. Food delivery can be scheduled at a later date.
Discount codes and coupons can be applied easily and cashback can be earned that enable future orders
It has appropriate filters that help in finding delivery menu items easily. Making use of good filters eases out explore popular food delivery options from restaurants near me.
These allow ordering food in advance
The online payment system is essentially a great way to open a new revenue stream. There are various methods of payment that can be used depending upon the money involved in the transaction. Payments via credit/debit cards, or automated telephone payment service
Apps like Grubhub enable us to order food near me from over multiple cuisines across different restaurants near me across multiple cities. This will further enable you to search particular dishes and browse delicious food photos before actually ordering. An app like Zomato, Ubereats, Swiggy essentially secures online payments.
The cost is directly proportional to the size of the website. Various other features also have to be considered like the choice of platform, software and hardware requirements, Restaurant App Development must be done by seasoned developers who are experienced in following all stages of the software development lifecycle to build the best food delivery app.
The idea of a restaurant near me and the food delivery app is closely connected with speeding up the process of getting the meal and paying the bills. The more the restaurants make use of the app, there are more chances of customers getting attracted to the idea and imbibe the latest technologies in the restaurant app development process.
Mobile ordering, iPad order kiosks, Facebook ordering, digital menu boards and smartphones,   tabletop e-waiter and checkouts, online coupons and games while you wait are some of the reasons that are breaking the ground and making space for tech-savvy diners.
In lure of elegant solutions that work, App development agencies have been emerging with latest restaurant finder apps by integrating technologies that make customers happy.
Business Model of App like Zomato, Swiggy, UberEATS, Grubhub
The business model of an app like Swiggy, Zomato, UberEats and Grubhub has given rise to a large number of on-demand startups in the food delivery vertical. All these apps essentially play a dual role. They are restaurant finder as well as food delivery applications. Built on the traditional food delivery model and offers access to multiple restaurants through its online food ordering app. It maintains its own logistics network including drivers (delivery partners). Apps like UberEATS started as a standalone application which came as a diversified version of Uber rides.
Customized restaurant recommendations, tailored delivery details, advanced search filters and the ability to track the orders in the app are some of the features that a restaurant finder and food delivery app must have. An app like UberEATS has the following components:
It allows customers to place orders in real time. The customers can choose from the extensive list of offerings in terms of restaurants and menus and the huge fleet of delivery partners are available who can help deliver food faster than expected.
UberEATS works like any other food delivery company that also has an option to cater to specific customer needs like specific product, fixed delivery time, particular location, availability of the courier (delivery) partners – ones who sign up to be part of the food delivery network and the restaurant partners who want to associate with the food delivery app network. The simultaneous shift in customer behavior towards the on-demand food delivery app is driving the conventional businesses to have a virtual presence on food near me app like UberEATS.
How do apps like Eat24 (Grubhub) make money?
By following these 3 tricks:
Charging delivery fee from customers

Most of the food delivery apps are based upon the pricing model of base price plus surcharges. It happens that restaurants restrict the menu during peak lunch and dinner hours.
Sharing revenue from restaurants

Recurring revenue is earned by sharing for orders fulfilled by delivery partners like UberEATS.
Advertising the income (marketing fee) from restaurant partners

Restaurant partners are charged a marketing fee as soon as the customer looks at the listed restaurants. With the increase in restaurants, it becomes important for restaurants to gain some visibility on the app.
How does the eatery ecosystem work?
Eatery system works in three steps:
Step 1: Consumer orders food from the restaurant
Step 2: Restaurant delivers the food to the delivery partner
Step 3: Delivery partner delivers the food to the consumer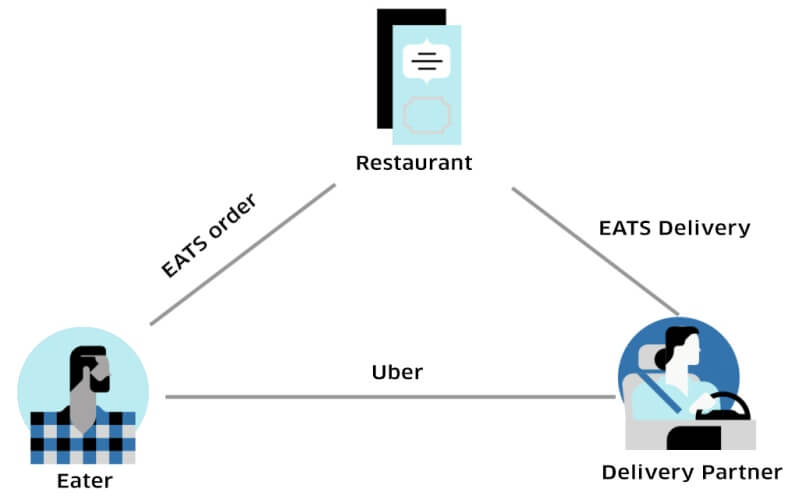 Image source: jungleworks.com
Factors Upon Which The Cost Of Apps Like Eat24 (Grubhub) Depend
If the design is complex or custom then the app will take more time than a normal one. Normally these 5 factors affect the cost of the app like Eat24:
Project requirements
Complexity of UI
Concept of Project
Designing of UI
App Testing
How much it costs to develop an iPhone app like UberEATS?
The cost to develop an iPhone app like UberEATS is around $4500 to $12000.
Few of the most basic expenses that must be included in developing a Food Delivery App for IOS and Android are :
Developer's Expenses
If the cost to hire an engineer is considered, it ranges from $10-$35 per hour or $100 per month in general. [This cost may vary according to the specialization and expertise of the engineer]
Gathering Cost
This part involves investing a lot of money into social affairs, conferences and overviews, collecting requirements including the staffing team who will be involved in carrying out employment strategies.
Design and Development
Cost of application configuration and its development is the total the business will spend on its developers and test engineers. This will essentially include the cost of the different licenses required to hire additional staff for projecting out the development process.
Testing and Publication
It is important to test the application before deployment. A lot of costs has to be incurred in case the application does not go well after deployment. To avoid this application has to make through bug fixes prior to release. One time charge to distribute the app is $20.
Features of A Food Delivery App
Customer
Navigation Menu
Registration
Sign up
Place order
Restaurant details
Filter restaurants by cuisines
Current offers
Address book
Rewards, loyalty, and coupons
Admin
Admin Log-in
Restaurant Management
Application Management
Order Management
Technical Payment
Payment Management
Owner's App
Sign-in
Search by Food Category
Checkout Process
Choose Payment Method
Order Status and Tracking
Help & Support
Arriving at a Proposition
Filing an order online via kiosks can be easier than waiting in line to place it. Cost of a restaurant finder and food delivery app depends upon various factors like instant notifications soon after placing the order and sufficient lead time. The cost of these applications goes as high up as $5,000- $30,000, similar to a food delivery app that is similar to a food panda. Cost of a normal iPhone food delivery app can be divided as follows:
License fee: $300
App hosting fee: $99/app
Developer fees: $7000 (developer with average skills)
This places your overall cost of development at $7500.
On an average, a native food delivery app might cost around $26000 for an iOS app and $27000 for an Android one.
Facing difficulty in deciding whether investing in a restaurant app is a prudent decision or not? If you don't have a dedicated mobile app for your food delivery and restaurant finder app, chances are that you are losing on at least 20% of the sales. A consumer-facing mobile app can be one of the solutions to resolve this problem but this is not the holistic mobile solution. There are many other features that make a restaurant finder app comprehensive like push notifications (if managed properly), how well the app handles customer's convenience, the efficiency of handling orders, the presence of loyalty programs, rewards points and discounts and presence of location-based services (GPS).
You restaurant finder app can be both customer facing or business facing depending upon whether you are a restaurant owner looking to improve your sales, finding new customers and retaining them, or if you are an entrepreneur and wish to invest in your next restaurant finder app and the cost of the app, all these features must be included necessarily.  Both consumer facing and business facing application can be a comprehensive solution to manage a fast food delivery app.