Get online event management apps developed for a centralized organization of all events that make people groove to the beats of the organizers and fumble for more trance!
As the Post-pandemic lockdown hits plan to get skeletal staff at work, there has been an urgent need to communicate online. Hosting a party can trick and tickle you sometimes. Organizing barrels of beer, tussle for water bottles, fireworks, fight for food and an add-on of music, lights, comfortable seating arrangements with an eye-catching party theme – enjoyments have to be planned with ease. It can be vast to offer the best to the guests, to know what the guests want and make them groove to your party beats. An unforgettable party, that offers the best wine in the town, has creative people to choreograph and sort the dance, music and activities requires some effort. A personalized party management app can help resolve the complexities of organizing birthday parties, anniversary celebrations, teen parties, receptions and more such events with ease.
How to Start With Event Management?
All you need to know is that who is going to be your target audience, what are the demographics, what is their age, and the technology that you are going to use, the fees that organizers are going to charge, the subscription fees that the users need to subscribe to for using the featured premium services by paying the specific amount of fees, sorting the commission from the third parties, optimizing the costing part, finding suitable suggestions on the fed party details – top town DJ, popular cuisine, party decorations and much more. Such a party management app is also helpful in pitching the branding part as it helps manage all the event proceedings swiftly, book the tickets, even drag the first time users to get into the app and look for updates.
Premier Features in Online Event Planning App System
Basic to Complex (depends upon the scalability of the platform)
User Registration
Creating an Event
Managing your Guests
On-site Search Option
Deciding the location of the event
Categories/Subcategories of the Event
Venue Sourcing
Diagramming and Seating
Content Management
Event Marketing
Event Registration Website
Room Block and Travel
Onsite Check-In and Badging
Mobile Event App
Appointments
Event Insights
Meeting Approval and Budgeting
Events Time of Happening
Number of Events
Based on the category selected by the user, they will be able to view the number of events listed under that category.
Setting Remainder
Once the user books for an event, he can choose to set the remainder for their event. When the users set the remainder for any event, they will be notified with the email id they used for the registration of the events.
Getting Direction
Booking Option to the user with invoice generation
Invite Friends
Features to Be Included in Event App Development for Hosting Parties
Sign Up/Login
Listing a Party
Schedule
Setting the Budget
Making a party directory with the guest data, party information, checking on to any third party references – for booking a hall/ground/discotheque, caterers, best wine servers, music and much more right from the app
Fixing a deal with the third-parties – the app helps to store and saving the data on fixed deals to avoid misunderstandings while making a payment or receiving a payment.
Setting the Menu online – The organizers can list and fix the party menu online to confirm and send it to the caterers.
Party Inventories – All the inventories required for party preparations can be managed by allocating its responsibilities to the team members.
Notifications – All the party guests and event organizers get notified about dates, budget, pending payments and any other thing relevant to the upcoming occasion.
Setting Reminders – The app allows setting reminders for the team members on this delegated task. These reminders also go to third parties to get ready with the booked orders.
Advertise – This feature allows advertising on the party management app.
Designing party tickets
Activating the booking tickets
Promoting Tickets
Making payments
Online RSVP
Chatbox 24*7
Report Generation
Features to be included in Event App Development for Seminars and Webinars (in addition to the basic features)
Mobile-Optimized
Group Registration
Payment
Flexible Discounts
Access Codes
Event URL
Email Confirmation
Automated Remainder
Sell Tickets
Features to Be Included in Event App Development for Managing Exhibition (in addition to the basic features)
Create an event
RSVP Tracking
Ticket scanner
Managing Sales
Managing the Guests
Exhibition inventories
Exhibitor catalogue
Sponsors catalogue
Connect attendees
Features to Be Included in Event App Development for Concerts and Plays (in addition to the basic features)
User Registration
Create an Event
Manage your Guests
On-site Search Option
Location
Category of Event
Events Time of Happening
Number of Events
Set Remainder
Get Direction
Booking
Invite Friends
Compendium: What It Takes For Online Event Planning App Development?
Konstant has expert developers who are adept with archaic and modern technologies to build online event planning apps that can help in managing events in one place, saving time by automating many manual event management tasks. This helps increase attendance with fully-branded multi-channel marketing campaigns, ensure your success with powerful reporting, strategic integrations. This also helps to foster attendee engagement, sending custom content and capture data to better understand your attendees, targeted event email marketing, contact and profile manager, and exhibitor and speaker management, curate impactful session content, automated room block management. Additionally, event planning apps that we build can have features like custom contact fields, Group contact management, contact importing and exporting, contact search and merge functionality, pre-book appointments, event reporting, Real-time dashboards, attendee tracking and lead capture, live polling and surveys and self-service Access Portal. Catch up with the experts here.
About Author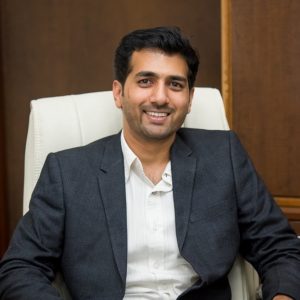 Vipin Jain is the Co-Founder and CEO at Konstant Infosolutions and is in charge of marketing, project management, administration and R&D at the company. With his marketing background, Vipin Jain has developed and honed the company's vision, corporate structure & initiatives and its goals, and brought the company into the current era of success.