Tinder Alternatives - Dating Applications like Tinder are the changing face of modern romance. Easing out the journey to find love, dating apps can be a lot of swaying, stalking and messaging. Let's find out!
What is Tinder?
Tinder is a free dating app that allows users to swipe "yes" or "no" on potential matches. If two users swipe "yes" they are then able to chat with each other through the Tinder interface. Tinder works because it takes rejection off the table, and taps into a distinctly millennial activity – texting.
Every gesture to find out if the person is worthy of an in-person date, more and more people are opening up to the digital world of Tinder, Bumble – hoping to find their special someone, still these dating apps need some moderation. Such dating platforms have made both genders comfortable footing the bill for a positive dating experience. Off late dating apps market has lost sheen, but advertisers must still not ignore hopeful singles.
What is the forecast for dating apps in 2020?
The total revenue generated by the online dating segment amounts to US$2,141m in 2020.
Revenue generated by online dating apps is expected to show an annual growth rate (CAGR 2020-2024) of 4.3%, resulting in a market volume of US$2,530m by 2024.
User penetration within the online dating app segment is 3.2% in 2020 and is expected to hit 3.6% by 2024.
On average, the revenue generated by online dating apps per user (ARPU) currently amounts to US$8.92.
Comparing the globally United States itself generated (US$973m in 2020).
Why did online dating apps flourish in the first place?
Aptly said, "Do what you love, and the business will follow". There were reasons for the people to bring such dating apps into action. It might be the disappointment, the pain, the betrayal, the abandonment or the ongoing struggle that they might have faced in their real lives that were portrayed in form of dating platforms to help people meet their preferred partners.
Importance of Dating Platforms
These dating platforms offer comfort to the ones who are exposed to a devastated landscape of their broken dreams, making them access intimate details of others' lives consistently proving to be the greatest motivator. These dating apps like Tinder help those who are consumed by down the decades, and nothing like money, success, power or plain survival proves comforting rather finding a safe place where they feel protected by the embrace of those they love.
Sometimes the dating apps look for weird ways to match people up based on their salad or food preferences, the places they usually hung out. Equestrian CUPID, Gluten-Free Singles, Sea Captain Date often find themselves in mobile incarnations.
Features in Popular Dating Apps like Tinder
A dating application must provide a seamless user onboarding process. The interfaces must be rich in graphics
Facebook/Google sign-in
User Profile View/ Profile Editing Screen/ Add Profile Photo Flow
Eye-catching User Interface – with Tinder swipe and Matchmaking features
Advanced Matching Recommendations
Chat – Text, Photo & Video Messaging
Push Notifications
User Blocking & Reporting
Reviews & Ratings After the First Date
Location-based suggestions
Search functionality with filters
Calendar integration
Live video chatting
Offline access
Block/unblock users
Push Notification and real-time alerts
Personal Security
Other Mobile Dating App Feature Ideas
Small Games to check compatibility
Group dating, to make people have more fun and feel safer
Recommendations for dating place
Suggestions for gifts based on user preferences
Digital gifts (such as digital flowers, chocolate, etc.)
"Super-like" button, for which users need to pay extra
Popular online dating apps in 2020
1. OkCupid – Free online dating app
It's a popular dating app that allows people to have blind dates. Millions of users follow OkCupid because of many fun features that make it unique.
2. Bumble – Location-based dating app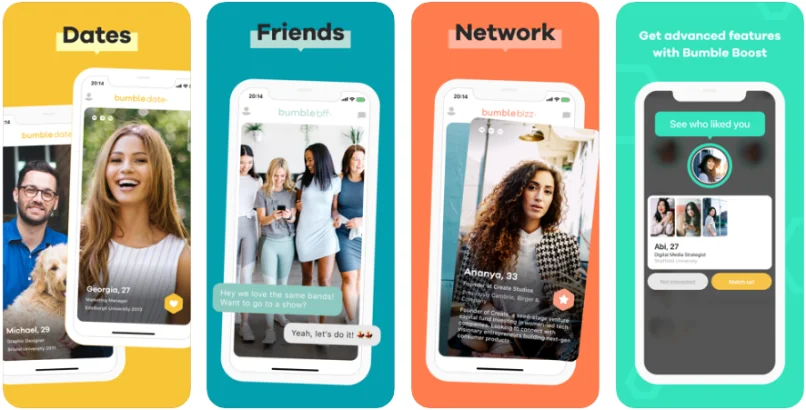 Bumble is one of the most popular tinder alternatives that give women a chance to proceed with the chat. The text window expires in case "she" does not respond within 24 hours. BFF features help users meet new people.
3. Blendr – Make new friends in your area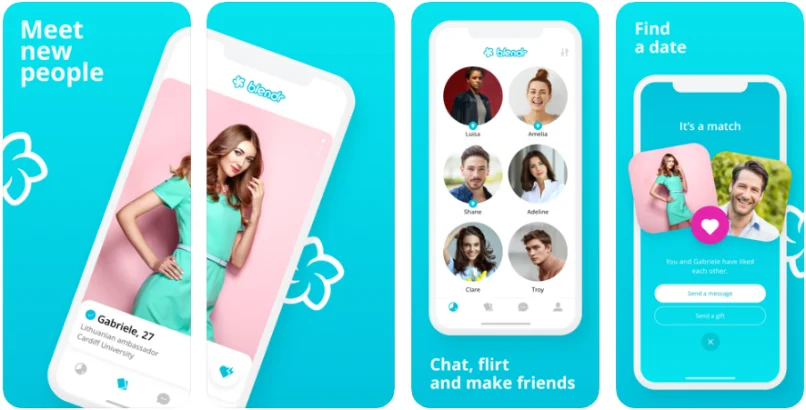 It is a hookup app providing a platform where people find their love-mates.
4. Plenty Of Fish – Canadian free online dating app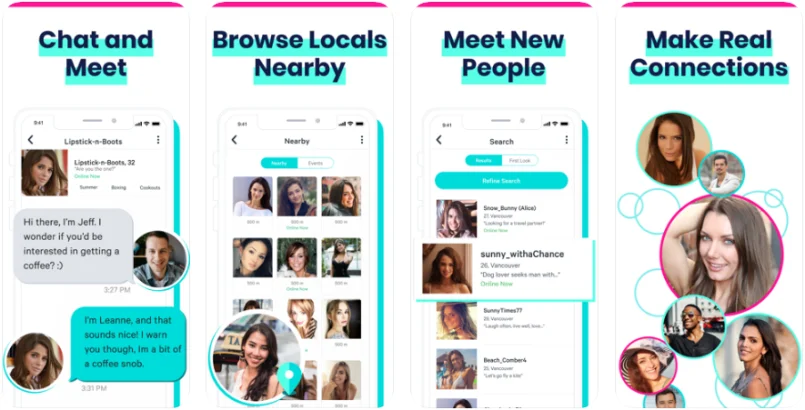 This app allows users to browse profiles and send messages.
5. Zoosk – Online dating app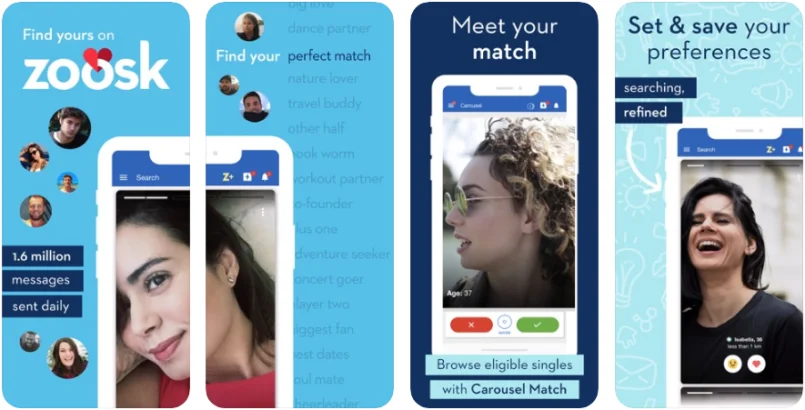 Zoosk is a flexible dating site available in 25 languages and 80+ countries for short-term to long-term relationship seekers. It is one of the most popular and preferred dating sites in the world.
6. Happn – Local Dating app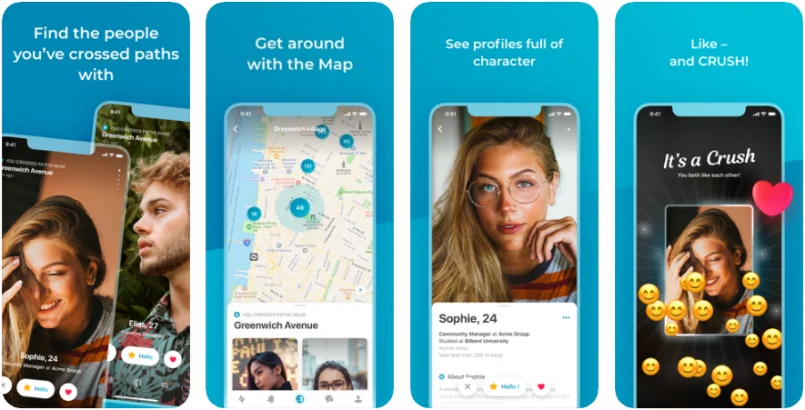 Happn is a location-based dating and social networking mobile app that allows users to express their preferences, sync their accounts with other social media accounts, like/dislike and finally seize the opportunity to meet in person.
7. Skout – Location-based dating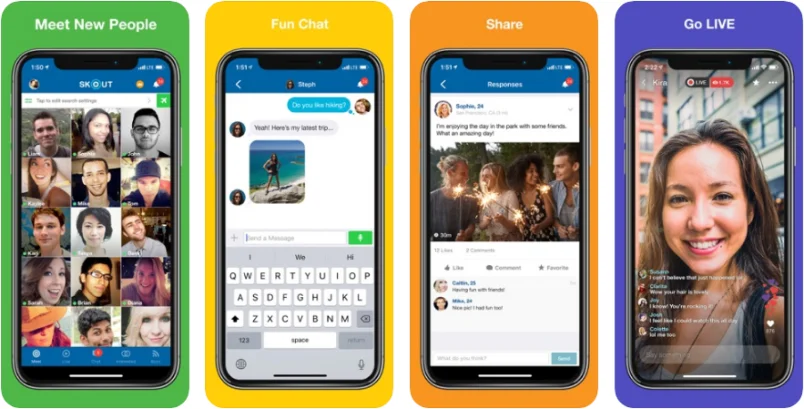 Skout is an online dating platform to choose their partners by preference and proximity, chat, broadcast yourself and watch others' stream themselves, checked who viewed your profile, save your favorite users, get updates from nearby users, browse profiles and pictures and simultaneously promote your profile with in-app features.
Same goes with Tinder alternative Apps like Raya, Hinge, Coffee Meets Bagel, Happn, The League, Clover, Match, eHarmony – where users get to learn about their potential matches, share their interest. Some of these dating apps like Tinder reveal deal-breaking information that might be useful to users and let them know the potential person in a much better way.
Graphs by Statista reveal the trends in online dating over the past few years (Updated till 2019)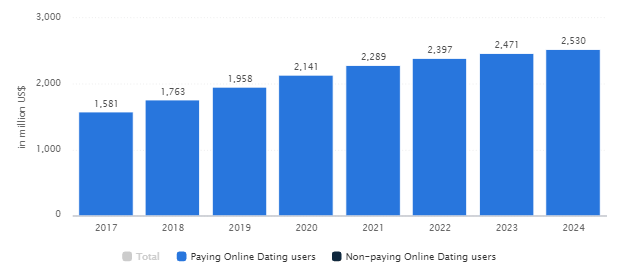 Figure 1: Revenue in million US$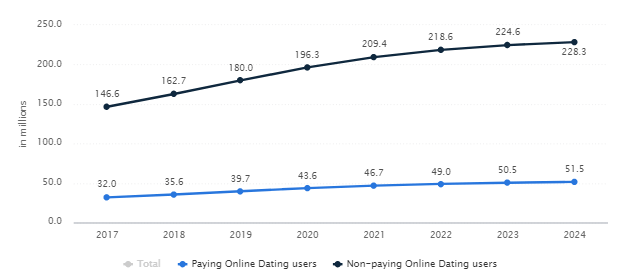 Figure 2: Users in Millions
Suggested Technology Stack for iOS Platform:
Platform: iOS
Frontend: JavaScript, React.js, JSX, Redux
Backend: Lumen (Laravel), MySQL
Programming Languages: Swift 5.0, Kotlin,
SDKs: Xcode, Alamofire, Firebase, Facebook, Socket.IO
Our dating app projects: Kaimzz, Wowrite, Luv Vid and many more.
Add a bit of technology to make it even more attractive:
Matching Algorithms
Location Awareness
Mathematical Basis
Behavior-Based Matching
Advanced Matching Methods
Benefits of dating apps like Tinder
Let's derive the benefits that dating apps like Tinder bring forth. These will help find out the cost to create a dating app like tinder:
Dating apps are fast and efficient – giving users a chance to open up, make friends, find their soulmate and get the opportunity to meet new people.
It turns introverts into extroverts – make users fight it out with their faults. and thus find a good interlocutor.
Find your soulmate within your community.
Stay away from unwanted connections.
Get variety – an unexpected someone to surprise you even more. The user can find who they have been waiting for.
More Factors
More Factors that help you decide the cost of the dating app like Tinder:
Demographics + target audience (The number of countries you wish to launch your app),
Design (template, gamification, premium, individual),
Platforms (Android or iOS or Web)
Type of app to be built (Native or Hybrid),
Version Support (Basic or advanced) dates,
Locations (Display of Map data / Geolocation, Display of custom map regions, Calendaring, Bookings) and
The Cost of Tinder Alternatives
Estimating it roughly, the cost to create a dating app like Bumble or Tinder would be close to:
$50.000 for a basic app with limited features
$65.000 – 70.000 – for a native app with Tinder-like features
$135.000 or more – for a hybrid app with all and premium features
In Short
Dating apps are based on maximum user interaction. Developers need to study the functionality principle of the dating app, analyze the main benefits and use cases before they build a dating app. Additionally, they must create the structure and design of a dating app and make use of the right technology stack to create a dating app. Moreover, android and iOS developers need to add MVP features to the dating app and ultimately choose a monetization strategy.
It sums that creating one of the best dating apps requires studying a competitive market and applying skills at hand, in addition to the demand in the market to fetch the best results. This would save you some dilemma at the time when you need to have your dating alternative to Tinder.
The thoughts and tips shared within this excerpt are common sense and attainable. For the most part, every post listed in this category is driven by a perspective on a better way to maximize time, efforts and money. Keep reading, label it in your next charter as "market research" and share your queries with us!