Looking to build a dating app like Tinder? Here's all you need to know what it takes in terms of efforts and cost – See how much does it cost to make your own Tinder.
It's been just 4 years since Tinder entered the mobile app market. Yeah, it was just in 2012 when the segment-leading dating app made its debut to eventually rule our love-matching fantasies so dearly. When dating apps were nothing more than sleazy deceptive platforms full of overt ads and suspicious bugs who would have guessed Tinder would go so far gaining such a fame in such a short span of time. And today we know it as an authentic dating platform making the most of its purpose and proving high on user expectations. – making social dating enter the mainstreams of mobile app development so convincingly.
So, what made Tinder such a hit?
Keeping aside the intuitive design and fine mix of functional elements, the app mainly leveraged on inventive features like the handy swipe gesture, the interactive match on chat and the uniquely conceived GPS discovery option, that helped it gain a great following overnight.
Tinder Alternatives: Trending Dating Apps like Tinder in 2019-20
Bumble – Best for confident women
OkCupid – Best free dating apps
Hinge – Best for serious relationship seekers
Coffee Meets Bagel – Best for breaking the silence
Happn – Best for missed connections
The League – Best for people with high standards
Clover – Best for confirming a date
Match – Best for someone with money to spend
eHarmony – Best for marriage seekers
Her – Best for lesbian, bisexual and queer women
Plenty of Fish – Best for conversations
Some Statistics that make Tinder Amazing
Currently, Tinder enjoys 10 million active users.
Tinder earned $816 million in 2018.
Tinder profile views have increased 10 times to boost and super boost users.
Tinder is active in 190 countries.
Several swipes have increased manifold amongst both men and women.
Whether the users look for a casual hookup, or friendship or a long term relationship (LTR), Tinder is one stop to have all these features covered. It is one of the very first online dating platform that rose up with an increasing number of swipes.
In case you have missed on the astounding figures of the app's success here they are:
Users: 50 million per month
Matches: Reaching 12 million a day
Swipes: More than a billion swipes every day
What features you shouldn't miss while creating Tinder like dating app
Facebook/Google sign-in/social media login
Creating and managing User profile
Location-based suggestions
Search functionality with filters
Integration of calendar
Offline access
Live video chatting
Blocking users
Notification and real-time alerts
Personal Security
What calls for the popularity of an app like Tinder?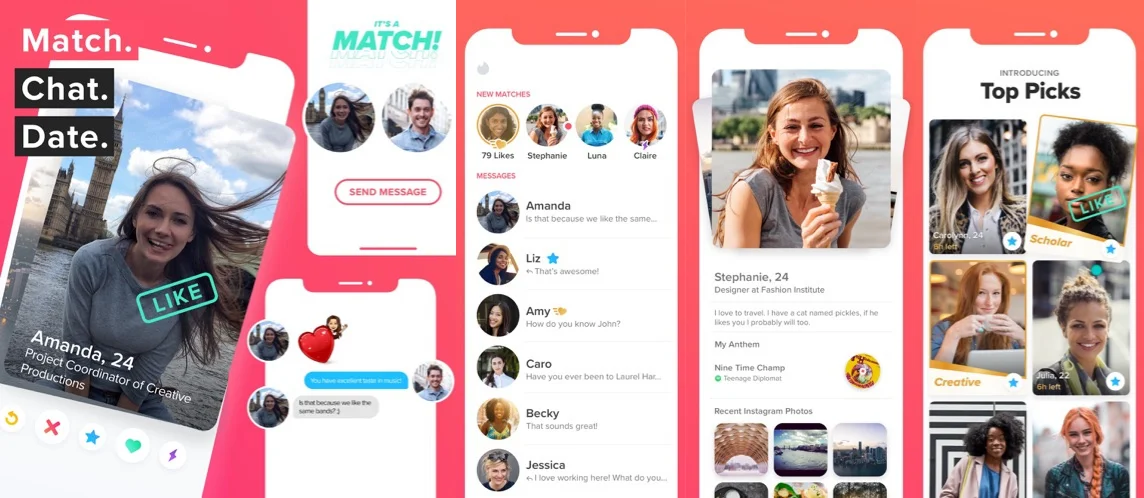 (Image source: Tinder – App Store)
Profiles are relevant, brief and allow making decisions easily. It often happens that shorter profiles make it harder to figure out what a lot of people are looking for. The initial process can be challenging if we are unknown to the person to whom we wish to converse. A user is required to wade through a sea of profiles, which makes it easy to pass over people they might have given a chance under different circumstances.
How do dating apps like Tinder make money?
Tinder Plus (Freemium model) – tinder started as a free application but later it started charging for a few of its features like unlimited swipes, change of location, etc. As some features were part of Tinder Plus – the entire money-making process got divided into two parts- Tinder Plus and Tinder Basic. Every extra feature that makes Tinder shine among youngsters is chargeable, like unlimited swipes, passport, more than 1 super like per day, feature to rewind, 1 boost every month, there can be a match between a plus and a basic application user. The free version of Tinder limited the number of right swipes in 12 hours. The cost of every version of Tinder also differs according to the age of the user.
Tinder Gold (Tinder Plus Extra) – This feature is exclusive for new members. This model also varies according to the age group of users.
Sponsored Profiles – Various corporate partners have tied up with Tinder to show their sponsored content.
Profile Boost – Tinder charges a pre-decided amount from users to bring their profile on top, increase profile views, match rate and other additional features.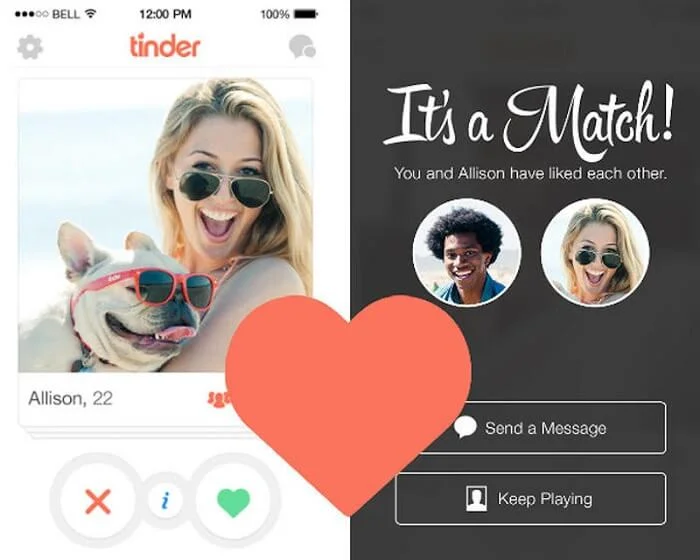 These impressive figures inspire a lot of budding entrepreneurs and businesses to go with one such idea and bring up their own version of Tinder. But how? Before you even start thinking of approaching the solution or brainstorm the idea to help you kick-start with your plan you need to understand the process. And most importantly identify all the essential elements that go in deciding the cost of developing an app like Tinder.
Picking a platform for mobile app development
Android: 200-250 hours of app design and development
iOS: 250-350 hours of app design and development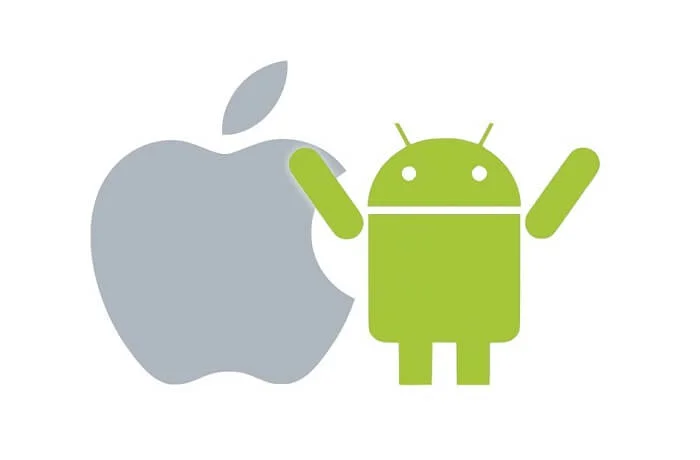 It begins with choosing the platform you want to build your app on. And you need to choose it wisely as the cost and time required in building the app would fairly depend on the number and type of development platforms you decide to go with.
Developing the admin backend/dashboard: 150-200 hours
For an app like Tinder, you need to have a fully-equipped admin backend to help you analyze the stats and measure the performance based on different user engagement parameters. These analytics could involve monitoring activities and events (like number of swipes and matches made per hour) in reference to time and sessions to reach important data on user tendencies and trends.
To get the best results out of this, the admin panel needs to be integrated with tools like Flurry, Crashlytics or Google Analytics.
Creating web portal extension: 150-200 hours
For an app like this, it's important to have an extension to act as a source of database or a repository to accommodate all the information that users would like to refer to. This could be any detail related to a user or the information related to the demographics that would help you connect with some matching records to fetch relevant results you are looking for. Here, the efforts may vary depending on the features you choose to go with.
Quality analysis and deployment: 120-200 hours
Once you are done with designing and development tasks, the app would be taken through a thorough testing and debugging to assure quality at all levels. As the application passes through the testing process reaching an adequate quality mark it is deployed on the app store.
The quality of resources and level of expertise required
Developing an app like Tinder requires a decent level of experience working with different social, communication, imbursement and analytical features. Besides, the team working on the solution should have knowledge with integrating third-party resources and extensions to help you expand the app's functionality and range as per your preferences. Further, it would also require enough of support in terms of infrastructural resources and tools to allow persistent and resourceful results achieving it right.
However, if you talk about different skillsets, technical expertise and applicable knowledge to help you accomplish different tasks and roles that go into building the app, here are the resources and their efforts marked distinctly.
Resource-wise efforts and rates (Based on global averages)
1 Graphic Designer would be working on customized vector graphics and the layout presentation.
Rate $20-$25 per hour
Time 50-60 hours
1 UX Designer would define the scope of design. Create the entire wireframe and the communication interface of the app.
Rate $25-$30 per hour
Time 80-100 hours
2 Programmers on each platform separately to create the entire software design and work on back-end programming, extension development and functional deployment based on the entire scope of development
Rate $25-$30 per hour
Time 600-700 hours
1 Quality Analyst would be debugging and optimizing the app to ascertain quality. Besides deploying the app on the store.
Rate $15-$18 per hour
Time 100-120 hours
The overall time and cost of developing an app like Tinder
Based on the resulting efforts, resources and time involved in developing the app we can reach cumulative ballpark numbers representing the total cost of building an app like Tinder. If we consider just one platform (for instance iOS) and take one resource per skillset, the total number of hours would range across 750-950 hours cumulatively. Adding another developer's efforts to the total time would take this range of efforts to 1350-1650 hours. While the time of development would range across 5 to 6 months considering all the resources are working dedicatedly and simultaneously on the project.
Here, if we take an average of the rate applied to different resources, it would range between $25-$30*. Considering there are two programmers involved this would amount anywhere around $35k to $50k* as a ballpark figure (rounded to multiples of 5) for developing the app on one platform.
*All the numbers mentioned are based on global averages taken from different countries referring to diverse business quotations. These figures can swing both ways up-to 30-40% based on the profile of the development team, the experience they have building such apps and most importantly the area they come from.
Need Help to Develop a Dating App like Tinder?
Konstantinfo is a trusted app development company, offering services across different mobile app platforms.
Write us your requirements at [email protected] or fill up the form and we will contact you soon to help you with a custom quote for an app like Tinder.