If creating a catering app is on your planner, we've filled this space with excerpts from on-demand catering business to pull you up!
A crust eaten in peace is better than a banquet partaken in anxiety." – By Aesop. Catering is the provision of online food orders via a catering service apps. All quotations and pricing possibilities are automated based on food selection by users. Catering covers user's needs for all sorts of occasions. The size of the service might range from as big as wedding buffets, as medium-sized as breakfast buffets and team meetings and snack breaks.
What is a Catering Business?
Catering involves all types of event-focused food orders. Such services usually depend upon an individual or group orders. It includes rental pickup and drop timings, duration, staff time, opening and closing hours of bars. Various other factors have a monetary impact on business catering like the type of menu, supply rentals and the service and the labor charges account for the variable pricing of catering services NYC. Types of services range from food catering – event catering – mobile catering etc.
Tips to Create a Catering App
Food catering apps cater to groups and gatherings and offer the largest selection online for catering options, live cooking stations, home-style cooking, platters & gathering packages.
Image Credits: ezcater
Source: App Store
Such catering apps can be used to browse, discover and place orders from the best restaurants and caterers (according to the location they serve), directly from the app. The number of international cuisines and local food brands differ and users have to pick their area, choose from the food brands and cuisines, time and date and find real-time availability for all the local restaurants in the respective country.
Catering services apps often partner with the best vendors for outdoor and indoor seating arrangements and entertainment etc. In case a user looks for rustic outdoor seating, planning for any small parties or want to rent karaoke & photo-booth stations, such arrangements are easily made available in coordination with local event-management companies. The latter can be provided as an extra add-on service on catering services app.
Entrée of Mobile App Development into Food and Beverages Industry
Corporate catering services have soaked up and progressively come up with catering apps to make users aware of their service areas.
How Catering Apps Function?
According to a famous catering app, "Chewse" – "Happiest teams eat like family", serving meals and creating an authentic connection. They firmly believe that a delicious breakfast sets the tone for a fruitful day. Catering apps like Chewse makes it easy to gather the troops for a catered morning meal (although the meal can be catered at any time of the day).
These feature detailed information about all the catering services, catering menus, all the charges (inclusive and extra) and about offers, etc.
It includes contact information and location details.
It integrates social media.
Includes frequent updating, advanced searches, and filters
Builds customer loyalty and is user-oriented
Users get to understand more about offered catering services by client reviews and comments displayed on the app
Global Catering Services Market View 2019-2023
Global catering services market has recently experienced many mergers and acquisitions. As an example, a UK based firm partnered with the hospitality and catering industry in the UK with an increase of 170% in total disclosed deal values concerning M&As. Market players in catering services are engaging in M&A activities to diversify their service portfolio, increase market share by penetrating into new markets, reduce financial costs, and achieve economies of scale.
The market will be accelerating growing at a CAGR of over 6%.
Catering services market has shown an incremental growth of $184.98 billion.
The year over year growth rate for 2019 is estimated at 5.50%.
The market is fairly fragmented with many players occupying the market share.
45% of the growth will come from the APAC region.
One of the key drivers for this market will be the increasing popularity of online catering.
How Catering Services Near Me Do Their Business?
General steps involved in the process:
As the user (individual/group/business) places the order, the catering services work with local restaurants to prepare menus that meet everyone's dietary preferences.
As the menu is prepared, delivery management syncs with an easy-to-use online platform.
Catering service team handles everything from serving to clean up, which allows you to spend time with your team/family/friends.
All the menus evolve from a team's feedback that allows making the services better every time.
The host may/may not donate the food that is left and catering services (voluntarily) donate to non-profits or someone in need.
Time to Step into Development of Catering App
The catering business is not restricted to parties or events, but can as well extend towards businesses. Many IT organizations have an in-house kitchen that is a new extension to catering apps. Food universally binds all the attendees of a meeting together. Such businesses make use of Android or iOS app development for app like ezCater for organizing catering for their business parties. Including push notifications, delighting HD real-time images, including customer feedback, and ability to handle huge requests – will definitely allow the catering services app to boost outreach and become a strong contender for all types of parties. As parties are not complete without a cake, less it's just a meeting; we have been cooking something new to add up here. Follow up with your questions, and we'll try our best to conciliate your curiosity. Request a free quote now!
About Author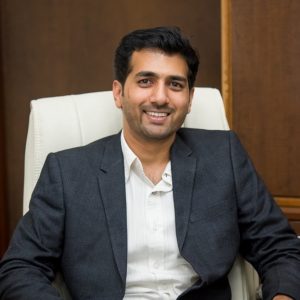 Vipin Jain is the Co-Founder and CEO at Konstant Infosolutions and is in charge of marketing, project management, administration and R&D at the company. With his marketing background, Vipin Jain has developed and honed the company's vision, corporate structure & initiatives and its goals, and brought the company into the current era of success.