Grubhub's business model and revenue sources orbits amidst charging a pre-order commission and generating revenue when diners place an order, notwithstanding substantial growth with mergers and aggressive acquisitions!
Today, the online platform has completely transformed our lifestyle, our communication patterns, our shopping habits, and the way we conduct business.
The food delivery market is no different and has changed at an accelerated pace with revenues in the online food delivery segment amounting to US $95,413m in 2019. You'll be amazed to know that the online food market's largest segment is restaurant-to-customer delivery with a market volume of US $74,451m in 2019. This is where apps like Grubhub comes in.
What is Grubhub?
Grubhub is an online on-demand food delivery platform that takes your order, asks it workers to fetch your order from the local restaurant of your choice, and gets it delivered right to your doorstep- a restaurant to customer delivery service.
History of Grubhub 
The business was founded in the year 2004 by Michael Evans (Founder) and Matt Maloney (Co-Founder & CEO), and today, it has a presence in more than 2700 US cities and London. Encompassing a massive userbase and collaborations with over 140,000 takeout restaurants, Grubhub comprises of a portfolio of brands like LevelUp, MenuPages, BiteGrabber, Seamless, Eat24, AllMenus and Tapingo.
Amazing, isn't it? But how does Grubhub work, and what is its revenue/business model? Let's begin first how does Grubhub works.
How App like GrubHub Works?
Browse: Users browse many restaurants for their food requirements.
Place Order: Users can place their food orders online and pay through selected payment options.
Restaurant prepares and packs the order:  The restaurant confirms the food order and prepares the food and pack it for the delivery.
Food Delivered by GrubHub Person: Order picks up by Grubhub delivery person from the respective restaurant and delivers it to the user.
Let's analyzing the Grubhub business model.
The Grubhub Business Model
With an objective to make food ordering and food delivery a seamless experience, Grubhub connects local food outlets in the city with the customers.
Grubhub, therefore, serves two segments:  
Value Propositions of GrubHub
By offering a compelling value proposition to both, Grubhub has been able to capture a decent chunk of the online food market.
Grubhub's Value Proposition for Restaurants
Offers delivery workers to the restaurants
The takeout increases restaurants business without adding to their seating capacity or staff.
 Offers restaurants risk-free publicity and an extended customer base.
Offers software to the restaurant to manage orders and deliveries
This proposition becomes even more lucrative as no upfront or subscription fee is charged by Grubhub from the restaurants, who also enjoy no compulsion to apply any kind of discount on their menu. Restaurants are required to pay to this portal only when the diners are generated making it a low-risk, high-return, completely trackable model.
Grubhub's Value Proposition for Customers
Connects diners to restaurants through an easy to use personalized platform
Offers direct access to the food items with no paper menus or phone orders
Serves customers with an efficient food delivery at their doorsteps
Offers complete food tracking info to the customers
Makes re-ordering easy by storing customer's previous orders, payment info and preferences.
This value proposition is quite rewarding to the customers who want to eat food at the comfort of their home with a variety of restaurants and food items available at their fingertips. This proposition is especially compelling for the segment that doesn't know how to cook or the segment that loves to eat outside but doesn't get the time to do so.
To bring to life this business model, Grubhub utilized the online and mobile platforms that are now being widely used by the competitors. With apps like Doordash, Ubereats, Postmates, Delivery.com, Yelp Eat 24 and so on, the food app development market has reached an entirely new level leading to an increased need to hire professional app development agencies for developing a great app with features like push notifications and in-app ordering.
This brings us to the next step where we need to analyze the app costs and the potential revenue these apps can generate. Ever wondered what it costs to build an app like Zomato or Swiggy or Ubereats? How much does Grubhub cost? Is Grubhub's revenue model viable and profitable?
Let's study Grubhub's Revenue model to dwell deeper into it.
Grubhub's Revenue Model
With several competitors around, generating large revenues becomes a difficult task, however, Grubhub has been able to create its own unique space in the online food market. So, what are the sources of revenue for Grubhub?
Grubhub gets its revenue from the following three sources:
Delivery fee: This fee is charged from the customers for the food delivery service and constitutes somewhere around 20-40% – a large part of which is paid to the workers for their services.
Commission fee: This is the major source of income for Grubhub and ranges between 5-15%. This is shared between Grubhub and the restaurants.
Additional Commission: Grubhub charges for featuring restaurants on the top for a limited time period.
As the revenue stream is now clear, let us also analyze the key business parameters against which the financial success of Grubhub can be measured.
Active users: Grubhub serves 21.2 million active users
Daily average grubs: Grubhub processes 457,300 daily orders
Gross food sales: In 2018, Grubhub provided over $5 billion in gross food sales to local takeout restaurants.
The above statistics clearly display the success of the Grubhub business model and the viability of its revenue model which has led to its continued expansion.
Though Grubhub is currently in a strong position but to retain and grow its current market share, it needs to keep up with the new technological advancements and continue creating compelling value propositions.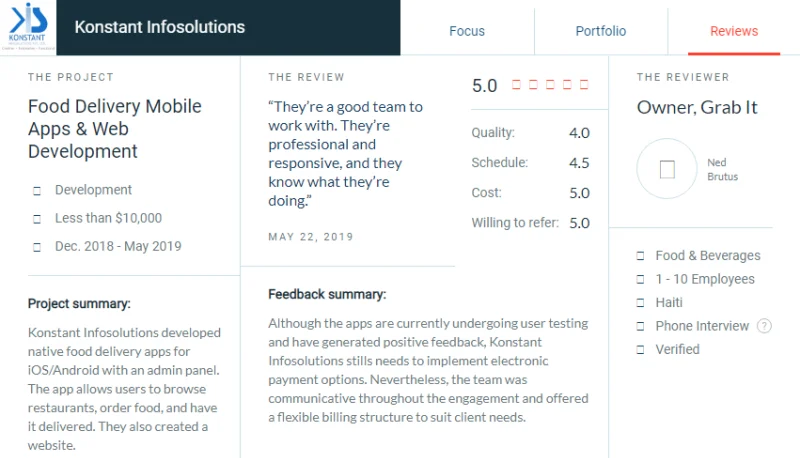 Conclusion
To recap, Grubhub offers a seamless and frictionless food delivery service to its customers using the online and mobile app platforms. Though the business model is not one of its kind, however, with continued hard work, dedication and a strategic approach, the Grubhub team has created a comfortable niche for their app in the market. To gain a competitive edge, Grubhub offers compelling value propositions to both its partners- customers and restaurants and earns its revenue from the delivery and commission fee, and the extra commission. The crux is to stay vigilant, pace up with the upcoming technologies and continue to woo customers and restaurants in new ways.