Find the differencing that jazz and rock amongst Magento Open Source vs Magento Commerce and structure out the success of the business!
Magento tops the list of topmost technologies that have been the basis of the eCommerce platform in 2018. The other ones are WooCommerce, Shopify, PrestaShop, OpenCart, VirtueMart, IBM Websphere Commerce, BigCommerce, osCommerce, Squarespace Online Stores. Magento has till now (2018) captured 19.64% market share.
Magento makes use of MySQL or MariaDB relational databases, elements of the Zend Framework and PHP programming language. It strictly follows object-oriented programming and model–view–controller architecture and uses the entity–attribute–value model to store data. It also makes use of the Model-View-View Model pattern to its front-end code by making use of the JavaScript library Knockout.js.
Here are subtle points that will allow making out a choice and a decision of using a platform for development. No matter what platform is used, the choice must be unfettered by other considerations and restraints and must enable opportunities for growth and discovery. As it is aptly said, "Don't rush to the point of decision. Reconnect to the place of choice first", it is important to identify the place of choice and then move to a point of decision.
Magento Community Edition is now Magento Open source and Magento Enterprise is now Magento Commerce after been taken over by Adobe.
Magento open source combines the features that are required to create an e-commerce platform for a small business right from scratch. But Magento Commerce is preferable for those who are looking for easy to deploy applications that provide enhanced security and is also packed with additional integrated capabilities to accelerate sales.
Checking Out the Similarities in Magento Open Source and Magento Commerce
Both are open source. Both have the same core features and functionalities
Both make use of webservers API to integrate with different databases
Both give the advantage of Magento Connect  which is a Magento Extension marketplace, where there's the whole variety of extensions is available
Know what is different – Magento Open Source vs Magento Commerce
Features
Magento Open Source
Magento Commerce
What it is?
Magento open source was earlier known as Magento Community Edition and is a free and open source e-commerce platform over which developers can implement their core files. Further its functionality can be extended by adding new extensions and plug-in modules provided by developers.
Magento Commerce is a leading provider of open innovation across multiple channels which was earlier known as Magento Enterprise Edition. It recently announced the general availability of Magento Enterprise Cloud Edition, a Platform-as-a-Service (PaaS) environment for its flagship Magento 2.0 digital commerce platform.
Magento Enterprise Cloud Edition runs on Amazon Web Services (AWS) Cloud and combines fully customizable, secure and scalable Web storefronts along with a leading hosting and managed services infrastructure.
Release date
Magento open source has been developed and customized in order to provide a basic e-commerce platform since its initial release in 2007 (10 years back).
Magento EE (Commerce)  was initially released on April 11, 2016
Priced or free?
It is free, open source e-commerce platform
It is open source but involves pricing. The cost is of Magento Commerce is fairly high and ranges from $22,000.00 — $125,000.00 per year. However, it also includes security updates, special features, and exclusive product enhancements.
For startup or enterprises?
It is just right for small businesses and startups
It suits to enterprises which require creating e-commerce portals for their large businesses.
Version in use
Latest version 2.2.6 is available for download (as in September 2018)
Latest version 2.1 is available for download (as in September 2018)
Features
It can take advantage of Magento extension marketplace to enhance functionality. It comes with configurable swatches that enable showing off a range of product attributes like colors, fabrics, and sizes.
Multiple stores for different countries can be added. It also comes with target markets and brands with different pricing, payment and content systems from a single Magento installation.
This platform incorporates never seen before functionality that makes applications scalable.
Ownership
Magento open source extends ownership and access to hosting
Magento Commerce launches Magento Enterprise Cloud Edition, which provides all the flexibility of an open source platform, without the limitations of Multitenancy
Security
Magento Community does not come with secure payment bridges. As these features are required by the banks, not being PCI compliant might be an issue. In this case, PCI paperwork might have to be filled out for implementing and keeping PCI policies, document PCI technical policies. It makes use of a gateway which redirects to PayPal or HTTPS in order to communicate with an API.
Magento Enterprise (Magento commerce) comes with better security solutions while providing more powerful security features like PA-DSS.
Support
Magento open source does not come along with any support from the expert community
Magento commerce ensures 27×7 technical support that helps to resolve any issues faced by online e-commerce portal.
Deployment
Deployment is slow and updates cannot be scheduled.
Deployment and upgrades are 3x faster. Upcoming upgrades can be scheduled. Any deployment option can be used ranging from – cloud, managed to host, and on-premise.
Customer Loyalty Programs
No loyalty programs are featured in CE.
This features various loyalty programs and thus enjoys a wider audience support – Rewards, n-store credits, Gift registry, Gift cards, Private sales, Invite-a-Friend etc.
Functionality
CE does not feature any drag and drops functionality.
Content staging and preview is available along with easy functionality to launch new sales campaigns and promotions straight from Admin panel. Adding to this, rich visual merchandising functionality enables adding more variety of multiple images, video, product recommendations, ratings, and reviews.  It also features a simple drag-and-drop interface and makes it easy to set sorting rules for specific categories.
Caching
Page load time of the Home, Category and Product pages is very slow in open source edition.
Caching process in Magento commerce involves integrated Varnish and client-side improvements thus minimizing JavaScript and resizing images. Such integrations reduce response and server load time.
The difference in cost – Magento Open source vs Magento Commerce
Magento community edition (now Magento open source) is free of cost while Magento enterprise (now Magento commerce) comes for a price. But this higher price comes with additional functionality that might be required by the business to grow and scale. EE (Magento Commerce) is priced at $22,000. Check out the table below (CE vs. EE) for more accurate figures: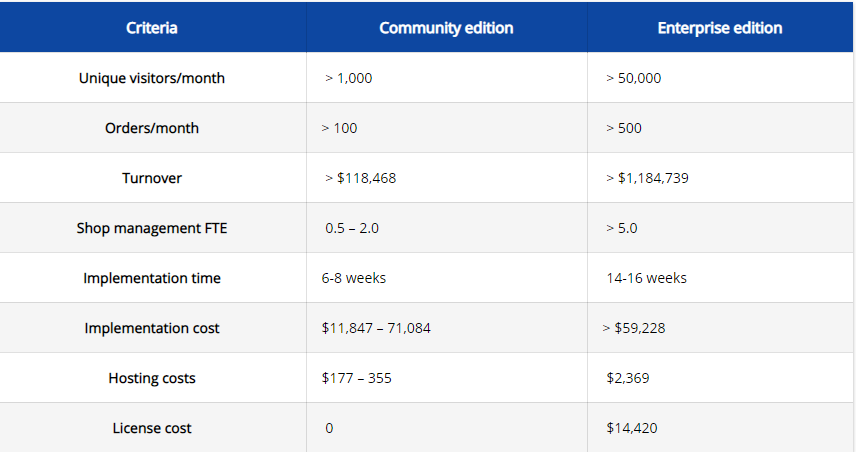 (Source: elogic.co/blog/)
The Last Line
Web application development services just want one thing, and simultaneously clients wanted something to believe in, smile at and live for. Magento development services have delivered successful projects like Oliver Bonas, Paul Smith, END Clothing, Paperchase, Tom Dixon, Bulk Powders, Helly Hansen, Missguided, Omega Watches, Osprey London, O'Neills, Cox & Cox, Made.com, Kurt Geiger, Christian Louboutin, Wrangler Europe, Lee Europe, Richer Sounds, Harvey Nichols, Agent Provocateur, Nobel Biocare B2B, Ford, Nike, Samsung and many others.
While a business' core value might depend upon excessive ongoing costs and inconsistent revenues, this might even determine its fate. Magento open source is admirable by startups who get flouted by the high setup cost but Magento Commerce is highly embraced by enterprises and big businesses who have room to adorn their applications with advanced features. You have a reason to consider us for your next magento project as we've been recognized as a top Magento Development Company on DesignRush.
About Author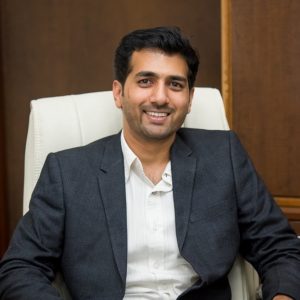 Vipin Jain is the Co-Founder and CEO at Konstant Infosolutions and is in charge of marketing, project management, administration and R&D at the company. With his marketing background, Vipin Jain has developed and honed the company's vision, corporate structure & initiatives and its goals, and brought the company into the current era of success.