Developing a cult around mobile app development is easy, but finding the best team to suit your niche requirements can be tricky. Know about outsourced mobile app developers here!
Once a business decides to go mobile, a utility app becomes their first preference. They seem to have two options for app development: (1) hiring their own in-house development team or (2) outsourcing mobile app development to a third-party.
Addressing the Challenges with Mobile App Development
Businesses need to configure the following points while planning their mobile app:
The 'Why'
Your Goal
The Problem Being Solved
Offline Access
Target Audience' Mindset
How It Benefits Customers
UI/UX Design
Practicality
Functionality
Consistency
End-User Experience And Motivation
The Advance Of Progressive Web Apps
It is always important to understand the markets, products, industries, vendors, customers and competitors. Having an additional understanding of planning, collecting data, analyzing it and implementing it is all the better. Misinterpreting the organizational structure can pose a parallel challenge if the companies work with outsourced developers. To add, a developer's productivity can be adversely affected by various time zones, cultures or native language. Cultural and language differences can as well add to the conundrum. Missed communication or more such blockages pose barriers that can be multiplied due to organizational structure or business model of the project.
Mobile App Development Services Architecture
Advantage: Hiring Dedicated Developers
An in-house/dedicated team have their own benefits as compared to the outsourced ones. They know the intricacies of your business and you are the controller of the business due to the presence of the team right there in the office.
Dedicated developers can be expensive. They need space and equipment in addition to the tools and techniques required for the particular project.
In-house teams are best in case of grand projects like Facebook, need years of planning and when time and budget are not restricted.
Advantage: Outsourcing Mobile App Development
Outsourced teams bring a range of skills, and a wealth of experience, less personal control, and are flexible enough to adjust to various time zones. Plus they are less expensive.
Ways to Outsource Mobile App Development
In-house/dedicated developers are bound and work on a fixed basis. Outsourced developers or off-the-shore developers can work both ways – fixed or hourly basis. These can be hired via a mobile app development company. It can provide:
They can provide a complete team of designers, developers, and test engineers.
The team members have to follow the mobile app development lifecycle.
They are experienced specialists with diverse skills who are ready to help when required.
Do This For Better Results
Have an app prototype
Do some additional research
Trace for tools that can make the task simpler, fast and effective
Have a clear vision of the requirements of your target audience
Find out what you aim to achieve with your app
Know the platform that you wish to build the app for
Determine what problems the app should solve for its users
Is it going to be a native or a hybrid app?
What features do you definitely need and what features can be added later?
Will the app be scalable?
What is the budget of the app?
Find the best app developers according to location, their expertise and technologies in demand.
Red-Flags to Watch Out For – Cue For Offshore App Development Team
Understand the project and learn the basics before delving straight into development. Poor quality reception, drafts and technical jargon might be misleading and relaying the intended information to the team thousands of miles away, mostly through electronic communication sets one up for plenty of risk in receiving the product that you were seeking. Look for the local contact information of the team to be outsourced, experience with past clients (testimonials), avoid security risks – make use of video-conferencing to avoid communication barriers, implementing agile methodologies, making use of project management tools and focus on the user experience design.
The Cost of Offshore Mobile Development
Off-the-shelf software (those created by offshore development teams) can range anywhere from $2000-$2,50,000) varying according to location, demographics, features, scalability, time, budget, available and required skills and timezone differences. Interestingly, if an offshore team charges $20 per hour, it is for you as a business to estimate the value that you gain in that hour. A competent in-house app development team/individual at $100 an hour may well produce more value for you than several junior developers working at $20 an hour overseas.
Summing Up: Simple Tweaks to Identify the Importance and the Need to Outsource App Development India
Consumers and businesses are growing more dependent on mobile devices for more than simple communication with their peers, but more actively towards quick engagement with their customers. The cost of mobile app development, especially offshoring mobile development teams surely depends upon the choice of the development efforts required by the business, the scope of the work they need, the type of the app they're developing and the budget they wish to work upon. If the app is to extend or promote an existing business, then outsourcing a few developers will work right within budget and the least formalities. Freelancers with specialized skills can be hired for simple projects but you may need a team of Android and iOS developers, UI/UX designers, Test engineers, business analysts, and project managers more complex projects. Perplexed, discuss with us!
About Author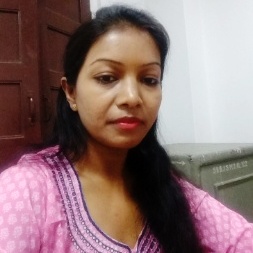 Neeti got her master's degree in software engineering in 2009 and has been working since for software companies of all sizes as a technical writer. What started as a high school passion has now been converted into a serious profession. She has a special knack of learning from all verticals and imbibing the extracts into her writing. She enjoys learning technical aspects of writing from her tasks where her experience and understanding are most impactful.