Restaurant feedback apps are an emerging trend that captures the idea! Now the restaurant owners know that customer service isn't a single department, it should be a company.
"How likely are you to recommend [App name] to a friend? Score us". Many similar lines get displayed after completing a transaction on an e-Wallet application, or after successfully receiving an order from food delivery apps and likewise. Many times stores invite their customers, probably after recent purchase, to take an online survey, enticing them with a chance to win a gift card. But does it really seem reasonable for a company to ask clients for their precious time after a long workday? Sparing 10-15 minutes does not always seem reasonable and calls for probable reluctance.
Your customers do not care how much you know until they know how much you care. Much to the anticipation of marketers, Steve jobs aptly said, "Get closer than ever to your customers, close that you tell them that they need well before they realize it themselves."
Restaurant finder apps have prevailed since as any service thrives and grows in the market through customer satisfaction. And the key element in driving business performance and customer satisfaction is customer feedback. Periodic feedback from customers helps a business to steer their product or service roadmap to make the changes quickly and not keep trying to figure out what is going wrong through statistical or analytical data. To resolve this, Mobile App Solution Providers must create an app that is functional, engaging and most importantly provides value to its customers, in order to combat the emerging competition.
Reasons: Why Customer Feedback Solutions Are Required?
There can be 5 different reasons to require a customer feedback platform that necessitates the implementation of restaurant feedback apps by food catering, online food delivery, and restaurant businesses:
Every customer expects to be heard.
It is difficult to know about the mindset of the customer and the applicable time to ask for feedback from customers.
The customer feedback essentially paves the way to promote business across.
Customers respect proactive-ness. As an apposite saying, "It is always important to know what people expect from you, then, of course, you surprise them by giving more!"
Feedback apps are a great source of revenue generation for all kinds of businesses.
How do Feedback Applications Work?
Customer feedback apps are a very efficient tool for companies to collect feedback from their customers in a very efficient and effective manner. Such applications allow organizations to send notifications directly on customer's mobile via SMS or app push notifications. The given feedback link allows customers to complete the feedback with a few taps on the mobile. The result is compiled in real-time from this feedbacks and appears on management screens. This digital feedback gets directly stored in the database and thus prevents the need to fill printed forms.
Examples of Restaurant Feedback Apps
It becomes part of the restaurant's curriculum to have positive customer feedback after successful delivery of their services to ensure increase customer retention, building brand reputation, and loyalty. The following list illustrates the apps into this business:
1. piHappiness
piHappiness is a customer survey app that helps businesses experience a real-time connection with their customers and knows what they think. They provide affordable customer feedback solutions, uncovering the gaps between customer needs and restaurant offerings. Various modes of conducting surveys and feedbacks include – email, SMS, QR code, web, tablet, and kiosk. Moreover, the application is adorned with features like Instant custom feedback in 30 seconds, dynamic and custom questionnaires, real-time notifications, analytics, and reports.
2. Podium
It is a platform that manages interactions for local businesses. Whether it is about winning more leads, earning repeat customers or doing more as a team – podium platform powers businesses by answering questions, schedule appointments and close the deal without the phone tag or hold music. It's the best way to earn repeat business and turn customers into promoters.
3. Fella Feeds
Acting as an efficient on-premise restaurant feedback system, Fella feeds collects customer feedback via Kiosks, iPads, and Android tablets. It makes use of a loyalty program, which enables customers to accumulate points through referrals, visit the website/app frequently, and receive offers and rewards after redemption of collected points. Although it acts as an independent feedback system, fella feeds feedback system can as well be integrated with the Android App to give insights about user experience and assist in real-time decision making.
4. Go Survey
It is an offline customer survey app for collecting data in real-time. This handles some popular use cases like capturing leads, collecting feedback from customers and conducting market research surveys. This survey apps works both online as well as offline offering a glance at critical customer satisfaction insights. It features an Auto=Reply e-mail feature enabling the app to send acknowledgment e-mail after the customer submits the feedback.
5. Survtapp
It is a customer experience management platform that optimizes touch-points, engages the audience, deploys on multiple channels, tracks the audience lifecycle and takes a decision in real-time by listening to the customers at any-time from anywhere. It collects responses via various multiple-choice questions, reviews, and acts based on actual data and statistics.
Benefits Availed by Restaurants via Customer Feedback/Survey App
Negative Feedback Alert: Restaurant feedback survey apps alerts the businesses whenever a customer shares negative feedback. This helps them to act as appropriate.
Integration of Loyalty and Referral Program: These customer survey apps feature loyalty points which can be redeemed to receive gifts. This attracts customers to participate in the review.
Automated SMS Marketing: These customer survey apps promotes the businesses via SMS to market the store to the active and potential customer base and retain their attention and interest in return.
Better than Boring Feedback Forms: Are surveys only for those who are disgruntled and inspired to vent? An active form with an attractive interface coupled with a chance to win a gift voucher can be quick enough to catch up with customers.
Analysis of Feedback: Feedback/survey apps analyze positive/negative feedbacks, filter requests and provide a detailed report on how the customer reacts in real-time.
Predicts Staff Performance: Customer's feedback can help in predicting and estimating staff's performance in a very effective way. This can further help in rewarding the best performers and implementing improvement plans for less efficient ones.
The Espousal: Customer Feedback Apps for Restaurant
According to a popular anthropomorphism, "Chocolate doesn't asks silly questions, chocolate understands"; so, if you're excited to build such restaurant feedback apps (that help improve restaurant performance by asking certain questions from clients), the next time you wish to launch your restaurant app, ask our experts for a quick help. The payback for this is going to be a doozy, isn't it? Further, expanding its reach at quite a clip will reap its own rewards.
About Author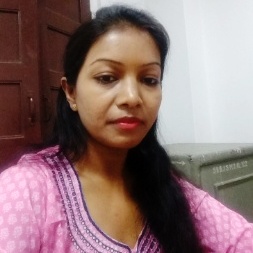 Neeti got her master's degree in software engineering in 2009 and has been working since for software companies of all sizes as a technical writer. What started as a high school passion has now been converted into a serious profession. She has a special knack of learning from all verticals and imbibing the extracts into her writing. She enjoys learning technical aspects of writing from her tasks where her experience and understanding are most impactful.